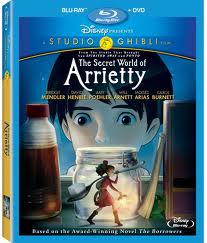 If you grew up reading "The Borrowers" book series than you are going to be enchanted by The Secret World Of Arrietty.  This movie is based on the book series that we all know and love.  I have been anxiously awaiting the release of this film to share with my children.  As soon as it arrived this rainy afternoon we popped it into the DVD player, popped some popcorn and had a magical afternoon watching this fantastic film!
In  The Secret World of Arrietty, little people known as 'borrowers' live quietly beneath the floorboards.  Arrietty (voice of Bridgit Mendler) is a tiny and tenacious 14 year old who secretly lives with her parents (voices of Will Arnett and Amy Poehler) underneath a suburban garden home.  They go undetected until a twelve year old human boy named Shawn (voice of David Henrie) moves into the house with his Aunt and her housekeeper (voice of Carol Burnett).  Arrietty and Shawn develop a friendship, but if detected, could drive Arrietty's family out of the home and straight into danger.
http://www.totaleclips.com/player/Splash.aspx?custid=907&playerid=69&bitrateid=461&formatid=20&clipid=e102564&affiliateid=-1
The story line is great and captured mine and my children's attention for the duration of the film.  I loved the beautiful japanese animation and delightful imagery.  My family will definitely be watching this film over and over again.  It's an instant classic!
The film was directed by Hiromasa Yonebayashi and produced by Toshio Suzuki. Gary Rydstrom directed the English-language version of The Secret World of Arrietty from a screenplay written by Karey Kirkpatrick. The producers include Kathleen Kennedy and Frank Marshall. The original Japanese screenplay was written by Hayao Miyazaki and Keiko Niwa.
The Secret World of Arrietty is available on DVD and Blu-ray May 22, 2012. Connect with the film on Facebook.
"A copy of this movie was provided to facilitate my review.  All opinions expressed are my own."