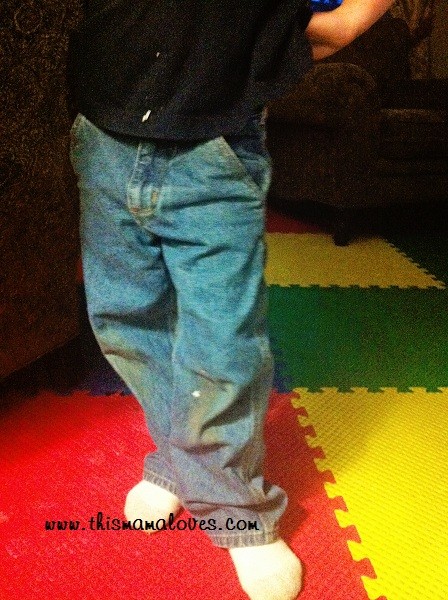 Carhartt is a brand that my husband has worn for years….it's a quality brand that makes clothes that will last and hold up to abuse.  I think the original idea was for folks who work "hard" in their clothing, as my husband does, but I'm not sure anyone is more abusive to clothes than young kids.  It's not their fault, they are just living live exuberantly and exploring the world….on piece of clothing at a time.
I don't know who it was at Carhartt who thought that "Hey! Maybe we should make some kids' stuff that stands up to abuse" but whoever you are, I thank you. As you can see above, my son wears his clothes.  Well.  Beyond well.  This was about half an hour after putting them on.  He went out on a mud hunt.  Yes, hunting for mud.  You know, because living in Connecticut, we don't have enough mud?  Regardless, he abuses these jeans.  But they hold up.  That's what I want in kids' jeans.  They are tough enough to stand up to what a 5 year old can dish out. Here are  the Boys' Washed Denim 5 pocket pants. I love them and my son loves them. So glad there are Carhartt jeans for kids now.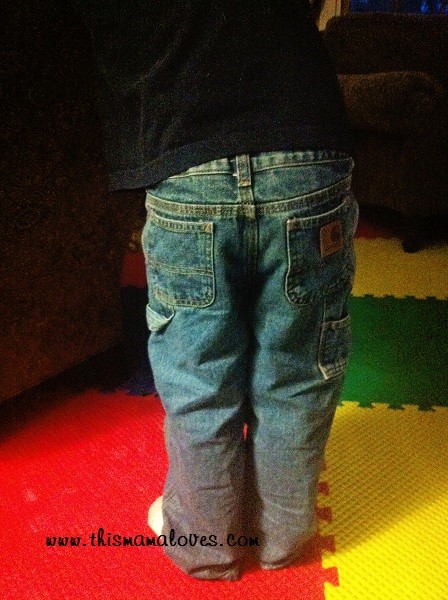 Of course, I think carpenter jeans on little guys might be the cutest thing ever, so I love these jeans for how they look.  He likes how they fit, and I like knowing we aren't going to have blown out knees anytime soon.  He also likes looking just like daddy!  These jeans fit really well- my son's got shorter legs and a stockier build and I think they fit quite nicely.  As long as he's not complaining of discomfort, I'm happy.
Our washed denim 5-pocket pant is more than an everyday basic. Made of 10.5-ounce, 100% cotton denim it features a relaxed seat and thigh, adjustable waist and triple-stitched main seams for durability. Available in sizes 4-7 and 8-16.
10.5-ounce, 100% cotton denim

Adjustable waist

Triple-stitched seams
My little one has a 2 requirements for many of her wardrobe pieces: hearts and pockets.  These are big with the 3 year old crowd.  Carhartt's Girls' Washed Demin 5 pocket jean gives her pockets AND hearts- on the pockets and at the waist.  My girl is a dresses and tights girl and I think even she's surprised at how much she wants to wear these jeans.  They must be comfortable.  But how adorable is this button?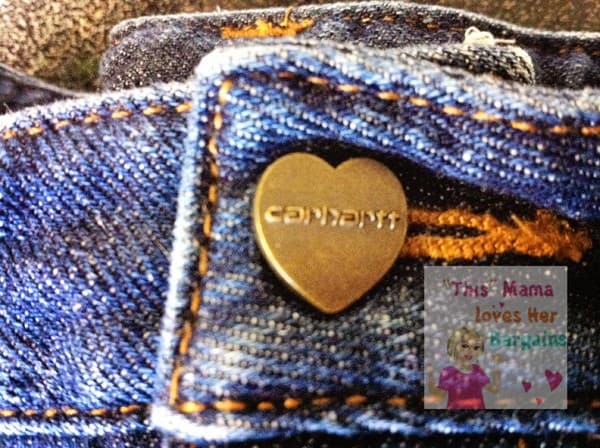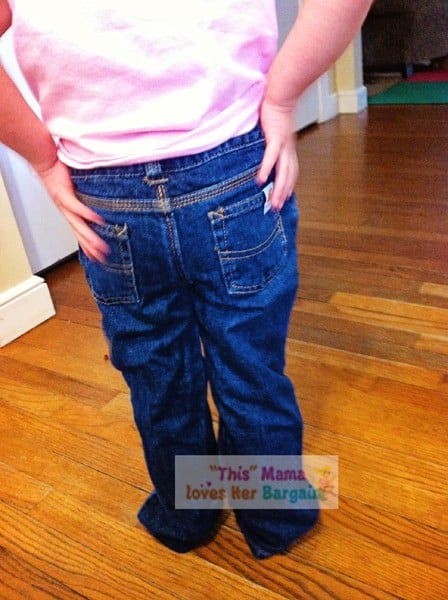 You can see her jeans are a little big.  They work great with some shoes on- and since the waistbands are adjustable on the jeans, I can cinch them in snug enough to keep those jeans up on her little tush.  I love adjustable waist pants for kids- I think it doubles the life of the pants for sizing!  It holds true in my house at least.
Every girl needs a jean as versatile and durable as our washed 5-pocket denim jean. Constructed of long-wearing 10-ounce, 100% cotton denim, the five-pocket jean features heart embroidery on the front pocket, a heart-shaped Carhartt logo snap, and triple-stitched seams for extra strength. Offered in sizes 4-5-6-6X and 7-8-10-12-14.
10-ounce, 100% cotton denim
Carhartt jeans for kids and other kid items from Carhartt can be found at Carhartt.com and from Carhartt retailers. I know we'll be looking to add more Carhartt items to the kids' closets this spring when we're looking for new pieces!
Thanks to Carhartt for sending jeans for the kids.  Opinions are my own.