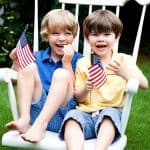 Made in America. Sometimes this is an overused phrase to invoke patriotism and drive support for U.S. made products; but take a second to think about some note-worthy statistics. According to ABC news, only half the products people use every day are made in the United States. According to Moody's Analytics, if every American spent an extra one percent on U.S. products, we could create 200,000 U.S. jobs.
Statistics like this are the inspiration behind Diane Sawyer's "Made in America," segment on ABC World News. It's a series dedicated to finding and highlighting American-made products. When ABC decided to examine the textile industry for this series, they had an extremely difficult time finding companies who manufacture their products in the U.S. In fact, during one episode a family was challenged to buy only American-made products and to remove everything in their house that had been imported from overseas. Well, if their baby bedding (textiles) had been purchased from Carousel Designs, their baby's nursery would have remained untouched!
Okay, let's take a breath. You're not reading this blog for a lesson in economics, or world trade theory (if you are, then you may want to hit the back button). We are certainly not suggesting that just because Carousel Designs is one of the few baby bedding companies to manufacture its products in the United States that you should buy our products. But, there are several reasons you may want to consider buying from Carousel Designs:
» Quality. Because we create all of our products in our Douglasville, Georgia plant, we have 100% oversight and control of the production process. We do extensive testing to ensure that ALL of our products meet or exceed the highest safety standards, including those mandated by the U.S. Consumer Product Safety Commission.
» Flexibility. Making all of our bedding here in the U.S. is the only way we can provide an unmatched level of flexibility and service to new and expectant parents as they design their baby's nursery. Once our customer service team receives your order, we create and assemble your baby's crib bedding in the very same facility – this allows us to offer custom bedding at a turnaround time of 3-5 days, way below industry standard. Those companies that tell you it'll take six weeks or more to receive your custom bedding? Well, they're probably having it made in another country…
» Oversee (not overseas!). We just couldn't fathom outsourcing the production of such an important part of your baby's first room where we couldn't be involved in every single stitch.
» WWBFD. As we approach Independence Day weekend, ask yourself this: what would Ben Franklin do? Would he purchase his textiles from some far-off land, or would he buy from a company that provides jobs for American workers (for all of the above benefits) … and then use his spare time to discover electricity?
Although textile products are increasingly foreign-made (sorry Ben Franklin), and it might be more difficult to make them here in the USA, we think it's worth it … and if you see our bedding, we think you will agree. So if you order your baby's bedding from us, you'll receive a one-of-a-kind creation made with love and pride right here in the U.S.A.
We wouldn't have it any other way. Have a safe and happy Fourth of July weekend!
This is a post shared from the Carousel Designs blog via their PR rep. 
[ad#glam between posts]