Jenni introduced me to this last summer, and we were hooked instantly.  She grew up in the midwest, and this is common there, but here in CT I'd not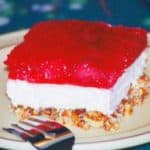 heard of it.  DELICIOUS.  Some people do raspberries, some add fruit- I like plain old strawberry.  Lots of variations online but since it's 4th of July weekend, I think this is a great time to share a family favorite!!!!!!!!!!!!!!!
Author:
A delightful and fun treat perfect for a summer cookout!
Ingredients
2 c. crushed pretzel sticks
3/4 c. melted butter
3 tbsp. sugar
8 oz. cream cheese
1 c. sugar
8 oz. Cool Whip
1 (6 oz.) pkg. strawberry Jello
2 c. boiling water (I use a bit less to make them more like jigglers)
1c frozen strawberries or fresh, if frozen partially thawed (I do not use these)
Instructions
Mix first three ingredients and press in bottom of a 9″x13″ pan.
Bake at 350 degrees (metal pan) or 325 degrees (glass pan) 8 minutes.
Let cool completely.
Beat 1 cup sugar and (room temperature so its soft) cream cheese.
Fold in Cool Whip.
Spread over pretzels.
CHILL FOR 2 HOURS
Mix Jello and water until dissolved.
(I decrease the water by 1/2 cup)
Add strawberries. Stir into Jello.
CHILL JELLO FOR 1 HOUR
Pour over cheese mixture.
Chill.
Enjoy.
Notes
When spreading the creamcheese mixture, be SURE to spread thoroughly so that there's not any 'cracks' or spaces for the jello to sneak through and make your pretzels soggy. That would just be sad. (It has happened to me)
Image from http://www.kevinwakeman.com/fam/newpage3.htm#Pretzel Salad