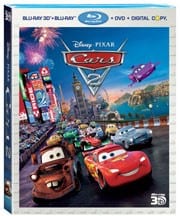 Get ready, friends!  I think you can actually already pre-order Cars 2 in several places!!
The #1 Animated Film of the Year Races Home!
CARS 2 Hits The Streets November 1, 2011 on Blu-ray™ Combo Pack, Blu-ray 3D™, DVD and Movie Download 
I can't wait to see the bonus features and extras on this- Disney and Pixar never disappoint!! My kids will be excited to see it- we decided we'd wait for the small screen for this film for them, due to their ages, and it'll be a nice movie night for us to look forward to. 
0