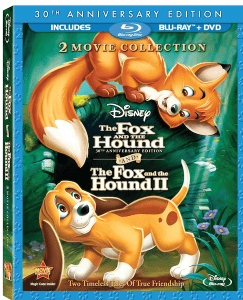 I finally got to see The Fox and the Hound in its entirety.  It only took me until I was 37+ years old!  I forgot how sweet the story of friendship is in this film, and how hard I'd cried when I had seen parts of it previously (but never all of it, not sure why). The films are digitally restored and available for the first time in HD.  I don't much care about the HD- yes, its nice, but I fell in love with Tod and Copper long before they were digitally restored and their story speaks to you with or without the new effects.
I love the bonus features for this collection. I love the interaction with the sing alongs, and, especially since I got to go to the Disney Animation Studios and Research Library during my LA trip a few months ago, I really have a whole new appreciation for the effort and talent that goes into every single second of a film like this, and it really gave me a new perspective as a viewer.  I still love the story but I can also look at parts of it and think about how long it took for someone to get that just right!  The bonus feature that speaks to the creation of this film really does a good job explaining how this film came to be but seeing the actual cells and sketches really gives a far clearer picture of what goes into these movies.
None of us had seen The Fox and the Hound II before and we all LOVED the emphasis on music.  We love listening to music and I think at least my older 2 really are starting to understand that music can tell stories on their own, and its really neat to see how engaged they get especially during musical parts of films.  Some of my favorite musical talents are featured in this second film so I knew I'd be happy!
Featuring an all-star cast of voice talents, toe-tapping music and fantastic bonus features, consumers can take home two of Disney's beloved "tails." The Fox and the Hound and The Fox and the Hound 2, 2-Movie Collection features both movies in a single 3-Disc Blu-ray Combo Pack.  This release provides families with the value, versatility and opportunity to enjoy their favorite movies how they want, when they want and on the entertainment platform of choice – whether it's in the home, on a portable device and/or in the car.
 Further engaging fans and families beyond the story itself, Disney has included five unique bonus features that provide consumers with the ability to further immerse themselves in the storyline, its history and characters themselves with an entertaining look inside the fascinating collection of unlikely friendships in the animal kingdom, Disney's historic and legendary animators, the making of the music and more.  They are as follows:
·       Unlikely Friends:  A fun and fascinating Collection of Unlikely Friendships in the Animal Kingdom (ALL-NEW) — Friendships know no boundaries.   They can occur across country lines, be shared among
    young and old and even develop between different species!
·       The Fox and the Hound:
o    "Best of Friends" Sing-A-Long – Viewers are invited to sing along with Pearl Bailey on this Walt Disney Classic Song.
o      Passing the Baton:  Making of The Fox and the Hound – This feature allows fans to take a deeper look at this little bit of Disney history as legendary animators hand over the reins to a new  generation.
·       The Fox and the Hound 2 :
 o   "You Know I Will" Music Video – High School Musical Star Lucas Grabeel sings this end-credit song.
o   The Making of the Music – Music is the center stage in The Fox and the Hound 2.  As such, this feature showcases how the songs in the film were created with Reba McEntire, Trisha Yearwood and     some of the hottest performers in Nashville.  Viewers will further discover how animation and music work together to further enhance a classic story.
  I received a sample of this product to facilitate my review.  Opinions expressed within are my own.
0