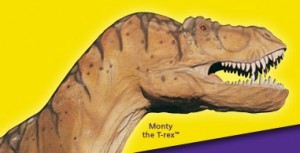 We recently spent the day at The Dinosaur Place in Montville, Connecticut.   We arrived shortly after they opened for business, with the kids squealing in delight at the sight of a huge statue of Monty, the dinosaur, sporting humongous sunglasses and holding a bottle of coke!!
When you arrive at The Dinosaur Place, you are faced with two choices: either go towards the left and head for the Indoor Activities, or to the right for the Outdoor Adventure.  Parents, be ready- the only way to gain access to the outdoor area is through the ice cream shop.  Your kids will hopefully be happy to wait until the end of your visit to enjoy a little frozen, sticky treat as ours were!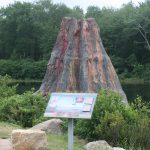 If the weather is agreeable, I 100% recommend that you head for the Outdoor Adventure.  There's well over a mile (I believe 1.5 total) of Dino Trails,  along which you and your companions (big and small) will have lots of fun exploring the area and looking out for the next dinosaurs…you'll find dinosaurs of every size, shape and color along these walking trails- a beautiful setting for a family hike, and really, how cool is it to be finding a dinosaur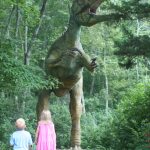 around almost every corner?  The trails are not steep at all and even the most unsteady new walker can maneuver their way about.  If you start your trip right at the top of the hour, starting at 11 AM, you'll get to see a volcano erupt right before your very eyes right along Raptor Bay– don't worry if you don't start on the top of the hour- you can just loop back while you are enjoying your ice cream cone at the end of your adventure like we did!  (Definitely take the time to poke around Raptor Bay- we saw some otter and lots of cool creatures and critters during our visit and the grounds of The Dinosaur Place are beautiful!)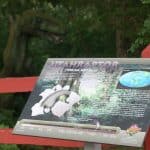 Each time you find a dinosaur you'll also discover facts and information about them posted just near where they stand.  I don't know what these dinos are made of nor who made them but they are superb.  The details are awesome and very realistic but – very importantly- NOT so realistic that kids run in terror.  My 2 year old was shrieking "ninos!! nother one ninos!" within seconds of seeing the second dino on our adventure…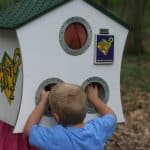 Aside from the life-sized dinosaurs along the trail, you'll also encounter What Am I? boxes scattered throughout the property.  These were a huge hit with all three of my kids, they loved reaching in to feel what was inside each of the sections, and raced to see who guessed correctly on the other side.  Tons of fun, and lots of learning snuck right into the adventure time!
After you get through the Dino Trails, you'll either head over to the a-MAZE-asaurus, which honestly, we could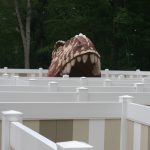 have stayed at for hours.  A real bone-ified maze, you'll find stencil-style dinosaurs outlined on some of the maze panels, and once you do find your way through it, the only way out is through a dinosaur's open mouth full of teeth (just kidding-there is an exit panel too, but that's not nearly as exciting) and as you are swallowed into the tongue-colored tube slide, you'll enjoy a quick but not super fast slide down to the outside of the maze, where you can decide to head back in for more fun (our choice about 10 times in a row) or to wander over towards Monty's Playground and the Splashpad (open seasonally).   Not sure you want to head through the maze right away?  There's  a set of stairs with a lookout landing above the maze so you can plot your route ahead of time, or watch your friends and family get mixed up (which is what Mr. Bargains enjoyed watching me do…)- even the lookout has a tube slide that drops you into the center of the maze (fun slide, again, not too steep).  Be prepared for lots of giggles and requests to go through the maze again and again.  And maybe once more.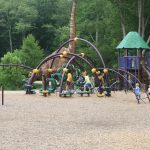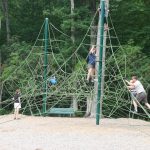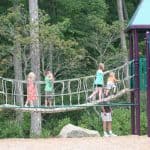 Once you head to Monty's Playground, keep your eyes open for the Dino-mites characters- they'll come out in costume and greet the kids, and maybe even hand them a SECRET TOKEN (which can be exchanged for a prize(s) depending on how many you collect during your visit(s) over by the Indoor Activities).  Built much like many modern playgrounds, Monty's Playground has a full array of activities to get even the wiggliest of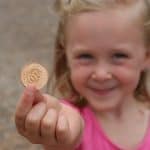 wiggleworms' energies expended.  My kids were enthralled with the Spacenet (they dubbed it the giant spiderwebs), and clearly weren't alone- tons of kids and their adults were seen all over the structure the entire time we were there!   There are some smaller play structures, more suitable for the pint size dino fans in your group, as well.  Something for everyone!
There are some picnic tables in a few different locations around the park if you bring your own food from home- but there's also a snack shack located by the playground and splashpad with surprisingly reasonable prices (and you can grab some sunscreen with your hotdog, or a towel!).  Around the side of that snack shack are 2 restrooms with changing rooms (mens and womens) which are very well lit and clean.  The whole park is quite well kept, and very clean.
The last part of our outdoor adventure at The Dinosaur Place was the Splashpad.  We'd come once before but it was in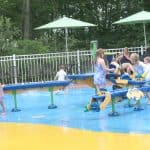 late September and here in CT, that's too cold for water play outdoors, so we didn't get a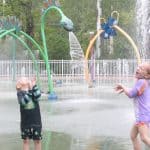 chance to experience it until this trip.  So much fun.  Be prepared before you go and bring a towel and water safe shoes for your kids- without them, they won't be able to splash.  (They do have bins with some flip flops in a variety of sizes but I'd rather bring some from home).  Be prepared for many, many shrieks of delight and endless giggles.  Tons of fun, and famed to be the "largest" splashpad in New England, this area of the park offers not just splash pad features but also a very mild, toddler friendly area without any sort of spray…which was great for kids who were nervous or wanted to literally test the waters before delving into the crazy water fun.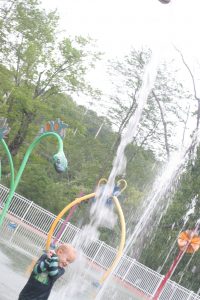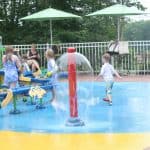 We had so much fun with our adventures on the Dino Trails, the a-MAZE-asaurus, Monty's Playground and the splashpad, that we didn't even make it to the Indoor Activities- we decided that we'd simply need to bring the kids and enjoy another day with the family.  I will tell you that there are really cool dino themed activities inside, as well as shopping – and somewhere, but I'm not telling where, there's a talking baby dinosaur.
If you are going to be in or near Southern CT, The Dinosaur Place is most certainly worth the ride.  A great way to spend exploring, learning and having fun with the family.  There are some beautiful hotels offering great accomodations (some including admission to The Dinosaur Place!) and the park is only a short drive to the CT shoreline and all of the attractions offered there.
Thank you to The Dinosaur Place for having us, and we can't wait to come back!!  Follow them on Facebook for news, giveaways and more!
All opinions expressed are my own, as always,  we received our entry passes from The Dinosaur Place.