This post about litter box issues is sponsored by Precious Cat on behalf of the BlogPaws Blogger Network . I am being compensated for helping spread the word about Precious Cat's Cat Attract formula, but This Mama Loves only shares information we feel is relevant to our readers. Precious Cat is not responsible for the content of this article."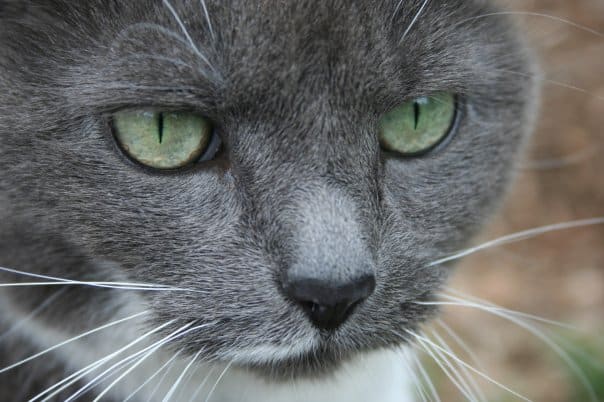 When cats don't like to use their litter box….and other tales from the crypt. Er, um. I mean Martin family. I grew up never having had a cat.  Never not ever.  Since meeting the fabulous Mister of mine, who had a kitty named Raistlin (above) when we met, I've pretty much never not had a cat.  Raistlin was 14 1/2 when she passed on.  She was awesome about using her litter box…until the last few months of her life.  Or maybe if the kids locked her in a room (not her fault). Then Sunshine kitty came along and LOVED her litter box, went to it from moment one and that was that.  Except the times we found some little presents in the corner of OUR bedroom (and ours only).
Now we have 2 kitties, Lloyd and Rosabeth.  (Lloyd, also known as Moose Kitty, is the bigger one). They are PRETTY good about using the litter box. (I feel like I have to take a moment right now to tell you my 4 year old calls it a glitter box and I feel like it's such a better term for it…and also, sometimes we think about slapping some mod-podge and glitter on the tops of our boxes just because it look fabulous… then we come to our senses). But there are times, and they seem to take turns having this 'mood' that they seem to forget where the litter box is or are mad at us and decide to use other facilities for their business. It's annoying, it's gross, and it stinks (in more ways than one). Litter box issues can pop up at any time, and I would prefer to take steps to prevent that.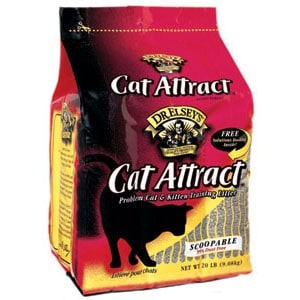 So when I heard about Quality Products for Cats®, I was intrigued by the Cat Attract Litter Formula that they make.  A cat litter meant to attract cats to want to use it?  Interesting.  Intriguing.  Happy endings for many cats? Maybe.  Non-use of the litter box is the number one behavioral reason cats are abused, abandoned and placed in shelters. (This is news to me. I had no idea of this statistic but it's sad, and I'm happy there are professionals who want to do something to decrease this number). Dr. Elsey's goal is to provide products that help cats live happier, healthier lives and provide litter box solutions for the life of your cat. This new scoopable litter provides a solution for cat owners whose cats do not use their litter box. Blended with a natural herb attractant, Cat Attract's herbal scent, ideal texture and particle size combine to solve litter box problems.
 So what is it about the Cat Attract and Kitten Attract Litter Formulas that makes them work for cats and kittens?
(The following is an excerpt from an interview that BlogPaws did with Dr. Elsey, creator of the Cat Attract products).
The kitten attract formula has a finer particle size which is better suited to the small size of a kitten's paw. There's no reason a cat owner couldn't continue using the kitten formula on an older cat but it tends to track a lot more than the Cat Attract does. Cats like a litter that is as close to sand as possible, from a texture standpoint; studies back up that point. Using sand isn't an option because, even though cats like it, it doesn't absorb. In the beginning stages of litter training a kitten starting with a finer litter size encourages use of the litter; the Kitten Attract litter is formulated with an herbal essence that is pleasing to a kitten. The switch to Cat Attract litter can be made once the kitten is around one year old. The Cat Attract formula has a different herbal essence that is found to be more pleasing to the older felines.
Dr. Elsey also mentioned things that I wasn't aware of- often times, when cats have blood in their urine, it's due to stress and not infection.  Things that can cause your kitty stress?  Dogs, other cats in the home, small space, and people.  In our house, ,we have 5 people, 2 cats and a dog.  We do give the cats free roam of our house, so they have a good amount of space to roam, although it's not a huge space, I think they have places to run and play.  One of their favorite "jungle gyms" is my son's batman bed… So what are some immediate tips to help with this even before we try this new litter? 1. Make sure each cat has their own litter box (I'm so happy we have 2 already, win for the Martin family!) 2. Scoop the litter DAILY 3. Keep the litter box someplace that's not super noisy.  Next to a washing machine can startle them if it's running. 4.
Do you have cats? Do they ever have litter box issues?