Moms are lucky for so many reason, but one big reason is that they get to have some very special, and unique, moments with their kids. Now, not all of these moments are great ones – they can include temper tantrums, and having to be the one that says no to a begging child – but often times they are… even if you don't realize it until you are looking back on it a few years later 😉
The holidays have a way of bringing out the crazy for everyone. Kids enjoy tons of cookie and candy induced sugar highs, and there is always something that you want to get done or that needs to get done. Half the time, things don't work out as planned, but that is okay too, because you are still creating a memorable moment.
Sprout
has recently launched an awesome holiday campaign to celebrate these moments, or as Sprout is calling them "Holiday MOMents". Every mom has them, and Sprout wants to help you celebrate all those silly, crazy, funny, tear-filled, totally-didn't-go-as-planned, and amazing MOMents this holiday season!
I have really been enjoying looking through all the pictures that other moms have posted for the Sprout's MOMents campaign – they have all made me smile and I can definitely relate to them in some way or another!
There were lots of really cute pictures of kids helping parents bake. This really hits home with me because holiday baking is a huge part of how we celebrate.
Baking cookies with my mom, and now with my kids, has been a family tradition for us since I was able to stand and bake. The best thing about making cookies, then and now, is taking a taste or two of the cookie dough! There have even been instances where more was eaten than baked, and my kids tend to end up covered head to toe in at least one ingredient – typically flour! – every year.
Those are the MOMents that I treasure. Things don't always go as planned, cookies get burned or don't come out looking how I wanted, but the memories that are made during that time spent together are what make them perfect, and why we continue the holiday baking tradition.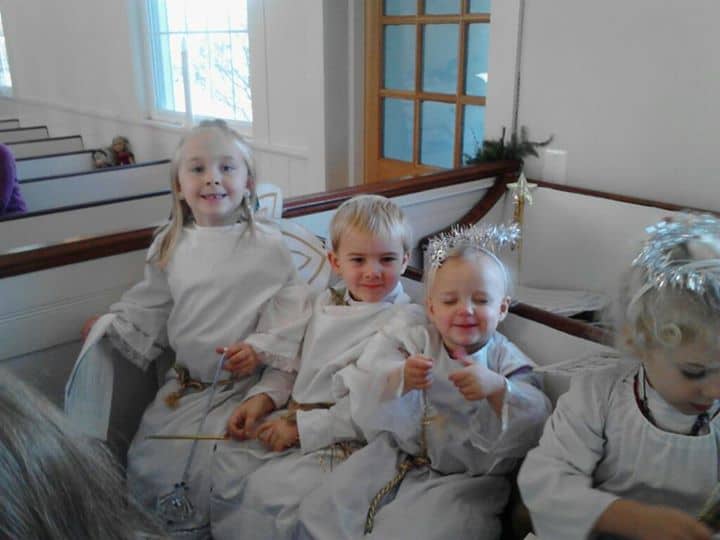 This picture of my little angels was snapped just a little while before the pageant started….during which….when Pastor Chuck said we'd be singing a hymn, my littlest one started belting out HAPPY BIRTHDAY.  At full volume.  When Mary and Joseph were arriving in Bethlehem, a certain someone announced quite loudly she had to go potty. So down we went, right through the middle of the pageant, to get to where we could safely head for the bathroom.  The finishing moment that day was when my oldest got her first bloody nose.  In the choir loft at the front of the church,wearing a 100% white angel costume.  Perfect? No.  Memorable? Yes.  Awful photo? Absolutely. But full of MOMents!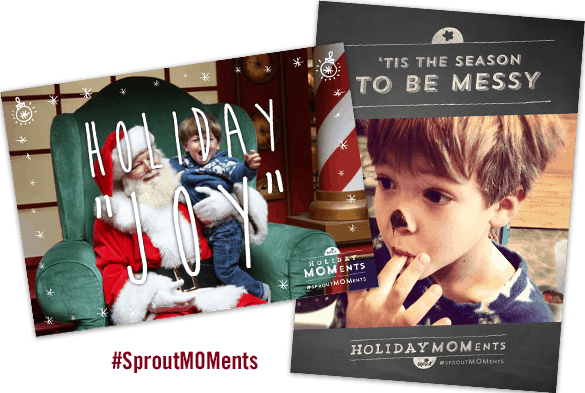 Ready to create your own Holiday MOMent picture?
Sprout has provided some great picture boarders with holiday captions to pair with your MOMents pictures. After liking Sprout on Facebook, you just pick the frame that fits your picture best, upload the matching picture, crop for the perfect fit, and you're done!
Each holiday season provides so many opportunities to create special MOMents. The challenge is slowing our busy schedules down enough to appreciate and enjoy them! It can often be hard to remember to take a break and just enjoy the MOMent, but it is definitely worth it!
What are some of your favorite Holiday MOMents? Tell me in the comments!
I was selected for this opportunity as a member of Clever Girls Collective and the content and opinions expressed here are all my own.