I'm smitten with the idea of the monthly subscriptions that are available to consumers.  For kids, most of these subscriptions offer craft ideas, with everything you need, right inside the box….and one of the companies who makes these boxes, ItsySparks, contacted me about doing a review of their ItsyKit for little ones. Our April kit included supplies for recycled bugs, decorating our own shopping bag, caterpillar planter and a toilet paper birdfeeder.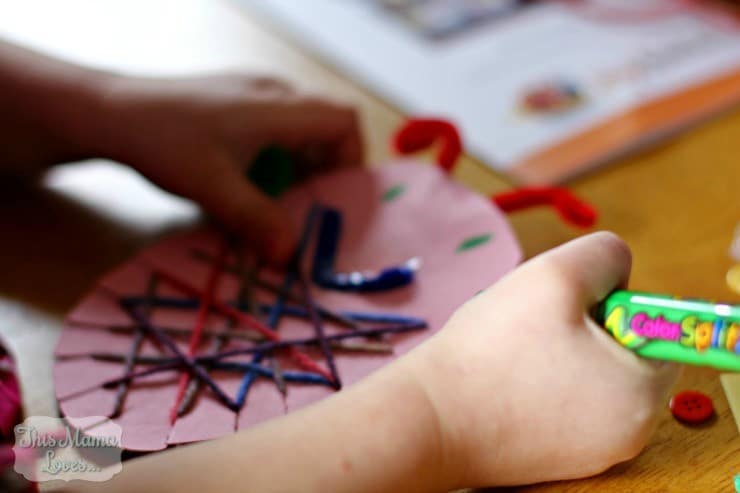 Here's what I love:
Kits come set to go.  It's not just a box with a mish mosh of things, it's a kit in a bag for each project included.  There are 3-4 projects in every single kit! Our kit even used parts of the box for projects- if that's not being green, I don't know what is!
All of the parts and pieces
Usually some pieces/parts left over
Fine motor, problem solving, exposure to various art mediums, and more
Ideas and suggestions to build off of the projects included in that month's kit.
Science, math, language arts, social studies and more…through play.
Creativity, exploration and fun.
Here's what I don't love:
Having to wait for the next box to come. (Patience is not my strong suit)
That's it.  It's a fair price, at $24.99 (Free Shipping) a fabulous idea for a gift (subscriptions come in different lengths of time),   A year membership can get expensive, but honestly, for parents with not a lot of storage space, not having to store 1000 tiny craft supplies will love this, and quite frankly most kids I know aren't in need of any more "things" to keep in their house or room.  How much fun is getting mail when you are a kid- especially a package?
One thing I keep thinking about with these kits is how well they lend themselves to travel.  Even the birdfeeder we made- all of the parts came right in a ziploc bag, and I can quite easily imagine throwing that kit into a suitcase or bag for a fun activity to do at gramas, Aunt Sue's, or somewhere else a family may be heading.  Everything needed comes in the kit so it's simple to slip in and have a fun activity for just in case.  We will be joining a pool club this summer and I plan to keep a few of the project ideas in my bag for days when my older kids have tennis lessons and my little one doesn't- she'll be happy and busy, and we can have a little mommy-daughter time together.  That's a win for all of us!
Visiting the ItsySparks site brings more tips and ideas, and the ItsyBits section has lots more suggestions for crafts and different ways to explore the 5 senses!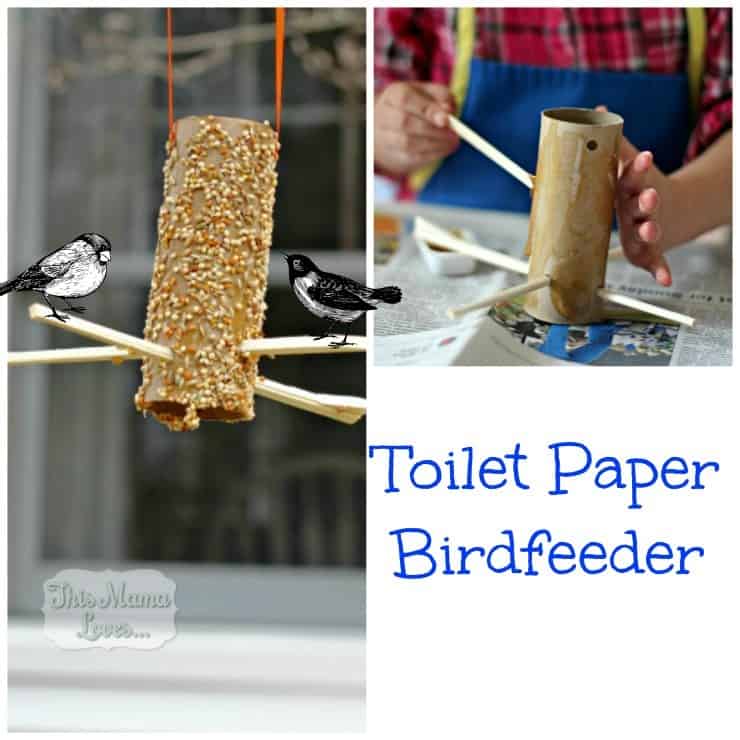 Want to make your own Toilet Paper Birdfeeder?  This one is super easy- and, allergy free (uses honey instead of peanut butter)
What you need: 
Toilet Paper Roll
2 chopsticks (I think you could use bamboo skewers as well)
Birdseed on a paper plate.  2-3 T should be enough for a birdfeeder- there's not an exact science to this project
2T honey (per roll used)
Stick, spoon, something to spread honey with
String  (12 inches or so)
What you do:
Spread newspaper for the mess (I can almost promise you that there will be a mess)
Poke 2 holes in the top of the TP roll for the string, and 4 small holes in the bottom of TP roll to push the chopsticks through (you want them as pictured above)
Spread honey all over the toilet paper roll
Roll the honey-covered TP roll into the birdseed on the plate, covering thoroughly.
Push chopsticks through the holes
Push string through holes at top of roll and tie at top
Hang your feeder and enjoy the bird watching!  We had a lot of Red Breasted Robins, Catbirds and Chickadees who have come to visit our little feeder.  Ours has held up really well and we've been able to re-do the honey/birdseed combo a few times on the same TP roll!
Thanks to ItsySparks for our membership! We love it!! Opinions are my own, as always.