Today I am writing about another vegan breakfast option, Tofu Scramble.  It is quick and easy to make and really can be served at any meal.  I know that this one may be a hard sell for some people but honestly when it is seasoned and prepared nicely, tofu is quite enjoyable.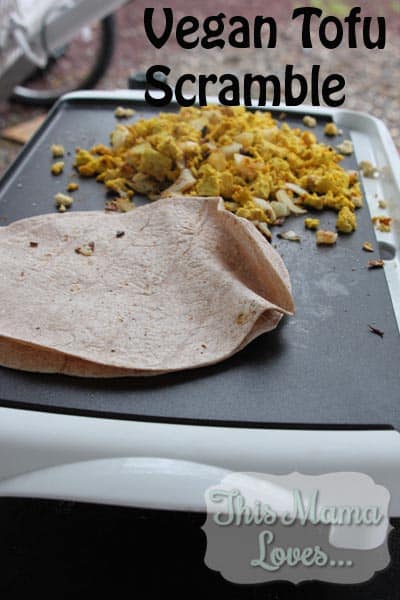 I have been trying to come up with some meals that are easy to make while camping in the RV and that all three of us will eat.  We have had 2 electric griddles since we got married 10 years ago.  I finally found a used for griddle number 2.  The RV even has an exterior plug so I can cook outside.  This summer I will be making pancakes, home fries and lots of tofu scramble.
The amazing mystery ingredient that I use is Nutritional Yeast AKA Nooch.  Nutritional Yeast is an inactive yeast that adds a pleasant nutty and cheese flavor to recipes.  I use it all the time in scrambles, on popcorn and to make a "cheese" sauce.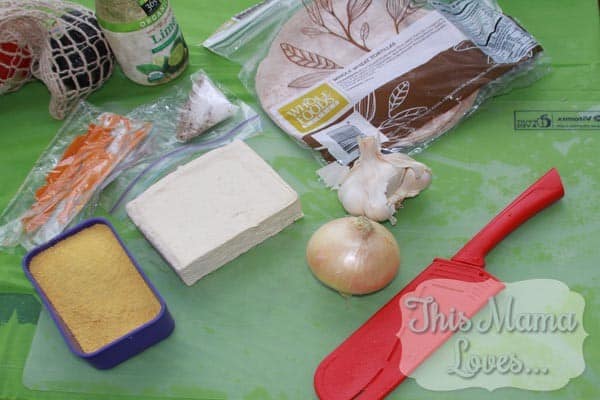 What You Need:
1 block of firm pressed tofu
1 onion
2 cloves of garlic
2 or more Tablespoons of Nutritional Yeast
1 tablespoon of Turmeric (adds great color)
1-2 tablespoons of lime juice
salt and pepper to taste
What To Do:
First saute the onions and garlic in a pan or on a griddle.  I dry saute but you can add oil if you prefer.
Once the onions are soft, crumble the tofu on top of the onion and garlic.
Let that sit for a couple of minutes, until the tofu starts to brown.
This is when I add the turmeric and start mixing the tofu around.  If it seems dry add a splash of lime juice.
When the is still soft but starting to brown and the turmeric is well incorporated, add the nutritional yeast and another splash of lime juice.
Mix with a spatula until all ingredients are full combined.
Add salt and pepper to taste.
We then put ours in wraps and ate with a side of mixed fruit.  So delicious.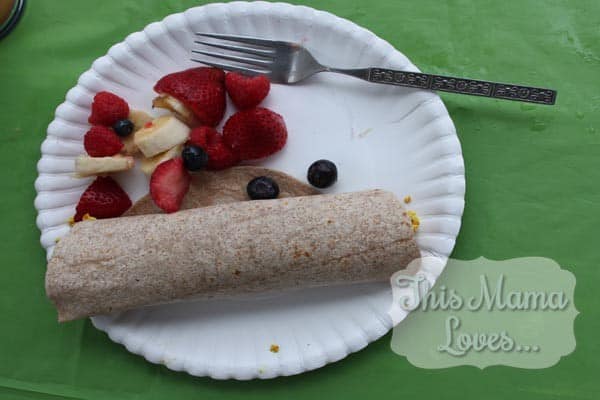 Have you tried tofu?  How have you eaten it and did you like it?