Every year when we take ornaments out to decorate the tree, I share the stories behind each one as we take them out and place them on the tree.  This one, I tell my kids, was made by my sister Debbie, when she was in high school.  Even at 8, 6, and 4, I hear a chorus of "MOM! We already know that, you tell us every year!"  But still I share. And I will continue to share. No matter how many eye rolls I get from the mini Martins. That's how I instill in them a love for cherishing holiday memories like I do!
There's the paper mittens my niece Erica made at 4.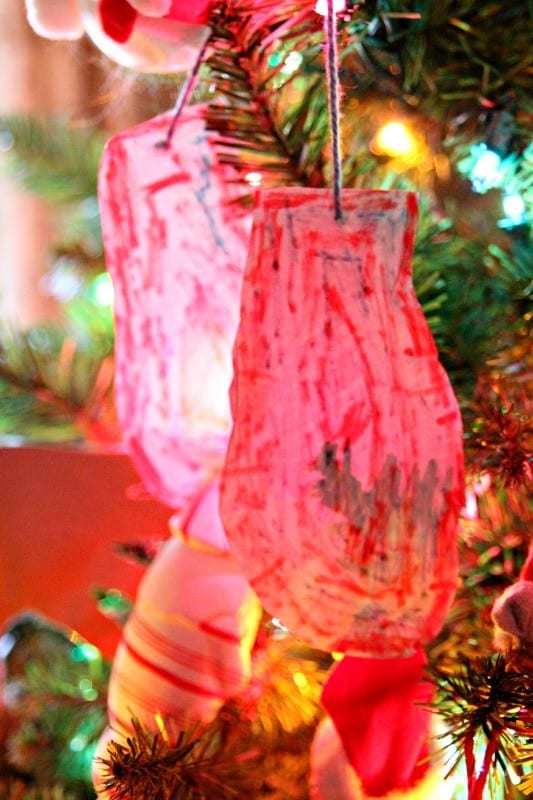 The macaroni angel Kelsey made when she was about 7.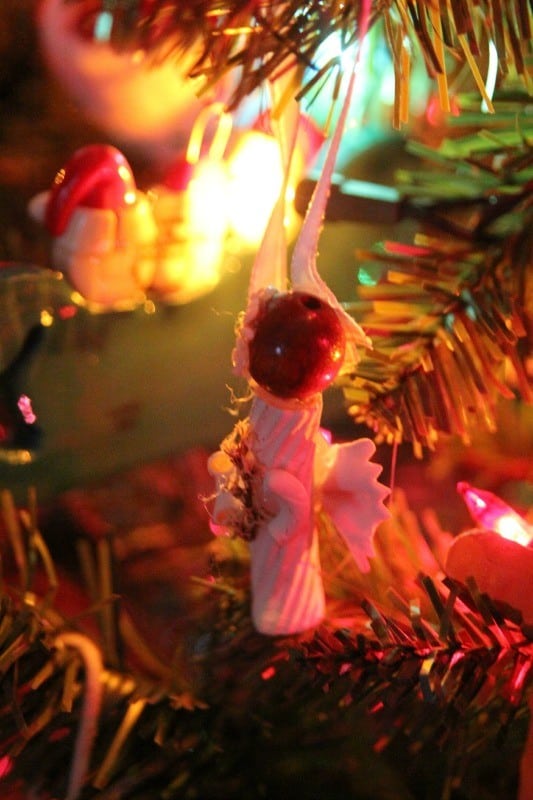 The ornament my dad made for his mom in 1950.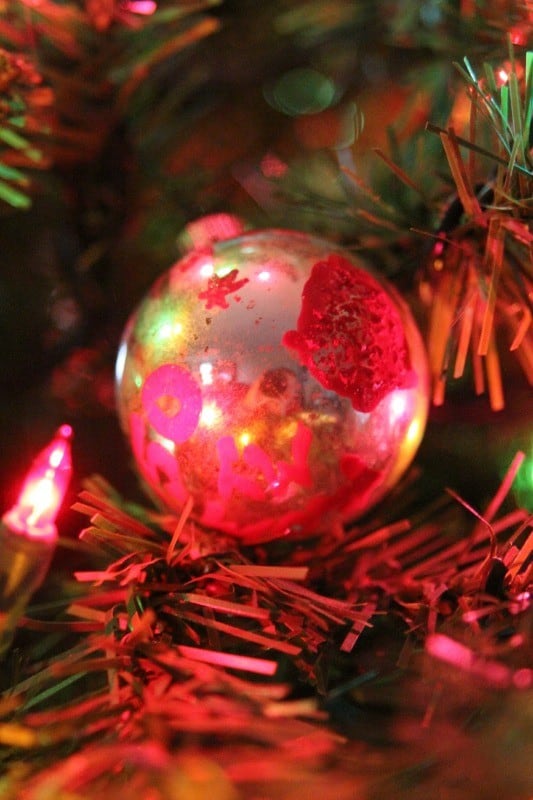 The basket ornament my mom wove.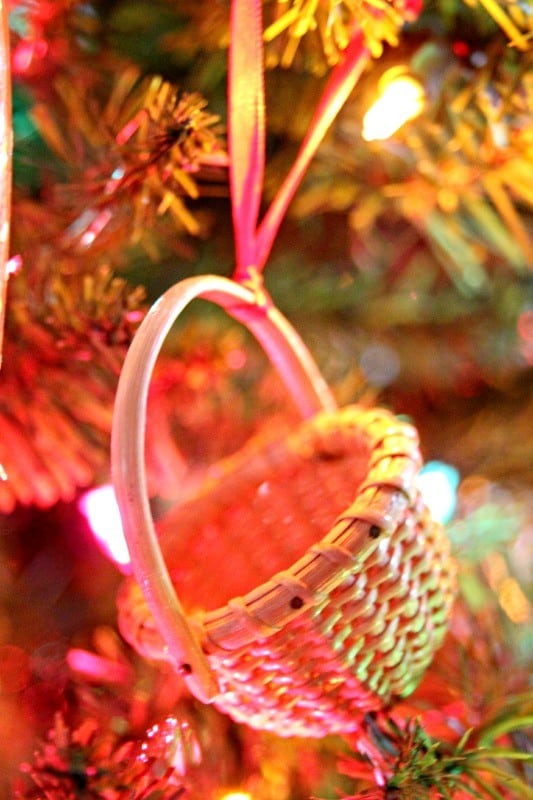 Baby's first Christmas.   Big sister. Big brother. Photo ornaments made in classrooms.  Nativity ornaments made at church.
The 20 point origami star my sister Debbie made, I don't even know when- but she made it, and it's one of the few things I have that she made when she was alive.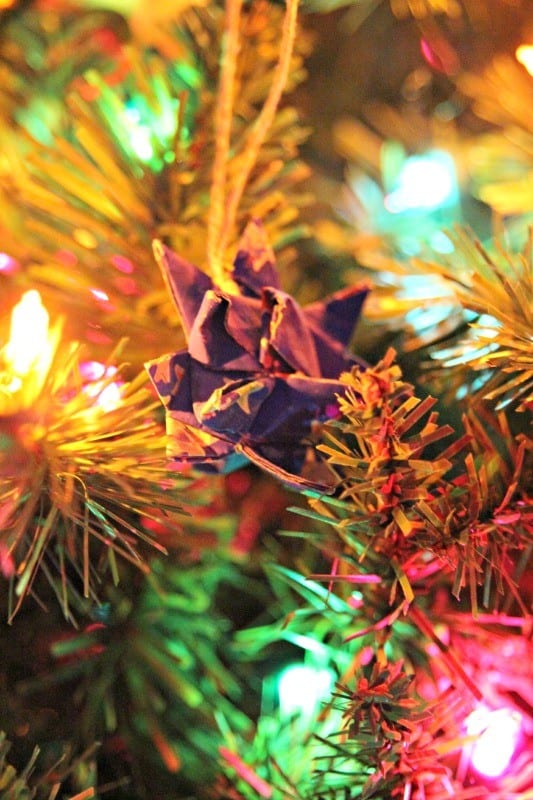 The first family ornament given to us by my dear friend Ally, when our oldest had her first Christmas.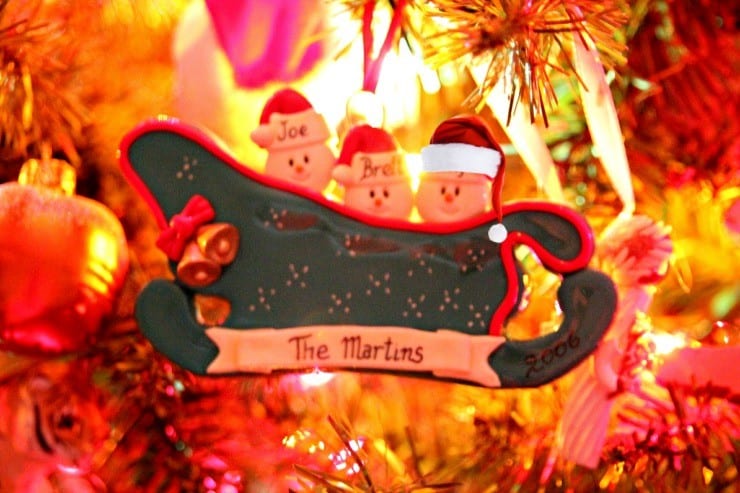 Almost all of our ornaments have a story.  They aren't fancy, they don't match, some aren't even pretty.  But they all have a story and it's part of OUR story, and I want my kids to know and understand the how and why we need to treasure these memories.  Every year I make a point to get each of my kids an ornament- often they are from Personal Creations, because I love their selection and quality, and GREAT pricing. But mostly, I want personalized ornaments that are symbolic of their year they've had.  This year, the kids are getting a Soccer player ornament (my son), a tap dancer ornament (my littlest) and a gymnast (my oldest) — because those are the things they are each loving the most right now.
My tree won't ever be perfect.  Truthfully, I wouldn't want it to be. There's not matching sets, nor a color scheme. There's not symmetry and that's ok! The little cinnamon applesauce blob that my then 2 year old son pronounced was Santa?  That will hang proudly on my tree as long as it is around to be hung. Those are what make our family memories. Those are part of how I can share my family history with my children, and how we start our own traditions.
When my kids grow up, the ornaments we've given them each year will leave home with them, to start their own tree.  And it will be there turn to start sharing our memories with their own new little families, and maybe one day make their own kids groan at them telling that same story about Aunt Debbie's origami star that she made so many many years ago.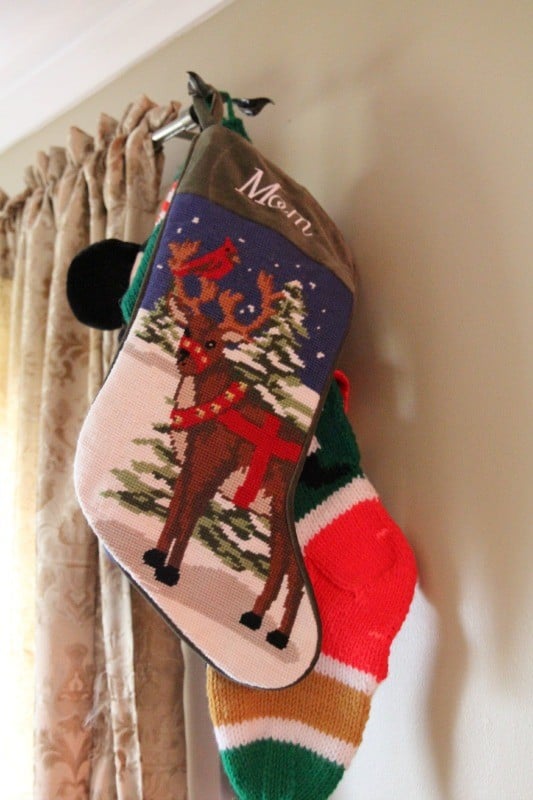 I added something new for myself for Christmas this year.  When I was growing up, we had felt stockings my mom made.  They fell apart years ago, I'm not sure what my parents used from then on, but I had always wanted a stocking with my name on it. When the kids were born, we got each a stocking with their name embroidered on it. My husband still has his childhood stocking with his name on it- it was knit by his grandma. He swears he just keeps it around because it's knit, stretchy, and therefore can fit more stuff, but he's full of beans.  He treasures that stocking because his grandmother made it for him. As do I.  He got me an adorable stocking from Disney one year, and we are still enjoying it – but this year, there's a new "Mom" stocking hanging in the living room. I finally got that stocking with my name on it.
Follow Personal Creations Blogger Board: Christmas Ideas on Pinterest

Ready to personalize your own Christmas creations? Personal Creations is offering my readers 20% off of all of your purchases through the end of December. Click here to start shopping and the 20% will be applied in your shopping cart.