My husband was recently driving in the car listening to a program on NPR. He came home all excited about this new product they were talking about and sent me to check out their website. The product is called Chic Wrap (a plastic wrap that comes in a special container with fun packaging and a zipper to cut the plastic) and I am SOOOOOO excited to share this with you.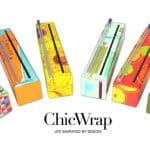 The great folks at Chic Wrap sent me a California design and Brett the Kitchen Tools Design. We love the idea of this product so much that we both were DYING to try it out! This product touts themselves as "The World's Best Plastic Wrap Dispenser". That's a pretty hefty claim to live up to. Let's test it out: First, you choose from several great designs. I love the funky and colorful desing of the California, but they have designs to fit everyone's taste. My advice: pick one that you really like because this puppy is going to end up living on your counter top!
What comes with your Chic Wrap: UV Coated Box, 250′ of professional plastic wrap, Zip Safe Slide Cutter, 4 non skid feet Let's take a look at each item: The Box: UV coated for durability – This box is extremely durable and because it is UV coated you can easily wipe it up in case it gets dirty. The designs are fabulous! Zip Safe Slide Cutter- comes with a sticky back. Just peel off the paper and stick it on the guide marks on the box. Works like a charm!!!! This cutter zips through the plastic wrap like nothing. Anyone can use this, even the kids. No chance of anhone cutting themselves. Non-Skid Rubber Feet – makes the whole process
easier. No slipping and sliding on the counter. Again, just peel of the paper backing and stick onto the guide marks on the box. The Plastic Wrap: I LOVE this plastic wrap. This is much thicker than your typical grocery store plastic wrap. It doesn't get tangled up in iteself, but sticks nicely to your food/container. You can definitely tell that this is professional grade wrap. Overall: I rate this product as a MUST HAVE. I love the Chic Wrap so much that I have been looking for things to wrap. All of my childrens sandwiches are now wrapped in plastic for camp. I have also wrapped up half a watermelon and dinner leftover. How Much?: $9.99 for the set. Can you say CHRISTMAS GIFT IDEA!!!!! Also, this would make the perfect hostess gift for any summer party. Very budget friendly.
Anyone you give this to will LOVE it. Refill packs comes in sets of four for $15.99. That comes to $3.99 a roll. Very reasonable for a far superior plastic wrap product.   You can follow Chic Wrap on Facebook for a chance to win your own!!!   "A sample of this product was provided to faciliate my review. All opinions expressed are my own."