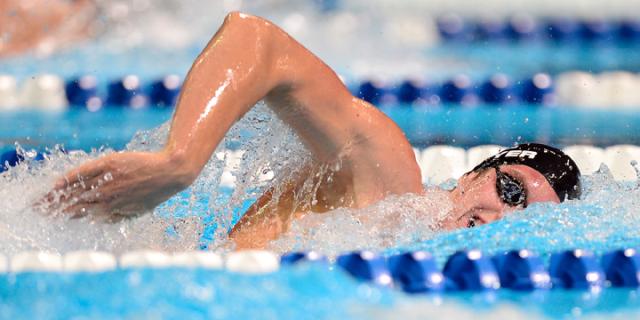 Watching the Olympic trials has been so much this week. Seeing our fellow Americans competing against one another to represent our country at the Olympics has been such a cool thing to share with our kids. I'm pretty certain they do not understand what it all means but I do know they love watching and have a million questions.
I can't help but get caught up when it's Olympic time.  Trials or not, every single event I watch draws me in.  Swimming just pulls me in a little bit more because it's close to my heart.  But the power of these athletes- their will, their determination- it's just awe-inspiring.  I love it.  I love that my kids get just as wrapped up in the moment as I do, and shout and clap right along with me!
Like their mama, all of my kids love to swim and my oldest has already begun asking when she can join a swim team. Watching the best of the best swimming in all of the trials has gotten the kids even more into the sport. There was an interview on tonight with Dana Torres and my daughter's jaw dropped to the floor when she heard how long Dana's been swimming. I can't WAIT to cheer Dana on in the trials Monday night!!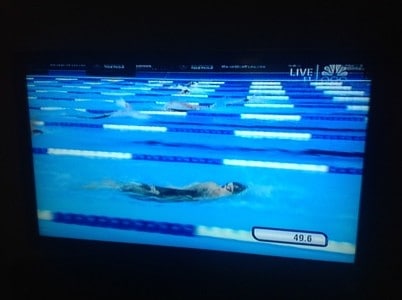 Heat 2 men's 100 fly semis lead by Michael Phelps (51.35) Tom Shields (51.89). Phelps finishes w/ the fastest time in the world this year.

— USA Swimming (@USA_Swimming) July 1, 2012
It all starts tomr…Have FAST dreams future Olympians! And when you wake, believe you can do anything! #SwimToday

— Summer Sanders (@SummerSanders_) June 25, 2012
.@RyanLochte qualifies for yet another individual event, winning the men's 200m backstroke event. Tyler Clary finished second. #SwimTrials12

— US Olympic Team (@USOlympic) July 1, 2012

Here are the standings for the 2012 USA Olympic Swim Team!! (Well, as of 10:30pm EST on 6/30/12)
Men:
Alex Meyer – 10K Open Water
Ryan Lochte – 400m IM, 200 Free, 800 Free Relay
Peter Vanderkaay – 400m Free
Brendan Hansen – 100m Breast
Michael Phelps – 400 IM, 200 Free, 200 Fly, 800 Free Relay
Ricky Berens – 800 Free Relay, 400 Free Relay
Conor Dwyer – 400m Free, 800 Free Relay
Matt Grevers – 100m Backstroke, 400 Free Relay
Scott Weltz – 200m Breast
Clark Burckle – 200m Breast
Nathan Adrian – 100 Free, 400 Free Relay
Cullen Jones – 100 Free, 400 Free Relay
Eric Shanteau – 100 Breast
Nick Thoman – 100 Back
Tyler Clary – 200 Fly
Women: 
Haley Anderson – 10K Open Water
Elizabeth Beisel – 400m IM
Dana Vollmer – 100m Fly, 800 Free Relay
Allison Schmitt – 400m Free, 200m Free, 800 free Relay
Missy Franklin – 100m Backstroke, 200 Free, 800 Free Relay
Breeja Larson – 100m Breaststroke
Lauren Perdue – 800 Free Relay
Caitlin Leverenz – 400m IM , 200m IM
Cammile Adams – 200m Fly
Kathleen Hersey – 200m Fly
Claire Donahue – 100m Fly
Chloe Sutton – 400m Free
Rachel Bootsma – 100m Back
Rebecca Soni – 100m Breast
Ariana Kukors – 200m IM
Just a few more weeks until we can cheer on all of our team at the Summer Olympics!  
AND…you can help us cheer on USA SWIMMING!!!
The Motherhood and USA Swimming are throwing a Twitter party on Monday, July 2, at 7:30 p.m. ET so we can all cheer on Dara Torres in real time as she swims!!  If you're able to join at that time, we'd love to see you there!  The party will last an hour, and we'll be giving away some prizes, talking about swimming and cheering on Dara throughout.  The hashtag for the party will be #SwimToday.
Don't forget:  if you are looking to find out more about competitive swimming, swim lessons, swimming for fitness and health- or really, ANYTHING swim related, SwimToday.org is THE place to go!  You can learn more about SwimToday.org here!
 This post is part of my participation in the SwimToday campaign with The Motherhood. All opinions expressed are mine.