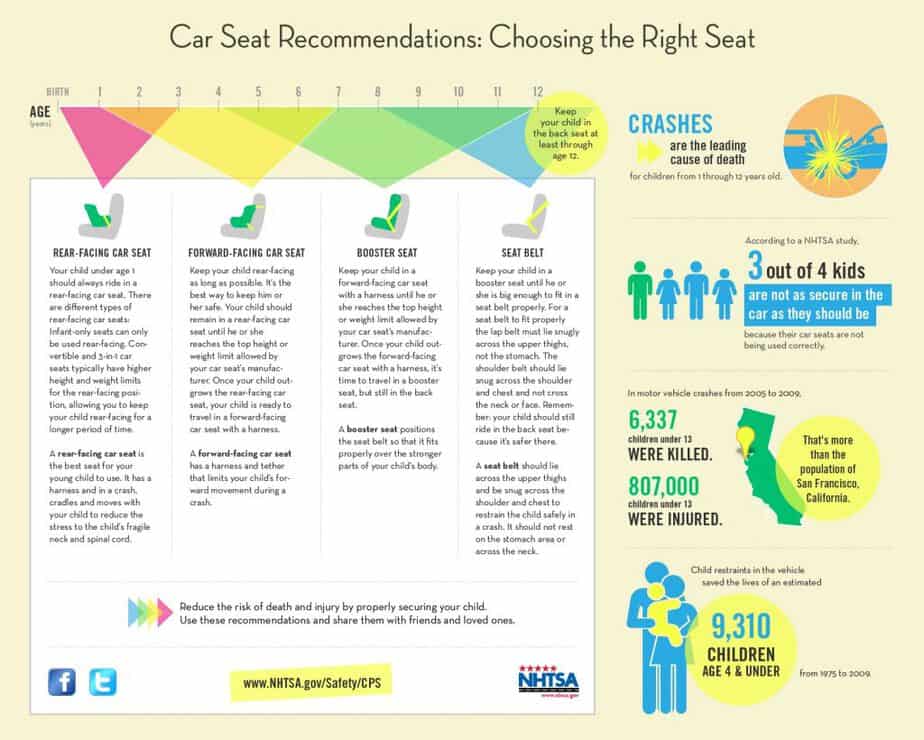 Each year, thousands of children are tragically injured and killed in motor vehicle crashes. In fact, motor vehicle crashes are the leading cause of death for children ages 1-13.
The reason? Most parents and caregivers don't understand how car seats work and are not familiar with the milestones a child must reach before he or she can be safely transitioned to the next car seat type or seat belt. The National Highway Safety Transportation Administration is aiming to increase awareness during Child Passenger Safety Week (September 18-24) by educating parents and caregivers about this issue and motivate those who thinkthey are securing their child properly to seek help, even if they're sure their child is correctly restrained.  Child Passenger Safety Week concludes with National Seat Check Saturday on September 24, where community events nationwide will have Certified Child Passenger Safety Technicians available to provide hands-on car seat inspections and advice — for free! 
Find a National Seat Check location near you!!  PLEASE do so- it is FREE 100% of the time and could literally be a difference of life and death.  I'm not trying to be the bearer of gloom and doom but I see kids buckled loosely or improperly on a close to daily basis- in every kind of car seat.  Just because your child doesn't LIKE their straps buckled properly doesn't mean you shouldn't buckle them properly!!  I can't say this enough, because I hear it all of the time from parents. 
My kids know how their mom and dad feel about car seats.  My oldest was in a 5 point harness until she was almost 6 years old, and I would gladly have kept her in a 5 point harness until she was 85 lbs.  She wasn't happy and even I got teased by friends for going overboard, but you know what?  My husband and I simply felt safer with her being secured in a 5 point harness, and we never for a minute have second guessed our car seat usage.  My youngest just turned to front facing in her carseat at 23 months.  We have spent a lot of time (and money) investing in seats that work for our vehicles, our budget and our family.  Its something that is a top priority for us and I hope that if you use car seats, you will check out some of this car seat safety  information shared today.  PLEASE.
The Child Passenger Safety Twitter account (@childseatsafety) will be hosting a live Twitter Q&A on TODAY, Wednesday, September 21 at 2 p.m. ET. Safety experts from the US Department of Transportation's National Highway Traffic Safety Administration will be available to offer essential information on car seats and how to safely travel with children of all ages in cars. Just use the hashtag #CPSweek to follow along and ask your questions.
Information provided to me for this post- opinions are my own.
0