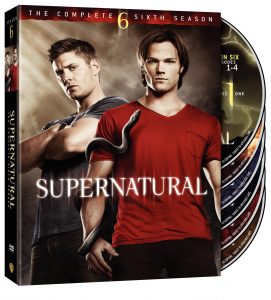 Season 5 of Supernatural ended with a banger between the gates of Hell opening up and fights with angels it was quite a departure from the earlier seasons but demonstrates how the show has evolved.  I think its great how much Warner Brothers has stayed with Sam and Dean and allowed them, their characters, their storylines and their relationship with one another change, evolve and grow over time- I think that's a key element of a successful series that can last a long while.  With the changes that have evolved, readers WANT to stay tuned, are engaged, and are intrigued and what to know what is next for the beloved Winchester brothers. 
I first saw Supernatural in Season 2, I am fairly sure that the episode was Nightshifter, and WOW.  The build up and suspense was awesome!!  The evolution and changes in the show since then are fitting and appropriate for sure.    It would be pretty cool to pop a DVD in and check out Nightshifter and then watch a current episode and do a comparison of the changes throughout. 
Grab Supernatural: Season 6 now on DVD from WBshop.com!
"I have been hired by Warner Bros. WBWord division to promote Supernatural Season 6 on DVD."
0