I'll admit it.  I'm a chocaholic.  Especially this time of year with all that delicious Easter candy around.  So, what's better than a chocolate bar?  How about a chocolate bar that is custom designed by you!   At Choccreate, you can create your own chocolate masterpiece.  They have milk, dark and white chocolate and a selection of over 100 ingredients to add in.  I was absolutely thrilled to try out some of my own custom creations.
The process was really simple and quick.  First I chose my chocolate (milk chocolate of course), and then I chose my add ins.  With so many choices it was hard to decide (you can even add gold flakes)!  The add in's are grouped into the following categories:  Fruit, Nuts & Cereals, Gourment, Extras, Decorations and Herbs& Spices.  The website also offer suggestions and favorite combinations.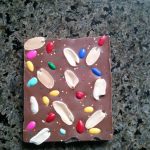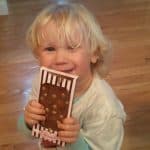 I designed 3 bars:
1.  Milk Chocolate with Himalayan Sea Salt, Caramel Bits and Pecans – For Me
2.  Dark Chocolate with Hazelnuts, Dried Shredded Coconugt and Chipolte Pepper Powder – For the Hubby
3.  Milk Chocolate with Sunflower Seed Sunbeams, Dessert Sprinkles and Roasted Peanuts – For the Kids
My chocolate arrived in a matter of days.  It came packaged in a cute brown and pink striped box (perfect for an Easter Basket), with my custom ingredients labeled on the back.  Each bar is is a generous 3.5 oz. size.   My intention was to use these chocolate bars in Easter baskets.  Of course I wasn't able to wait that long.  As soon as my husband and children saw these custom created bars, they wanted to dig in right away.
First, let me say that the chocolate was really delicious and creamy.  Choccreate uses gourmet German Chocolate in all of their bars.  All three of the bars were so unique and delicious in different ways.  I added sea salt to my chocolate bar because I love the combination of sweet and salty.  The addition of the caramel bits and pecans was perfect.  Delish!!!  My husband tried the Dark Chocolate, which was also great.  He added the Chipolte Pepper Powder which added a little kick to the chocolate.  The combination really worked well together.  They really did a great job of adding just the right amount of ingredient.  Each of the additions was obviously present in each bite of chocolate, but no one ingredient was overpowering.  My children had a fun (and pretty) bar with sunbeams and sprinkles.  It looked so fun and tasted great!  I found that the addition of 3 ingredients was just perfect:  not too much and not too little.
Choccreate also sent us a chocolate bar decorated for Easter.  The unique Easter add ins were so cute and whimsical!  These, I am saving for the Easter baskets.  I promise.
These bars were really delicious and so gorgeous.  They make such a statement in a gift basket and allow you to customize your chocolate bar to fit the unique tastes of the recipient.  Choccreate does a great job of creating these bars.  Try them out in your Easter baskets this year.  Your family will love them!
The bars start at $5.85 and each add in ranges in price from $.50 to about $2.30.  For a really reasonable price, you can create your own chocolate bar!  Hurry, Choccreate can make and ship your bar within 5 days!  Just in time for Easter.
"A sample of this product was provided to facilitate my review. All opinions expressed are my own."