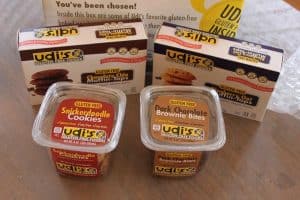 A couple of weeks ago I received two generous Udi's Gluten Free Foods VIP kits.  The only thing stopping me from opening the packages and sampling was, that I first had to take photos of all of their amazing items.  My son was also very eager to dig in.  After the photos were taken we decided to try the Snickerdoodle Cookies.  OMG!  The are so soft, fresh and tasty.  They just might be the best snickerdoodle cookies I have ever had.  My son tried one Dark Chocolate Brownie Bite and then he asked for another.  Udi's products are so delicious that you will wonder if they are truly gluten-free.
Udi's Gluten Free Foods, the #1 gluten free baked goods brand, revolutionized the category when it introduced the first gluten-free bread that tastes and looks like "real" bread and can now be found in over 150 Walmart stores.  They carry 5 of Udi's best-selling products (soft white bread, soft whole grain bread, plain bagels, chocolate chip cookies and pizza crust and can be found in the bakery department.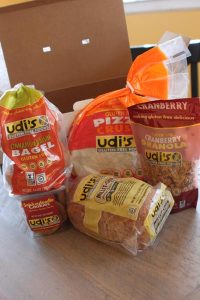 Even if you are not living gluten-free, chances are you know some one who is.  Udi's provides a great variety of gluten free products that make gluten-free life easier and tastier. You can purchase Udi's online in their shop or search by your zip code for a local retailer.
Everything we tried was very good and products that I would buy at the store.  My son gets excited when we pass the freezer section and sees the Udi's products.  The pizza crust is a great size for making pizza for one and the bagels are just the right size also.   Udi's muffin tops are great for breakfast or an afternoon snack.  Many of Udi's products are also soy free and dairy free.  So, whether you live gluten free or not, get out and try some of Udi's Gluten Free Foods.  You will not be disappointed.
I was provided with products to facilitate this review.  Opinions are my own.