This recipe for chocolate avocado brownies is sponsored as part of my Ambassadorship with Avocados from Mexico. Opinions are my own.  I love brownies. They love me too.  It's a long, rocky road for us (and another brownie flavor I can't seem to say no to) and it usually ends with the brownie being devoured and me…well, being me at the end of the day. But as we all know, traditional brownies don't always have the healthy ingredients.  Thankfully, there are ways to make them just as delicious with better for you ingredient options and  my new favorite ingredient to add to my baked goods is none other than the avocado.
Yes, the avocado.
Avocados can be used to substitute butter or oil in baking.  They often make the baked goods softer and chewier.  (I should be careful using them, because what if people start to think I'm really good at baking? Will they expect that I"ll be baking for them regularly? That's a lot of pressure.  Better I keep this to myself. So we'll just keep this between us, ok?)
When using an avocado in place of butter, use a 1:1 ratio.  For those of you who aren't sure: that means if your recipe calls for 5 Tablespoons of butter, you'll use 5 Tablespoons of avocado.  If you are using it in place of oil you may need a little bit more liquid because that avocado won't be quite as thin as a liquid, but not much.
Avocados in baked goods add vitamins, polynutrients and minerals to your goodies. That means they make your baked goods better for you.  (Just a note: This does not mean you can eat an entire pan in a sitting.  That's not ever a good idea, not ever).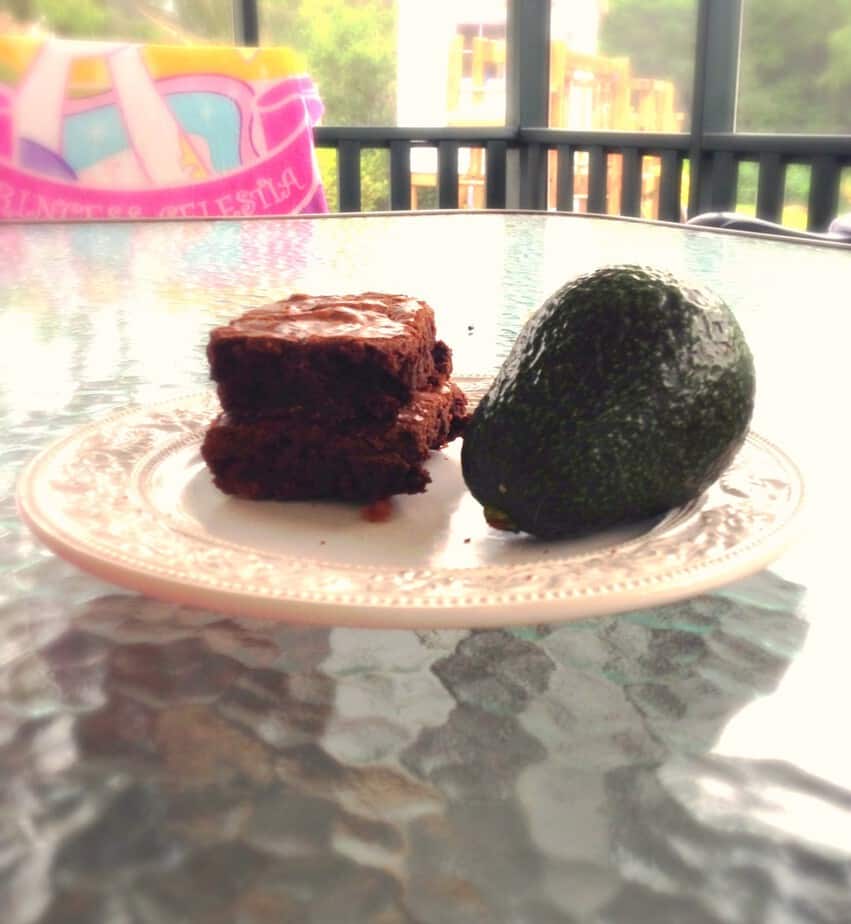 So now I'm going to share an EASY recipe for Chocolate Avocado Brownies (and if you don't want to make them from scratch, which I may not ever fully understand but won't judge, go ahead and use the box mix with the avocado. It'll bring them to an entirely new level).
Chocolate Avocado Brownies Recipe #ILoveAvocados #AFMPitCrew
Author:
Prep time:
Cook time:
Total time:
Healthier fats in this recipe for brownies- using avocado
Ingredients
1/2 cup avocado, mashed
1cup sugar
2 eggs
1/2c all purpose flour
1/3 c unsweetened cocoa powder
1 teaspoon vanilla extract
1/4 teaspoon salt
1/2 teaspoon baking powder
Instructions
Oven to 350
Beat together avocado and sugar in mixing bowl.
Add in remaining ingredients and mix well.
Spread into greased and floured 8×8 baking dish
Bake for 20-25 minutes
Do NOT cut until all the way cool!
Brownies will be much chewier if you wait until they cool.