This post brought to you by BIC®. The content and opinions expressed below are that of this mama loves.
We love to make things to give as gifts, or with purchased gifts.  Edible gifts are fun to make- we've made many this year, including jars of soup mix for the Hawkwing organization. Yesterday we made Chocolate Chip Cookie Jar Mix at Sunday School with the kids, but I wanted to give them a little something extra before we package them for gifting.  Using some fun marker colors and cardstock, I made some adorable (and free) printable recipe card templates that can double as bookmarks!
Chocolate Chip Cookie Jar Mix
 
Ingredients
For Jars:
Quart canning jars
1 3/4 cups all-purpose flour
3/4 teaspoon baking soda
3/4 teaspoon salt
1 1/2 cups (9 ounces) Chocolate Chips
3/4 cup packed brown sugar
1/2 cup granulated sugar
Mix salt, flour and baking soda together, add in jar first.  Next, add your brown sugar.  Follow that with the granulated sugar.  Add your chocolate chips. Be SURE to press down between layers- otherwise your ingredients won't all fit!
For baking: 
3/4 cup softened butter (1 1/2 sticks)
1 large egg 3/4 tsp vanilla  
Directions
Preheat oven to 375
Beat 3/4 c softened butter, 1 large egg and 3/4 tsp vanilla until blended.
Add cookie mix and (optional) 1/2 c chopped nuts- mix well, breaking up any clumps.
Drop by rounded spoonful onto ungreased cookie sheet
Bake 9-11 min
Cool on baking racks
Makes about 2 dozen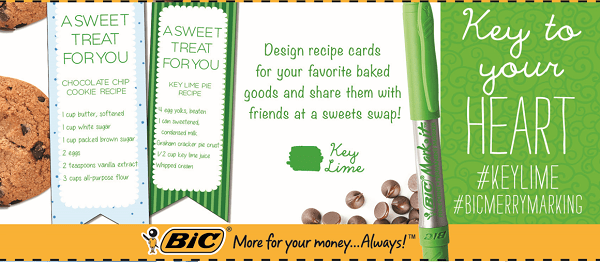 This was my inspiration for these recipe Bookmark Templates, get the booklet of merry marking and a coupon to start marking on your own!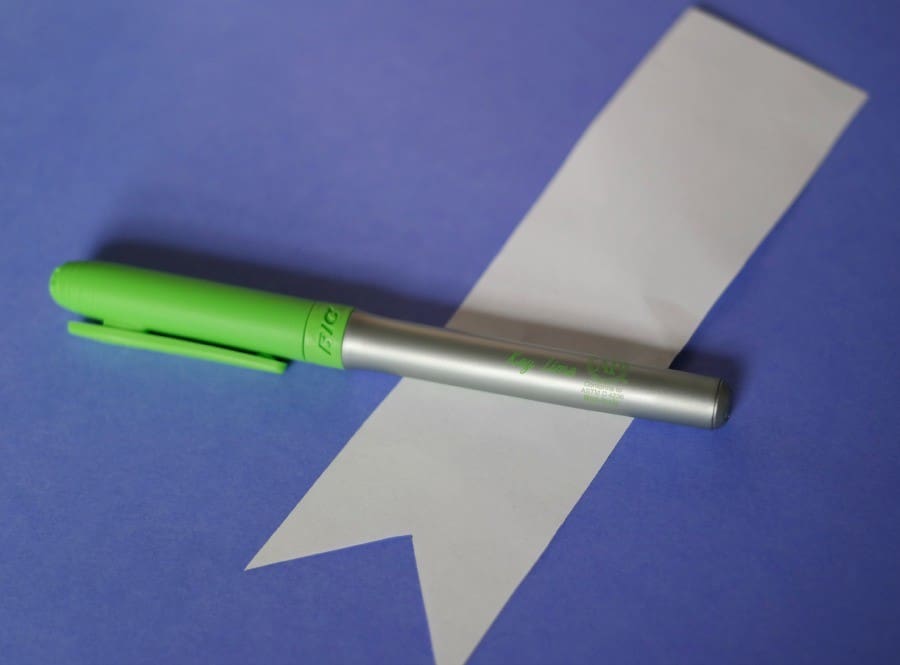 ** Once your jars are done, grab your free Printable Recipe Bookmarks so you can add a little fun to your gift! You'll want to grab your Key Lime (and Forest Green) BIC Mark-It™ permanent markers so you can get the perfect green to make these festive! 

I am pretty happy with how these turned out.  I have this thing about handwritten recipes- notes in cookbooks, scraps of paper with notes- I treasure them all.  With technology being such a prevalent part of our lives, I fear that we will lose those little notes- and that's sad.  I take special care of anything that's been written by my mom, my gramas, really, anyone. It makes my heart happy to see my mom's writing, and gramas, when I'm making a recipe they used to make.  That's why I opted to make labels for these jars by hand, and not with the computer. It's not perfectly neat, but it's real, and it's my writing.  One day, my kids might want to remember the way I wrote!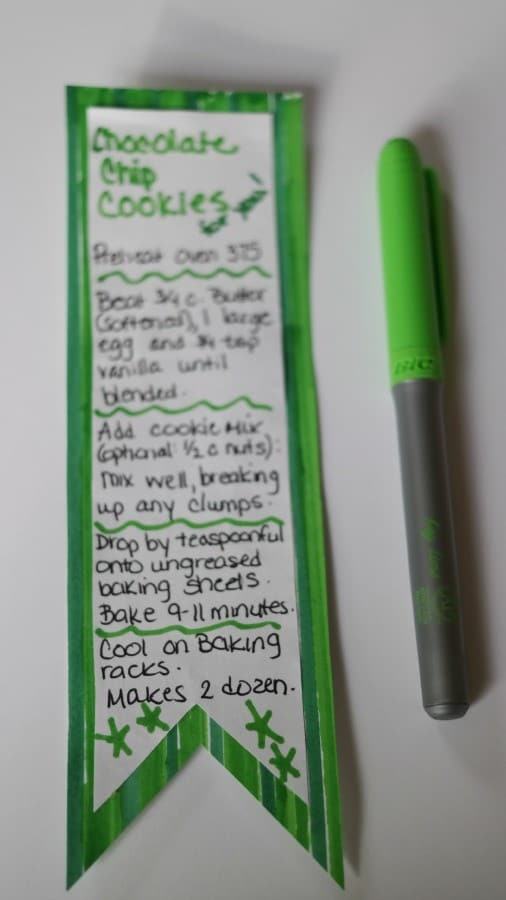 What will you be Merry Marking with BIC Mark-It™ permanent markers this holiday season? I challenge Amanda, Ashley and Jenni to join me in the Merry Marking! 
Chocolate Chip Cookie Jar Mix #BicMerryMarking #KeyLime
Author:
Ingredients
For Jars:
Quart canning jars
1 3/4 cups all-purpose flour
3/4 teaspoon baking soda
3/4 teaspoon salt
1 1/2 cups (9 ounces) Chocolate Chips
3/4 cup packed brown sugar
1/2 cup granulated sugar
(Be SURE to press down between layers- otherwise your ingredients won't all fit!)
For baking:
3/4 cup softened butter (1 1/2 sticks)
1 large egg
3/4 tsp vanilla
Instructions
(Mix salt, flour and baking soda together, add in jar first. Next, add your brown sugar. Follow that with the granulated sugar. Add your chocolate chips. Be SURE to press down between layers- otherwise your ingredients won't all fit!)
For baking:
/4 cup softened butter (1 1/2 sticks)
large egg
/4 tsp vanilla
Directions
Preheat oven to 375
Beat 3/4 c softened butter, 1 large egg and 3/4 tsp vanilla until blended.
Add cookie mix and (optional) 1/2 c chopped nuts- mix well, breaking up any clumps.
Drop by rounded spoonful onto ungreased cookie sheet
Bake 9-11 min
Cool on baking racks