Chocolate and Cherries go hand in hand, especially at Christmas and Valentine's Day.  The next best things to the classic chocolate covered cherries are these Chocolate Covered Cherry Cheesecake Bites.  These fun and delectable treats combine the classic confection and a rich delicious cheesecake that satisfies your cravings.  This classy dessert is perfect for your next office party, holiday gathering or just special night in with your love.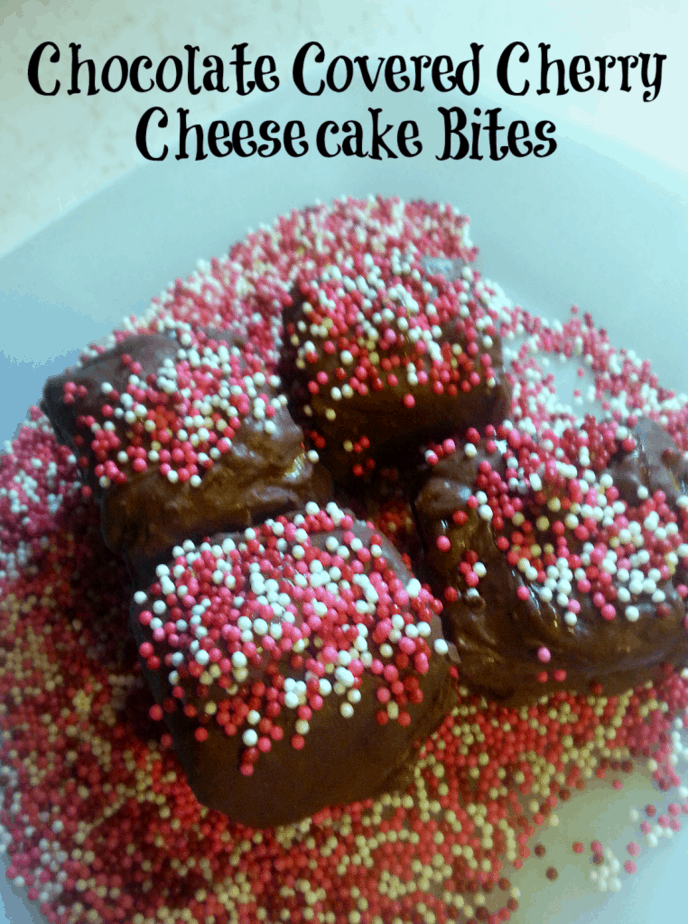 CHOCOLATE COVERED CHERRIES CHEESECAKE BITES
FILLING:
4 8oz Packages Cream Cheese (Softened)
½ Cup Sour Cream
¼ Cup Maraschino Cherries Diced
1 Cup Granulated Sugar
1 Teaspoon Vanilla Extract
3 Large Eggs
1 Teaspoon Salt
1 Tablespoon Flour
In large bowl cream cheese, sour cream and eggs until smooth.
Mix in sugar, vanilla, salt and flour.
Stir in maraschino cherries and set aside.
GRAHAM CRACKER CRUST:
2 Cups Graham Cracker Crumbs
1 Tablespoon Sugar
½ Cup Butter Melted
In bottom of 9×13 dish mix together graham cracker crumbs, sugar and butter and press into bottom forming crust.
Pour cheesecake mixture over graham cracker crust and bake at 400 degrees for 45 minutes or until set in center.
Remove from oven and allow the cheesecake to cool.
Once cool, cover tightly with plastic wrap and place in freezer overnight.
CHOOCLATE DIP:
4 Squares Chocolate Bark
In medium microwave safe bowl melt chocolate bark on medium high heat for 30 seconds at a time until melted and easy to stir.
Cut frozen cheesecake into 2" squares.  Pierce each spear with a skewer and pour melted chocolate over cheesecake turning until all is coated.
Place dipped cheesecake on wax paper and sprinkle with sprinkles, colored sugar or cherry bits.
Allow to harden.
Remove skewer.
Serve or refrigerate until ready to eat.
Although this treat requires a few extra steps to create they are well worth your time to serve up a beautiful and delicious chocolate covered cherry cheesecake bite at your next dinner party or event.