This Chocolate Matzo Toffee recipe is modified from one we make almost every holiday season.  I decided to make it with matzo crackers instead of saltines so they would be ok for Passover. I also love matzo crackers. It's the "plainest" food I know of….and I love plain food.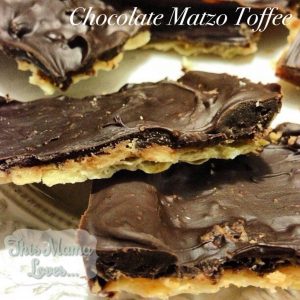 Chocolate Matzo Toffee Recipe Ingredients
1cup unsalted  butter- Land o' Lakes is Kosher
3/4 c brown sugar- Domino's is Kosher
12 oz chocolate chips Nestle is Kosher
1/2 box matzo crackers
 Directions: 
Preheat oven 400
lightly grease 10×14 pan
Place matzo in bottom of pan in single layer
Bring butter and sugar to boil, stirring frequently.  Boil 3 minutes.
Pour sugar mixture over the matzo.  Bake 5 minutes.
Immediately pour chocolate chips over top of matzo and sugar – let sit 1 minute, then spread chocolate with rubber spatula (you can tell chocolate is ready when it's shiny).
Cut into squares, cool until chocolate sets.
This makes a great gift or dish to bring to gatherings.  Be warned, it's addictive. But it's also really, really easy.  Around here we call it a "Brett-proof" recipe.  Meaning even I can't screw it up!
0