This post is brought to you by the folks at Walmart to help spread the word about their recently launched Empowering Women Together campaign, another initiative in their commitment to global women's economic empowerment.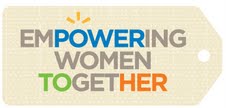 If you are on Pinterest, be sure to check out the Empowering Women Together board. There are some really great stories on there already, and will have more added as time goes on.

What is Empowering Women Together? It's an shop online where consumers can go to purchase goods and items in support of women-owned businesses around the world.  Many of these items are hand made and unique, which isn't always easy to find these days. With each purchase made, consumers can know that they are helping women support themselves and their families, possibly even helping to create jobs, and also helping to improve the lives of the owners and others in their communities. These business owners can get exposure and have their work seen by so many thanks to this program. Items included in this program include jewelry, home items, electronic cases, coffee and tea sets, specialty foods and more.   Items come from here in America  and all across the globe from places like Peru, Canada, Cambodia, Haiti, Nepal, and others.
I applaud Walmart for taking steps to use their influence and online presence to help better the lives of women across the globe.  I hope that they continue this effort past the 5 years they have committed to (through 2016) and to source $20 billion from women-owned businesses. I think that they will be happy with the results and realize that by them continuing this commitment for longer, they will make an even greater impact across the globe and help to empower women in the process.  That's a win for everyone!
Check out this Empowering Women Together: Women's Bean Project video : http://bit.ly/16e9smB

This is a sponsored post with Mom it Forward. Opinions are my own.