It seems as though you can't get through the holidays without the story of a Christmas mouse or two. Whether it be the story of The Nutcracker or Christopher's Christmas, mice just seem to get us in the holiday spirit. This holiday, why not do a little mouse crafting with your kids? Take a look below at how to use some very basic supplies to make your own cute Christmas mouse craft.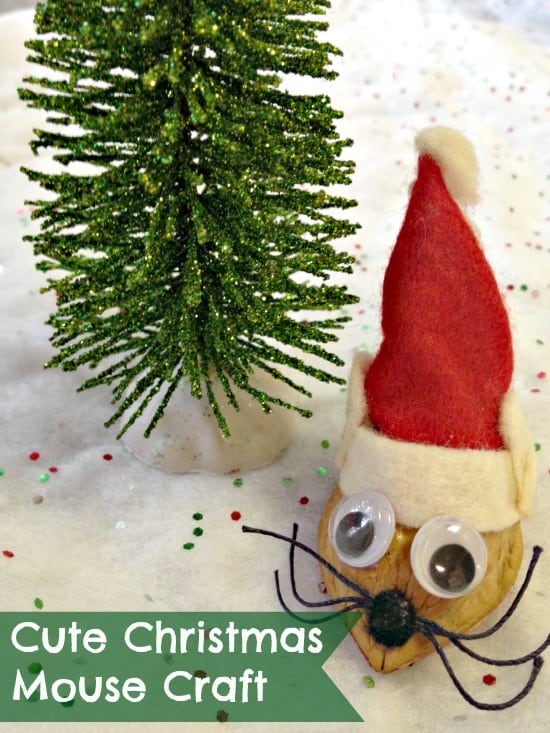 Cute Christmas Ornament Craft
Supplies needed:
Walnut shells
Nail
Hammer
Googly eyes
Black string
Craft pom poms
White and red felt
Scissors
We were able to find all of the above supplies at our local craft store. If you are looking for walnuts, most grocery stores have them or just ask your friends. You would be surprised how many people may have some on hand in their own yards. If you can't find walnuts, any large nut shell will do.
Directions:
1. You want to begin by splitting your walnut in half. To do this, look for the seam and place your nail in it. Hammer gently to break it apart. This of course is a step best left up to adults.
2. Now, add the nose of the mouse. To do this, take a small pom pom or snip some of the fuzz off of a pom pom and glue it to the shell as we did.
3. Cut a few small lengths of black string and add a tiny dab of glue to the ends. Secure them under the pom pom. Adjust them and fluff them to make them look natural.
4. A mouse has to have eyes, so add a dab of glue to your googly eyes and press them to the shell right above the nose.
5. Now it is time to make his Santa hat. Roll a small piece of red felt into a cone, like an ice cream cone. Secure with glue. Cut a small, skinny rectangle from your white felt to trim the hat. Secure with glue.
6. Secure the hat on the top of the nut using your glue again. We also cut two small and white ovals from our felt that we glued onto the side of the hat as ears. It gave it a cute touch.
7. Finally, you can glue a pom pom to the end of the hat if you wish, a white one looks best and gives it that true Santa hat look.
Now all you need to do is discover some great mouse themed holiday stories to enjoy with your new and furry little friends. Children will enjoy creating a whole family of these, and you will enjoy how you can tie them into the many mouse stories available during the season.
Happy crafting!