I had many blissful years of my life where I was fully unaware of constipation and all that goes along with it.  That bliss ended- came to a screeching halt, really, when I was entering my third trimester with child #1. I remember my doctor insisting that my husband join me for my 28 week checkup.  We had to talk about signs and symptoms of preterm labor, when to call, all that stuff. So naturally, I was all "do I get another ultrasound today to see the baby??" and paying absolutely no attention to 9/10 words spoken by either my doctor or my husband.  I heard what they said. Preterm labor, pains.  Discomfort. Got it.
So three days later, I was in preterm labor.  Worst (at the time) pain of my LIFE.  We had a one bathroom home, so my poor husband was showering for work and I'm moaning and carrying on that I'M IN PRETERM labor.  HONEY!  Do you hear me? These are contractions.
From behind the shower curtain I hear " Honey? Have you pooped lately?"
Um, say what now? "This has nothing to do with poop.  I'm having contractions and it hurts and I do not like this."
Annoyingly (and luckily), he was right.  Once he reminded me that I wasn't really paying attention at the doctor's office and that things didn't exactly work at the same pace they normally do…I realized…I'd been without poo for several days.
So I did what any normal person would do. I asked my pregnant friends.  To my surprise, they'd all had constipation when pregnant.  Most laughed and were shocked I'd never experienced it before.  I may be an odd duck but in that department, well, I was in the front of the line for regularity.  Listen, we all have to excel at something…apparently, poo is my "thing."  I looked things up online too.  I wish that https://Dulcolaxusa.com/DulcoEase.html had existed back then. I might have found some more info in one place.
Now that I knew that I was experiencing THE CONSTIPATION, I needed to fix it and make it go away, and never ever come back again.  (Official and public apology here for all of those whom I did not give sympathy relating to constipation prior to mid April of 2005.  I knew not what I withheld sympathy for). So I looked things up and asked friends repeatedly (and complained. A few times.  Or so I hear.  Or maybe hourly.  It's hard to remember).
This is what my people told me.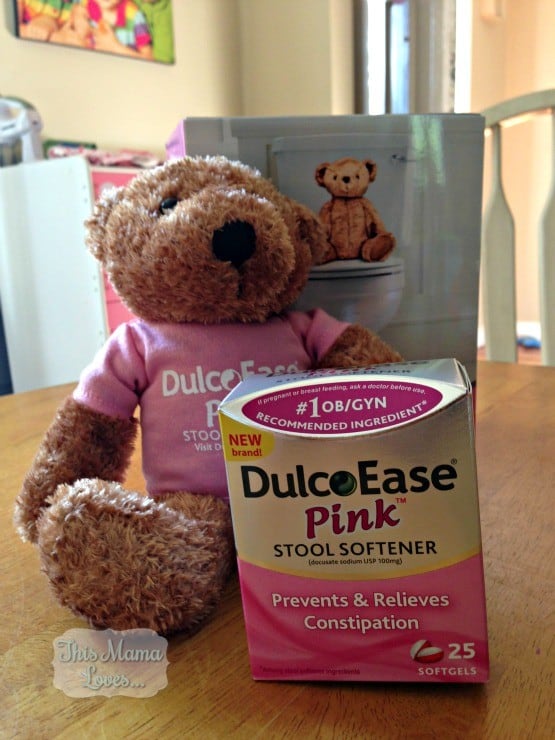 1. Get a stool softener, and keep it close.  Some people carry breath mints in their purse, pregnant women carry stool softeners. Most of your friends and family, if they'll own their own constipation history, will have something they prefer.  I like pink, myself, so I'm a big fan of DulcoEase® Pink™.  That, and it – well, it does the job.  The softening, of the stool.  And such.  Would you be more comfortable if I said the softening of the poo?  (ALWAYS talk to your medical professionals before taking anything when pregnant or nursing. Always.  I checked with them for everything I took at least three times, you know, because I was really even keeled and level headed when pregnant).
2. Up the fiber.  UP THE FIBER.  Whatever you think is enough, have more.  Twice a day.
3. Drink a lot of water, which is great for you anyway, but then drink some more.  Somehow the water helps with the getting out of the poo.
4. Have lots of fiber all of the days.  I am not sure (and you'd honestly have to ask a medical professional about this because I am not one) that there is such a thing as too much fiber.  Not when you are pregnant.  Trust me.  You do not want to be the constipated pregnant lady.  Pregnancy has a lot of sneaky little side "surprises" as I like to call them and constipation is NOT FUN. Annnnnnnnnnnnnnnnd, a little fun thing I learned is that it isn't just pregnancy that can make your system have some issues.  Constipation can happen to nursing moms too.  Hormones.  Aren't they grand?  Bless those folks who thought up the softeners of the stool.  Bless their hearts, every one.  All of the fun surprises no one wants to tell you about parenting.  Aren't you glad I'm not like anyone else?
I sometimes  think that doctors should just give out samples of products likeDulcoEase® Pink™ to pregnant patients.  Nursing patients too.  Like a mother's toolkit.  Also, coupons.  Like this one. If you are pregnant or nursing, you might want to visit DulcoEase® Pink™www.MomsTalkDulcoEase.com and print out the $1.50 off coupon http://coupons2.smartsource.com/smartsourece/index.jsp?Link=S4515G32BGN4W
Who's going to fess up and own their prior (and hopefully not current) constipation with me?
Every new mother's toolkit should include DulcoEase® Pink™, the #1 OB/GYN recommended ingredient* for going #2. So if you are pregnant or breast feeding, ask your doctor if you should think Pink. Find savings on DulcoEase® Pink™ at www.MomsTalkDulcoEase.com!
*Among stool softener ingredients
This is a sponsored conversation written by me on behalf of DulcoEase® Pink™. The opinions and text are all mine.