We are in the age of electronics and technology.  Love it or hate it, it's part of our lives.  We can embrace it, moderate it, or try to keep it at bay, but the chances are, living in this era, our kids will be "hooked up" to something, at some point.  My feeling is, as with almost anything, moderation is ok.  I don't mind my kids watching television- in moderation.  Same with sweets.  Now that they are getting older, we're also allowing them to use the computer, in moderation. This is where sites like  Cookie.com come in.  Cookie.com is  an early childhood educational website targeting children 3-5 years of age.
This website is fully interactive and includes fun and educational games, stories, videos, worksheets, and arts and crafts projects- all  developed by child experts and educators.  These activities help children in building the skills necessary to succeed in school. Not only are they helping develop skills, but they are fun, engaging and age-appropriate activities grouped by both activity type, subject matter and age level.  Directions are clear and simple, and very visual, which is great for pre-and early readers.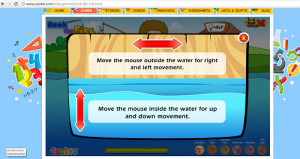 We've spent a lot of time (perhaps too much time) playing "Hook the Fish" which is just how it sounds- a game for fishing- you need to direct the cursor using your mouse or arrow keys, and when you lose a worm, replace it- there is also a basket to put your catches into. Both my 6 and 4 year old love this game.  They love fishing, so they've been asking over and over, mom can we fish on your computer? I don't mind- its giving them basic computer skills and they are enjoying something together, and they do it while I'm making dinner so I can interact with them and help if they get stuck.
We've also had a lot of fun with the worksheets.  This may be my kids but we love worksheets and workbooks in this family.  Well, except my husband. But I've always loved them, and the kids do too.  The little kids love having "homework" to do while big sister is doing her own work for school!  They like to "shop" for new worksheets.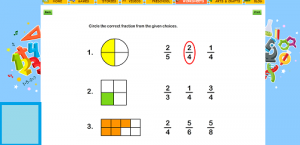 Cookie.com is a great, free website that is one we'll definitely keep bookmarked for the kids for a very long time.  Quality, educational and interactive games and activities that are age appropriate.

Be sure to follow Cookie.com on Twitter  and Facebook so you can be sure to know when they have new games and activities available!