After the adventures at the Florida EcoSafaris, we headed over to have some lunch at the East Lake Fish Camp Restaurant.  The food was great- lots of southern dishes we don't see much around here…including fried alligator tails.
After my yummy lunch of a chicken salad and chicken fingers (I am the most boring food person you will ever meet), we headed across the way to start our next adventure with …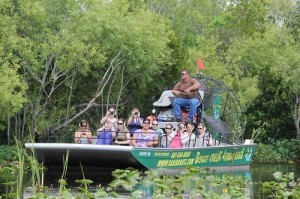 Boggy Creek Airboat Rides.  Did you know airboats are less disruptive to the environment and ecosystems than boats?  I had no idea. They are good for the environment.  Just loud, so they'll give you some headphones to wear to help protect  your ears.  I'm not sure how but you can still hear your guide speaking over them.  I was kind of nervous that I might miss out on hearing something important with the headphones on but I had no trouble hearing our guide.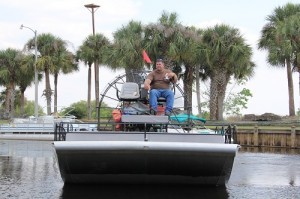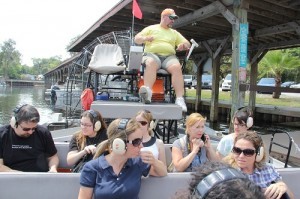 We saw beautiful birds – so many of them…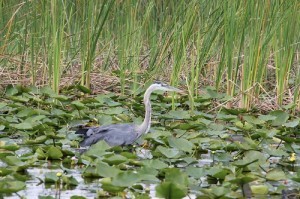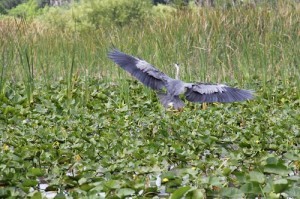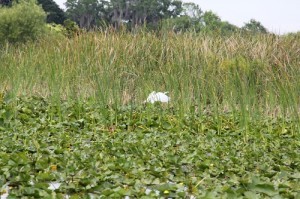 Some sunbathing turtles hiding in some brush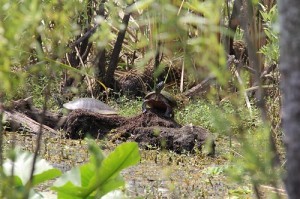 and of course, gators. Apparently if there's water in Florida, there's probably gators close by.  They really don't seem to be interested in us humans in the least, to be quite frank.  I mean, look at this lady.  She's about 12 feet long, from what we were told, and she's about 6? feet away from our airboat, not excited by us in the least.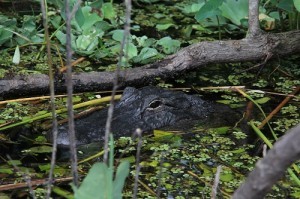 I loved this little adventure.  Riding on a marsh, not much but nature surrounding, and maneuvering on this airboat on top of and around things that in any other vehicle would mean trouble was kind of a crazy ride!!  The driver did do some fun turns, but nothing super fast, and no 360s.  It was really just a lovely afternoon spent enjoying Florida's most natural attraction- nature itself.

Thanks to Pegasus Transportation for letting us travel in style and comfort en route to our activities!
This adventure was part of a press trip for the DisneyGlobalEvent.  My travel, accomodations and activities were provided for me.  Opinions are my own.