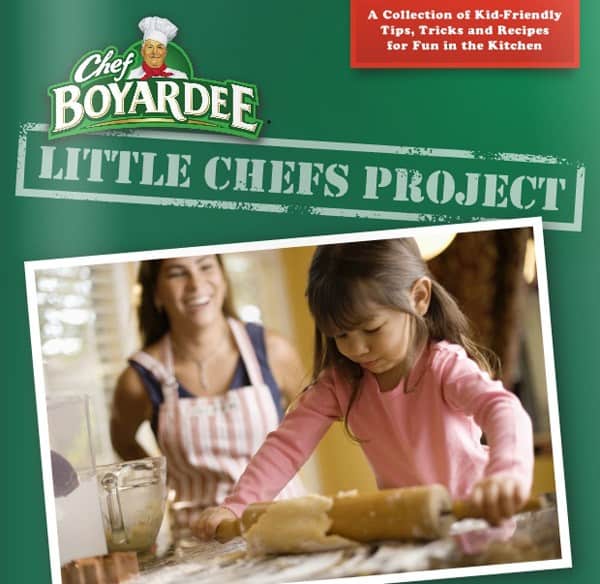 Well, I wrote part of a book.  Contributed to a chapter.  But I did!  I'm proud to say I'm one of 40 amazing bloggers who came together for the very first crowd-sourced ebook designed to help get you cooking with kids, the Little Chefs Project!  is all about cooking with kids and includes tips, tricks, recipes, experiences, resources, and more. Sections include the following:
Feel Like a Kid Again
Teachable Moments
Everyday Fun
Family Time
Fun with Flavors
Family Traditions
Additional Resources
Chef Boyardee Timeline
Contributing Bloggers
The chapter I'm included in is  "Everyday Fun" and I couldn't be happier.  I'm not gourmet. I'm not fancy. I don't create edible works of art (unless things are meant to look "meh" frequently).  But I do love having my kids in the kitchen with me and having them involved in cooking and baking.
My family may not be gourmet, but we do LOVE to spend time cooking and baking together. Almost every Saturday morning is spent making pancakes "from scrap" together- my husband lines the kids up at the end of the island in the kitchen and gives each a task- we do the griddle part, but the kids are all there helping to measure, mix, etc.  It's a mess and it takes forever to both make the "cancakes" and clean up, but no one minds.  We're all together in pajamas, cooking together and making memories.  We even clean up together (which is never as much fun but also necessary).
I have a lot of people in my life who don't cook with their children- maybe it hasn't occurred to them, maybe they don't feel they have the time, I'm sure there are many reasons. I feel it is important, and teaches kids so much- and it really is a great bonding experience.  Once you let go of expectations and just let yourself enjoy it, you can just have fun!  The entire Little Chefs project was designed to share how real-life moms (yours truly included!) have their kids help in the kitchen- and we're not models, we're not perfect- we're just everyday moms like you doing the best we can.  Real photos of real kids, in real kitchens (not even perfect kitchens!) cooking real things.  (In my case, a REAL simple recipe!).  There are so many great tips and suggestions- I definitely think you should check it out!  Plus, I want to know what you think of MY tips in the book!
What are your suggestions for having kids help in the kitchen? 
 I am participating in the Chef Boyardee Little Chefs program in conjunction with The Motherhood and I've been compensated for my time.  Thoughts and opinions here are 100% my own.
0