This post about the coolest gifts for kids this year is sponsored by BabbleBoxx.com. BabbleBoxx sent us a big huge box filled with some of the coolest gifts for kids of all ages and we're excited to share them with you!
The Coolest Gifts for Kids this Year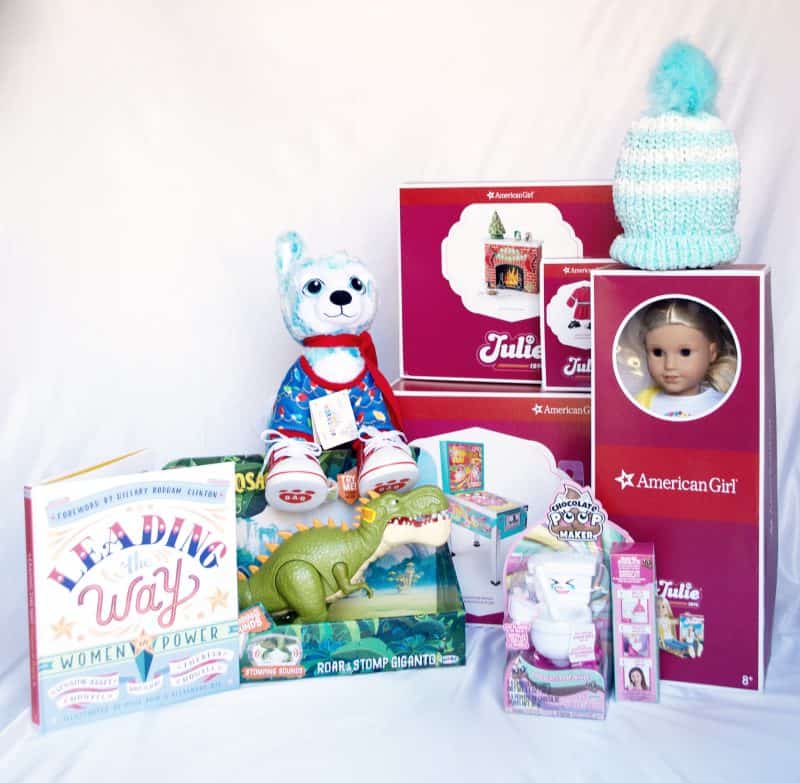 American Girl Doll Julie Albright
The American Girl brand has long been a favorite in our house. We love the stories that go along with each of the character dolls, either the girls of the year or the historical dolls. I remember being at my sister's one Christmas morning when her then 8 year old opened her Samantha doll – and my niece is named Samantha- but the absolute joy in her face left an impression on me. The stories are all interwoven with positive messages and so much more, but it's not just the books that we love. American Girl dolls are so well made, and offer so much for kids to play with, if they love dressing their dolls or imaginative play time with the doll(s). The 18" American Girl dolls all have soft cotton bodies and a moveable head and limbs that are made of a smooth vinyl. Each comes with the first book in their series of stories inside the box.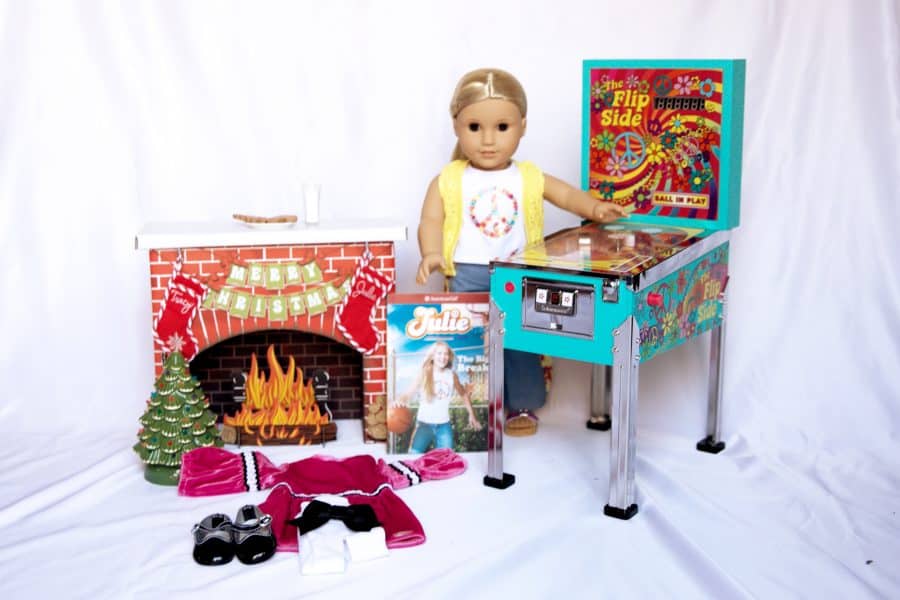 Julie Albright™ is a groovy, hip chick from the 1970's and she's long been on our list (mine and my girls') of dolls we'd love to have in the house. Her straight long blonde hair has a simple braid on the side, and Julie rocks some funky 70's fashion that really just makes you want to smile. Crocheted vest, tank with peace sign, bell bottom jeans and platform sandals complete the hippie chick vibe.
One of the things that Julie loves doing is playing pinball, and her Pinball Machine works just like a real one, only lots smaller. There's flashing lights, a scorekeeper, a plunger and buttons on the sides. It's even got realistic sounds! Your kid- or you- will love this fun play accessory to go with Julie's stories!
Julie's a cool chick, and has a lot of fun with her BFF Ivy, but she's also got parents who are divorcing/recently divorced and so her life has changed drastically when you meet her, and that brings a lot to help teach kids about divorce "to the table" in the books. That's where the Christmas Fireplace set comes in- her mom got a faux fireplace since their new apartment doesn't have a chimney for Santa to come down. Kids will love setting the fireplace up and even leaving out cookies and milk for Santa himself! Julie's Christmas Outfit for Dolls is the perfect thing to go with the fireplace, and with crochet trim and the pink velvet color, you know it's a stylin' look from the 70's. It comes with a mock turtleneck with balloon sleeves, a hair bow, tights and shoes. Julie's going to be all set for the holidays no matter where you live!
Furry Friend Gift Sets from Build-a-Bear
I have not ever met a kid who didn't have at least one furry friend in their life. Most kids seem to have a favorite stuffed something, no matter what age. My kids have loved each of their furry friends from Build-a-Bear workshop through the years! These furry friends come in a huge range of styles, colors, themes and characters, plus the accessories offer so much for customization in terms of outfits, scents, sounds and more! . Build-a-Bear friends make great gifts for kids! You can even add your own voice to a furry friend online or at the Workshop- which is the perfect touch to gift a loved one who doesn't get to see you all the time so they can hear a special voice anytime. Get $5 off a purchase of $25 or more with code BEARYMERRY at buildabear.com or at your nearest Workshop! Some exclusions apply, see full details at buildabear.com/offers.
Your dog lover is going to flip over this adorable Blue Blast Husky who's always ready for an adventure! This pup is the furr-fect gift for kids of all ages, because who doesn't want a friend to hug? This Northern husky pup is a loyal friend to anyone it meets. Blue Blast makes an ultra-cool furry friend with its wintry blue fur, white belly and soft bushy tail. Whether out sledding or just exploring the snowy woods, this howlin' cute husky stuffed animal is sure to warm your heart. Make your furry friend even more unique by choosing its own outfits and accessories!
Accessories on the Northern Husky pup
Christmas Lights Sweater & Scarf Set:
Have a cool yule with this adorable Christmas outfit for your furry friend! This blue and red sweater and scarf set is specially made for four-legged stuffed animals and features a festive Christmas lights pattern. The scarf just makes for a little something extra and makes the outfit complete!
Red Canvas High Tops:
Lace up your furry friend's shoes and get to walking! These classic red canvas high-tops for stuffed animals look great on any furry friend's paws. Kids always love canvas high-tops so why not get them for their furry friends too?
Stripe Pompom Beanie from Justice
Everyone needs to own a winter hat, but why not make it soft, snuggly and absolutely adorable? I know my kids are way more likely to wear a hat when it's cold if it's comfortable and they LIKE the look of it. So, the knit beanie from Justice with a large fluffy pompom on top made in a snuggly soft sweater knit is definitely one she'll reach for on those cold days, because she'll look super cute and feel comfortable! It comes in a few pastel colors and a greyish black option so you'll definitely find a cute striped beanie for her to love!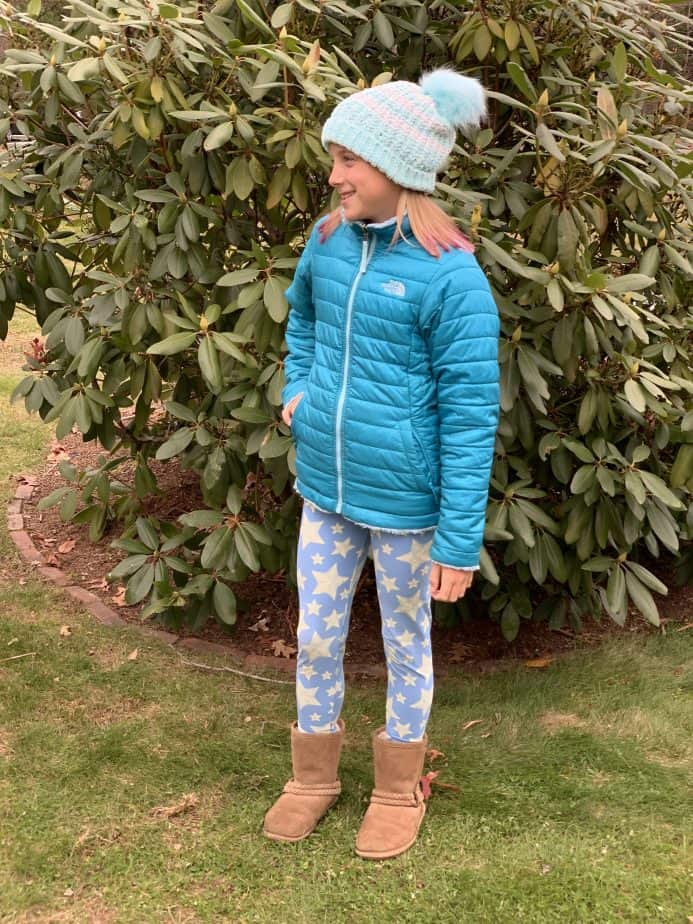 Chocolate Poop Maker
Emojis and in particular, the poop emoji, are here to stay. Kids love them. Heck, I love them. Now you can MAKE chocolate poop my "flushing" melted chocolate down the toilet and pouring it into poop molds. Gross? Yes. Super fun? Absolutely. My kids all have a fun grab bag gift swap for their respective teams and I'm pretty sure they are all going to request that this chocolate maker that turns a favorite treat into edible poop is going to be what they want to bring for the swap.
Making the chocolate poops is pretty simple- start by melting the chocolate, "flushing" it down the toilet, pouring the chocolate into the molds, refrigerate for five minutes, and adding their own cute poo-tastic touches! The Chocolate Poop Maker™ comes in pink or white and can be used with chocolate from home, so you don't have to buy refills from a certain place. The Maker comes with one reusable toilet, one chocolate poop mold with cute faces, one packet of brown chocolate, one toilet plunger, and one reusable chocolate dispenser. This is a fun gift for anyone who has a sense of humor- from a gift for a 6 year old girl to a white elephant gift at a gathering and so many others in between!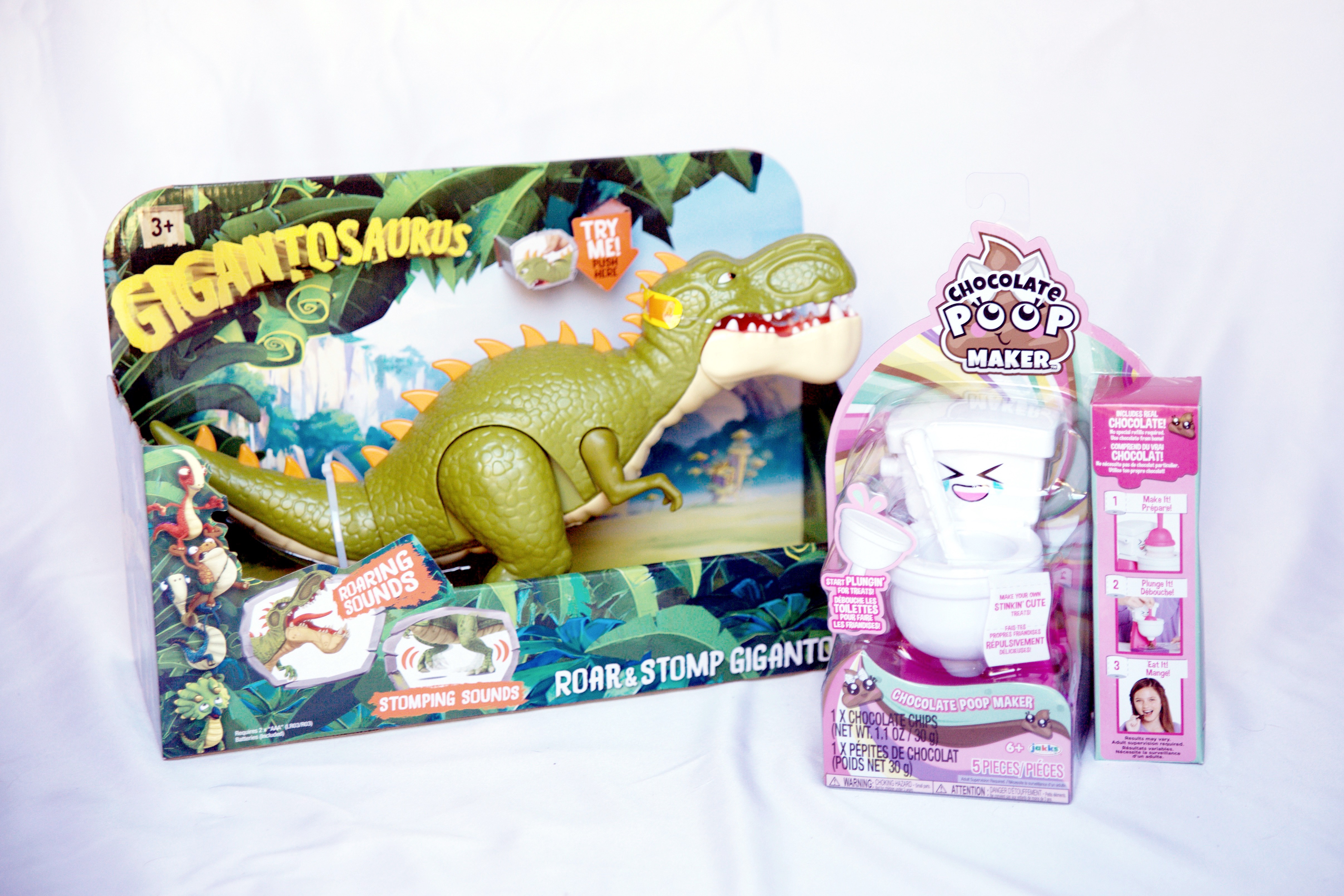 Gigantosaurus
Dinosaurs are always going to be fun to play with. They are a toy that stands the test of time and kids just seem to gravitate toward dinos for a really long time. Kids will love making this 15-inches long Giganto stomp and roar! At the push of a button, kids can make Gigantosaurus's mouth open and close and make roaring sounds. Kids can also make Gigantosaurus stomp to hear real stomping sounds. I love that this fun interactive dinosaur toy has six points of articulation: legs, arms, tail, and mouth. This
Gigantosaurus™ Giganto figure
is inspired by the hit animated series for the preschool crowd and so much fun! As a mom, I'm happy to report that the sounds on this toy are not super loud.
Leading the Way: Women in Power Book from Candlewick Press
We are big readers in my house. I'm so thankful my kids will read just about anything they find, so when I find books that are a little different than their favorite series or graphic novels, I encourage them to check those books out. Having two daughters of my own, I want them to see what women can do – and have done- in our country in all different ways, as well as my son. In these modern times, we're seeing a lot more diversity in the leadership of our country on every level and I feel that illustrating what women have and do contribute is important.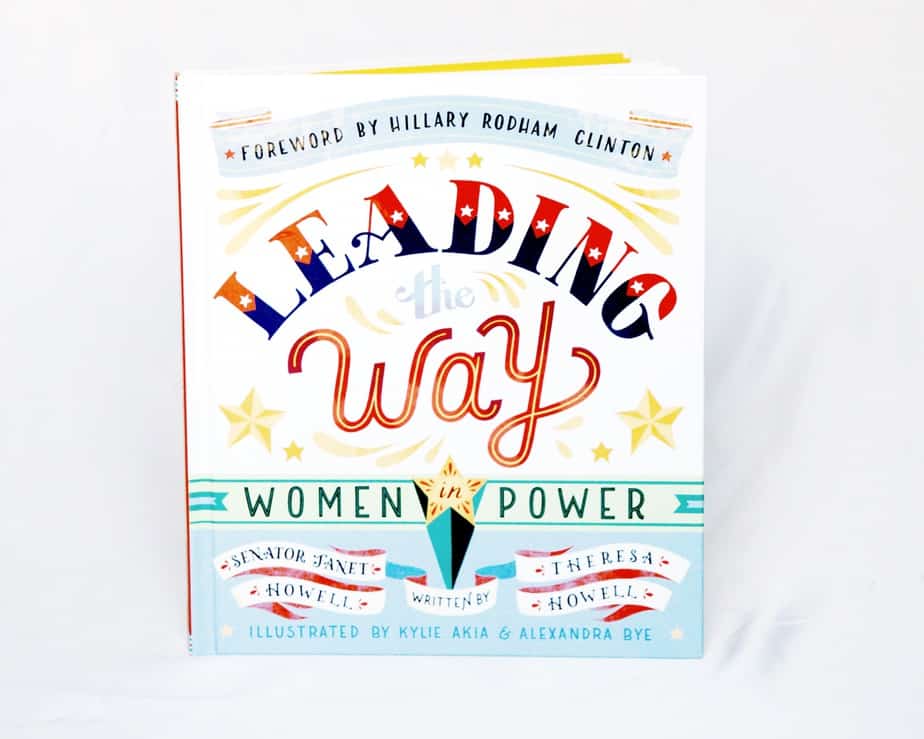 I think it's great that the book highlights influential women in American history and balances both sides of the political coin in terms of representation, although the focus of the book is more about the achievements and adversity faced by powerful women in American history far more than their political views. It's a beautiful book that includes biographic info about : Jeannette Rankin, who in 1916 became the first woman elected to Congress; Shirley Chisholm, the first African-American woman elected to Congress; Sandra Day O'Connor, the first woman to sit on the Supreme Court; and Bella Abzug, who famously declared, "This woman's place is in the House . . . the House of Representatives!"
BOOK TRAILER EMBED
Leading the Way: Women in Power book is an accessible and engaging collection of biographies, spotlighting the careers of fifty American women in politics — and inspiring readers to make a difference. With a foreword by Hillary Rodham Clinton. Leading the Way: Women in Power highlights the actions, struggles, or accomplishments of more than 50 of the most influential women in American history, balanced between Democrats and Republicans and featuring women from a widely diverse variety of backgrounds who have stood up, blazed trails, and led the way. A timely reminder of the female political giants of the past in a year where female candidates from diverse backgrounds, are breaking records across the country.
These are definitely some of the coolest gifts for kids this year. What are some of your favorite gift ideas for the kids?