Cranberry Breakfast Bars
Thank you to Ocean Spray® for sponsoring this Cranberry Breakfast Bars blog post. All opinions are my own.
On the first day of fall, my littlest and I were invited to head down to NYC to attend a Cranberry Classroom with Ocean Spray®. Now, I'm sure that all of you, like me, immediately think of NYC as the ideal spot to visit a bog, right? I mean, city streets and sidewalks…but of course, this is 2016, and our amazing friends at Ocean Spray® and their talented and creative team of folks made a 1500 sq. ft. cranberry bog right in the middle of New York City's Rockefeller Center®. Talk about a fun afternoon! My daughter declared this the "best blog day ever" although I swear, she got all corny after and told me it was the best BOG day ever. Either way, she's definitely my kid.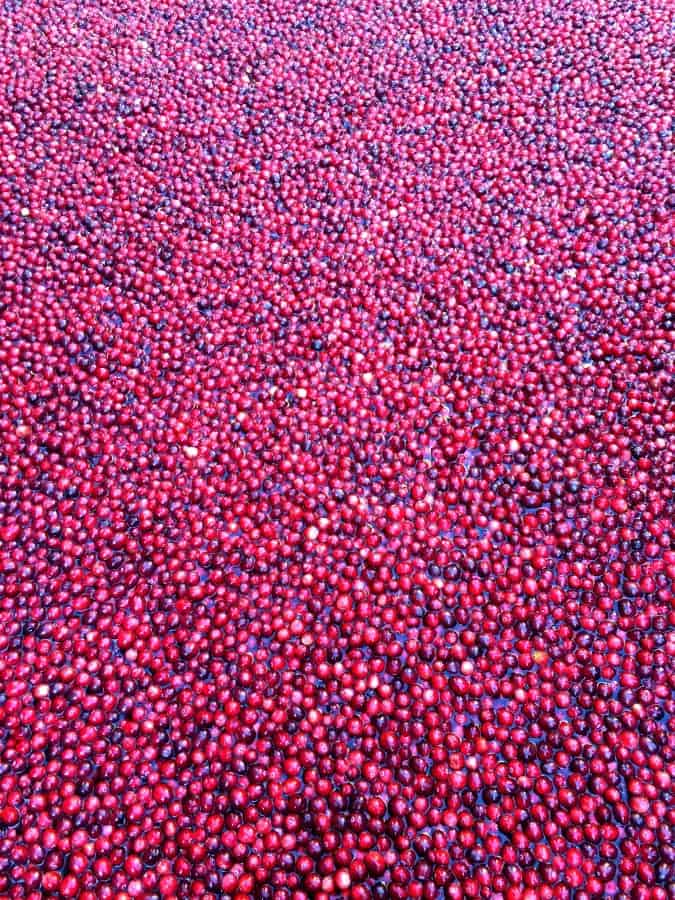 Fun fact: this year was also the bicentennial of the first cultivated cranberry harvest. YUMMY time for celebrating something so rich in our American heritage in a city where so many of our American stories began!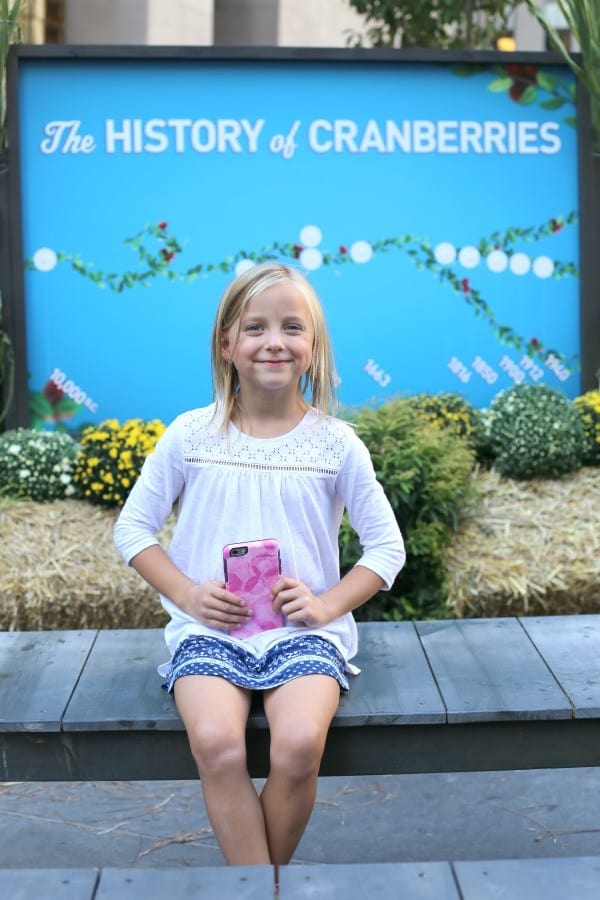 What we did at this fun event:
Experience The Most Beautiful Harvest through virtual reality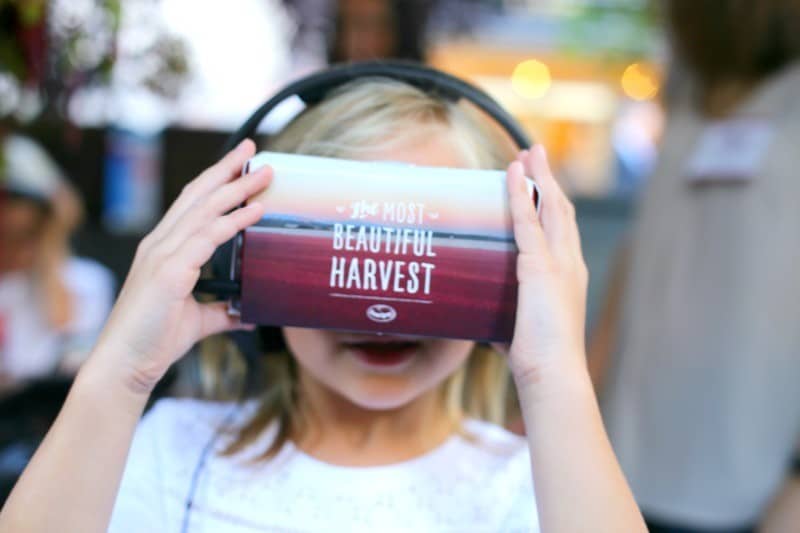 Virtual reality fascinates me, and it's truly amazing to hold a "simple" piece of cardboard with a device slipped inside, open your eyes and feel like you are in a whole new world. Little miss was quite impressed too, and has been explaining all weekend to her siblings and her dad just how this special "cranberry movie box" works. The Most Beautiful Harvest experience was designed to celebrate the beauty of the cranberry harvest – showcasing the fruit's journey from bog to bottle. It's pretty amazing to watch. You can see it, too-experience The Most Beautiful Harvest at www.OSharvest.com. Featuring fully immersive, 360-degree views of a bog, it's the next best thing to being there! (Except, if you are like us, you are now really wanting to go spend a few days AT a real, working bog after watching and dipping our waders into a teeny bog)!
Attend a Cranberry Classroom to learn about the history of cranberries (what a yummy lesson…)
Discover how cranberries grow by making your own bog-in-a-cup
This was a super fun activity for the kids- and no details were left out. From molding clay for the base of the bogs to bits of real cranberry plants with a few berries on them (and my 7 year old watered hers today, she really thinks she's going to have a bog in our yard now…) the kids learned about the bog, why different kinds of clay and soil are needed for the plants to thrive, and got to create their own. LOTS of fun to do a make and take!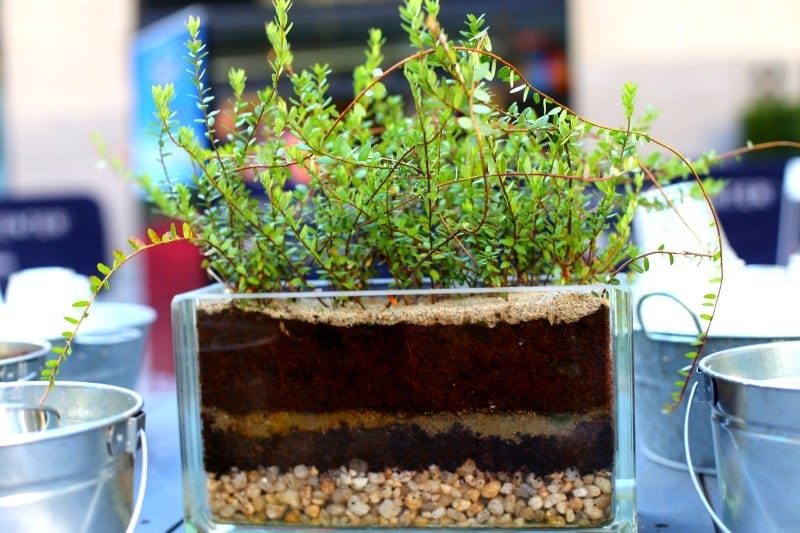 The kids had help from some of the growers and their families- like Casey, pictured below (and I did ask his permission for a photo!!)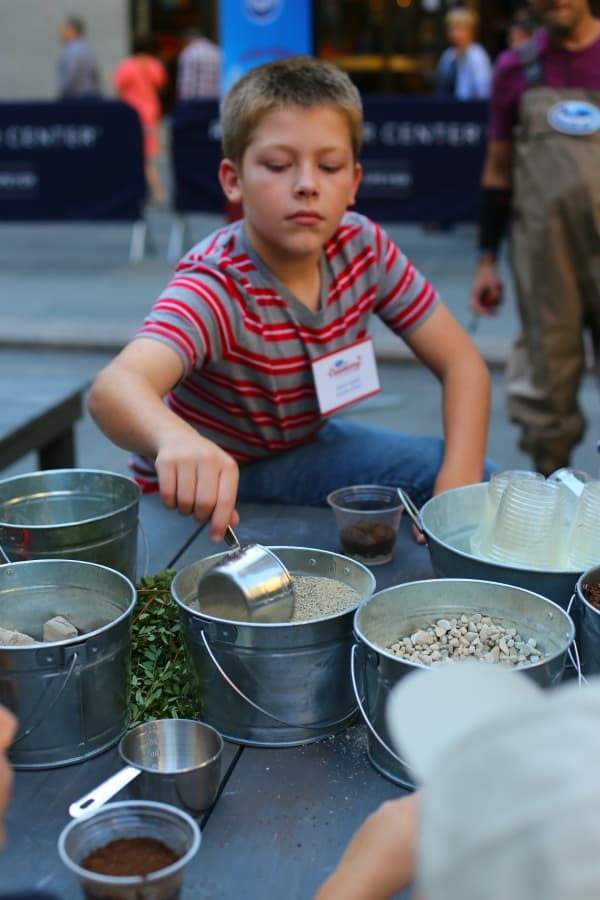 Put on waders and enter a real-life bog and speak with a cranberry grower about the harvest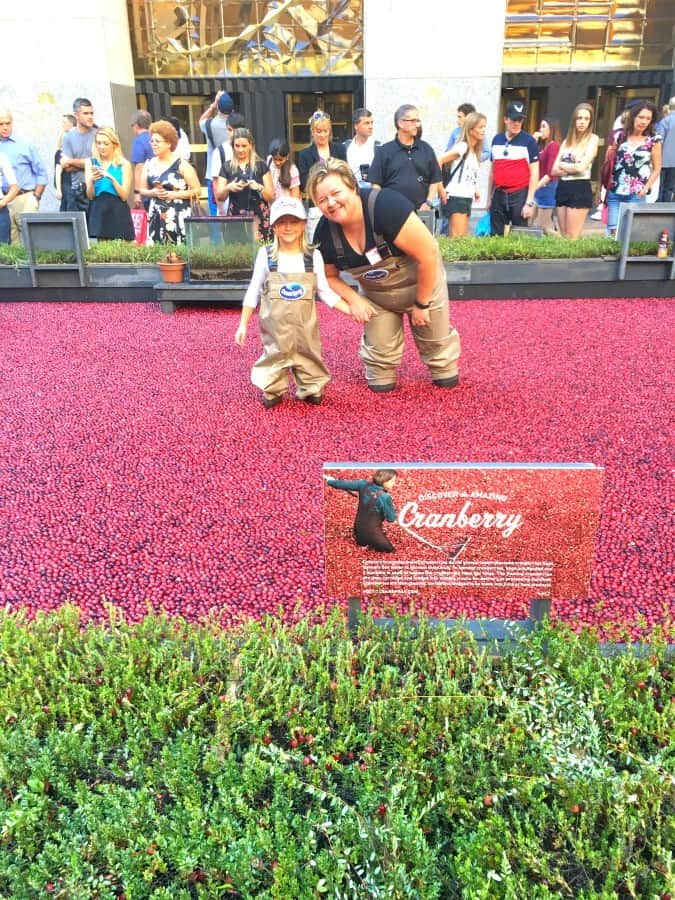 Multi-generational Ocean Spray® cranberry growers and their families were on-site to talk about the harvest and how it's changed over the last 200 years. I was so impressed with how well versed all of the growers and their families were on the history- not just their knowledge, but how comfortable they were sharing about their beloved cranberries. There were growers' kids at the event and what a wonderful experience for these kids to share their life experiences and knowledge in NYC at such an event- this was actually one of my favorite parts of the whole day. It's really nice to see a passion for something in anyone, but seeing it in children really is just so inspiring and refreshing (haha… get it, cranberries are refreshing?!)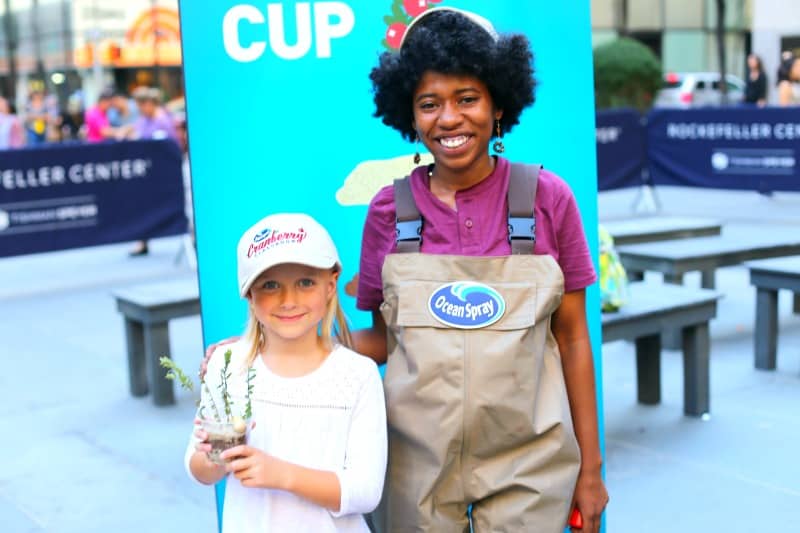 We got to find out why cranberries float (they have a hollow star shaped inside, which is absolutely beautiful and art-worthy in its own right!!)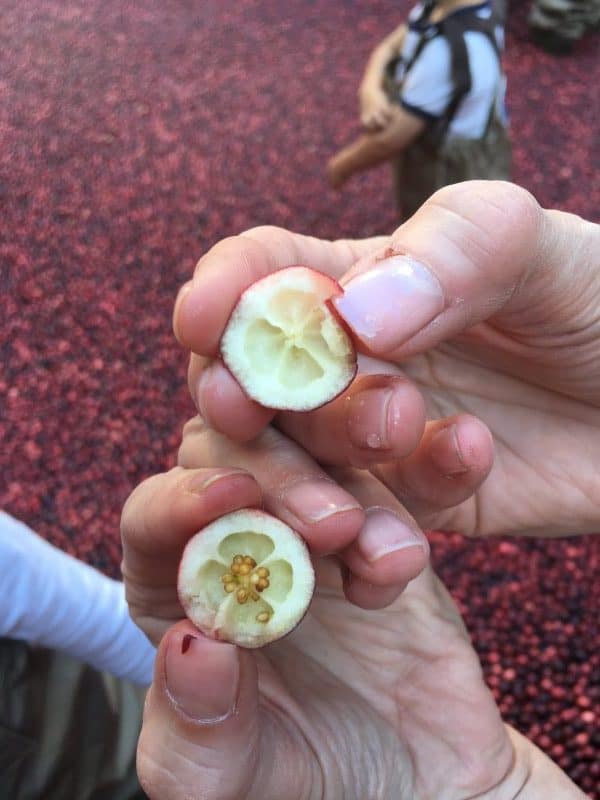 This fall, experience a cranberry harvest for yourself via The Most Beautiful Harvest experience at osharvest.com. I think you'll find you'll be wanting to bring the beautiful cranberry into your kitchen- and your home- especially with its deep American heritage! I know we are so inspired to bring more cranberry into our home- especially our bellies!

Cranberry Breakfast Bars Recipe
Ingredients
1 C. oatmeal
1/2 C. flour
1 tsp. cinnamon
1 banana, mashed
1/2 peanut butter
1/3 C. honey
1 tsp. vanilla extract
1/2 C. Ocean Spray® Craisins® Dried Cranberries
Directions
Preheat the oven to 350 degrees and spray an 8×8 or 9×9 baking dish with non-stick cooking spray.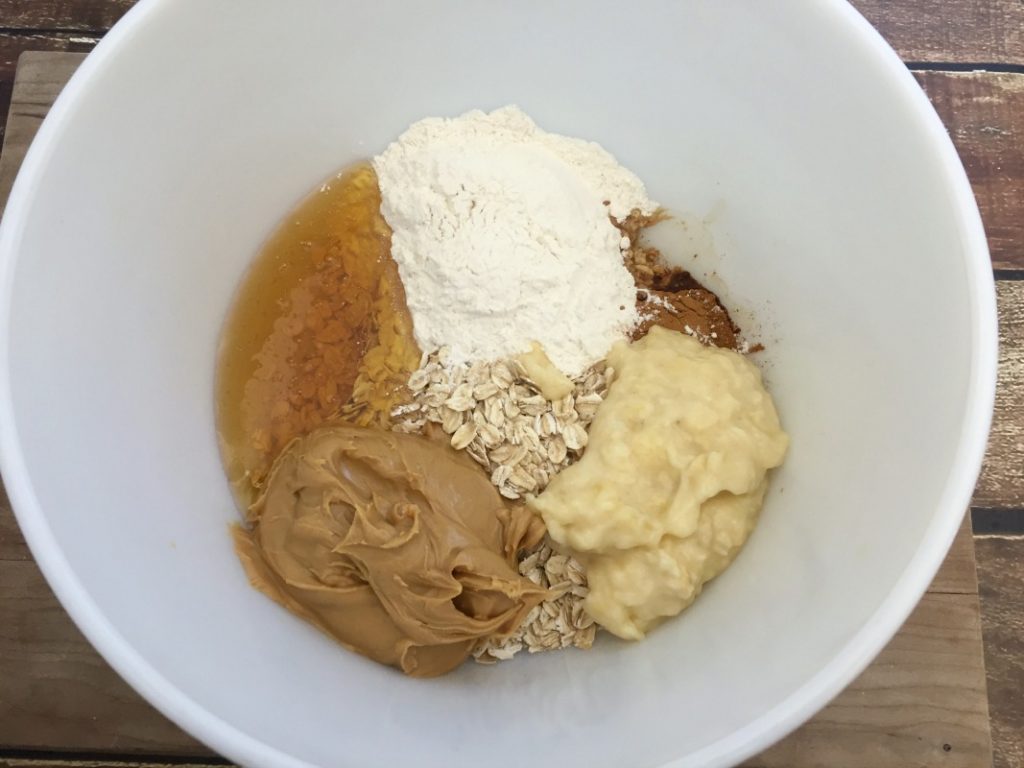 Combine the oatmeal, flour, cinnamon, mashed banana, 1/2 cup of peanut butter, honey and vanilla extract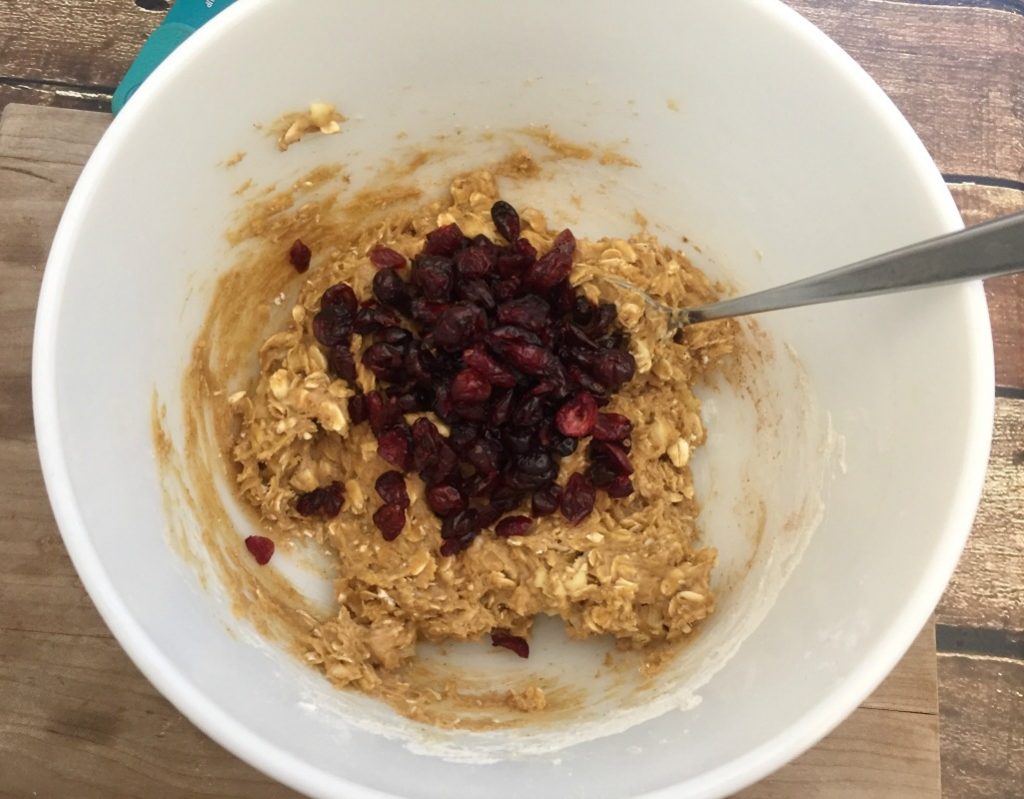 Add in the 1/2 cup of Ocean Spray® Craisins® Dried Cranberries
Pour the cookie dough into the baking dish and gently flatten with the back of the spoon.
Bake 16-20 minutes.
Let cool and cut into 6 large bars or 9 smaller bars.
Wrap each individual bar in plastic wrap. Enjoy!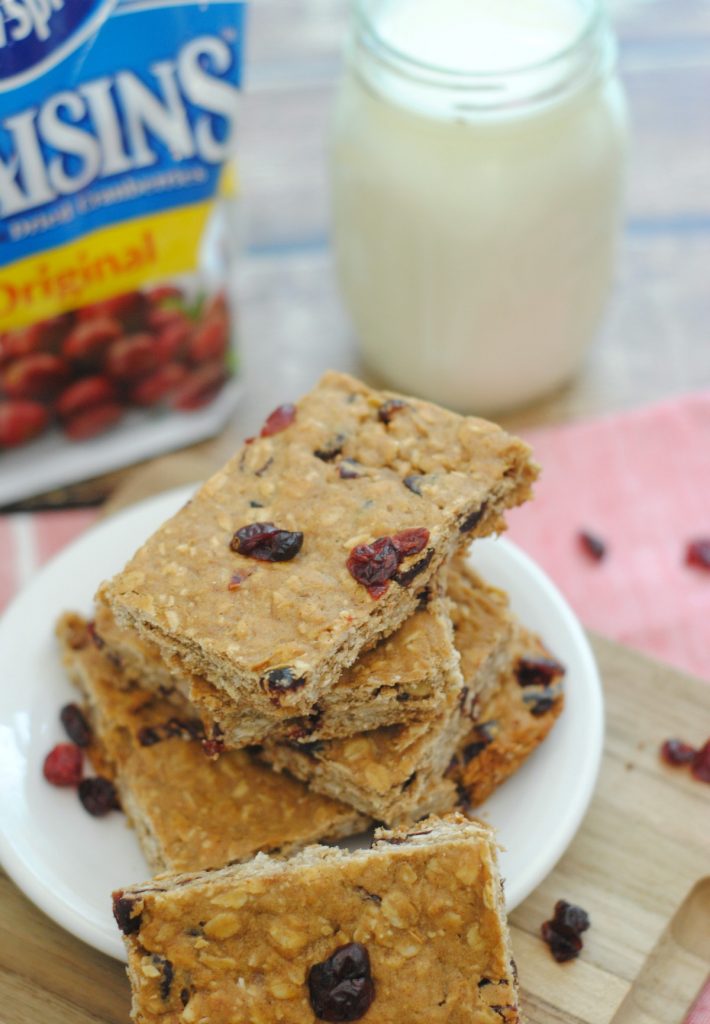 We are absolutely using more cranberries in our fall recipes this year- 'tis the season! Don't forget to visit The Most Beautiful Harvest experience at osharvest.com– I think you'll find yourself (cran)berry inspired!
Thank you to Ocean Spray for sponsoring this blog post. All opinions are my own.
Thank you to Ocean Spray for sponsoring this blog post. All opinions are my own.

[mpprecipe-recipe:2206]