An Amazon Prime Instant Video series for preschoolers, Creative Galaxy introduces preschool audiences to arts and crafts for problem solving.  Creative Galaxy stars Artie and his purple, polka dotted pal Epiphany. Artie is an extra-terrestrial little guy, bright green in color.   Like many preschool programs, each episode is 30 minutes long.  Those 30 minutes are split into 2 mini-episodes- each introducing a problem encountered by Artie, a magical spaceship created by Epiphany, and finally, the art or craft solution to the problem.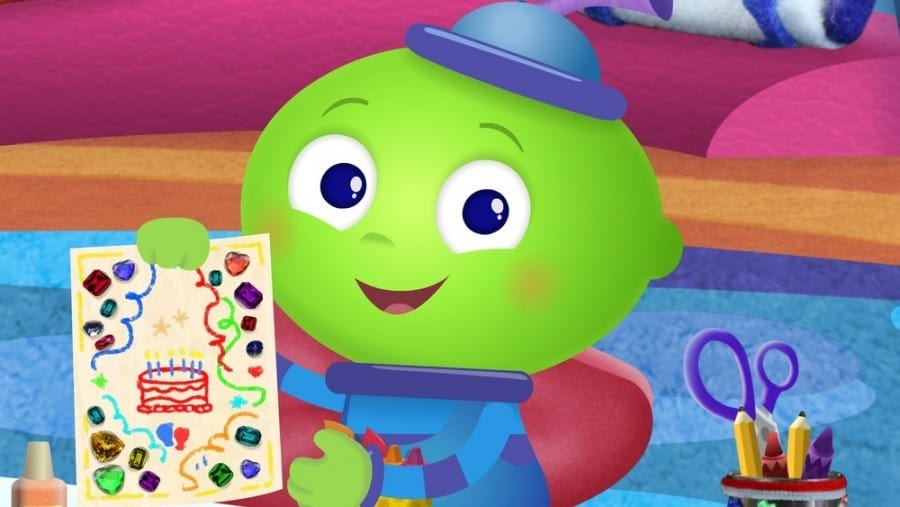 Artie and Epiphany give the preschool crowd some educational screen time in each episode.  The bonus for parents? Preschool friendly craft ideas.  At the close of each episode, there's a live action segment that shows how to re-create Artie's craft projects from the episode.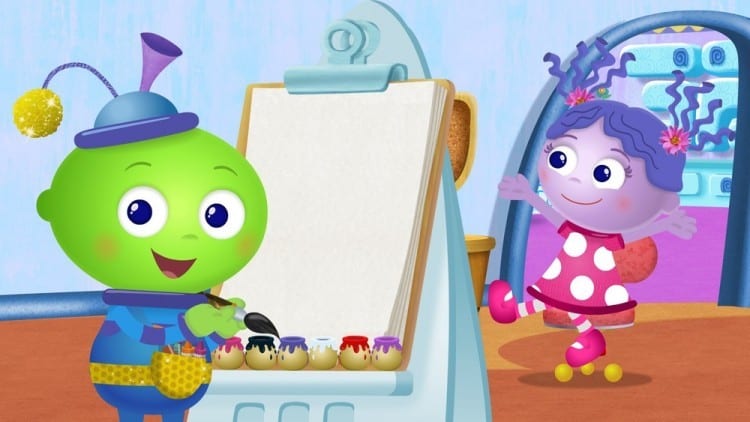 Most kids I've met in my time come equipped with creativity built right in.  We just have to give them the tools and outlets to express it.  Creative Galaxy helps to show them ways to express that creativity in different means, with different mediums, to solve problems.  We all know that having an expressive outlet is good for us- CG gives kids a chance to be at home helpers to Artie and Epiphany and helps them to develop their problem-solving, fine motor skills and even listening skills.
This series is designed to support a child's natural inclination to use their imaginations, make, and create.  In every episode, the characters will use "fix it with art" to model the importance of art as a resource for life. The series helps kids at home feel as if they are making art along with Arty, through its interactive story format. As "helper artists", the kids at home will "create" alongside Arty, empowering them as "makers" in a media format.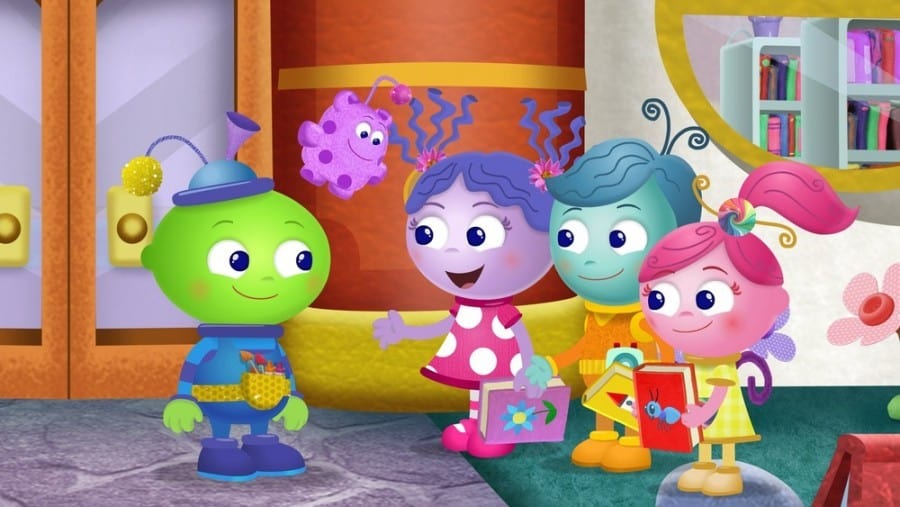 Artie and Epiphany help introduce kids to the ideas that art is indeed all around us. Just because one doesn't view something as art doesn't mean another won't… and being creative to solve problems is a life long skill that we should all be developing for sure.
This is a cute show, and I love that there's a step by step at the end so that kids and parents can be sure to re-create Artie's crafts if they choose.  Kids are going to be online and immersed in social media in our world- why not make that first introduction a bright, fun colorful one that also helps to teach problem solving skills?
Creative Galaxy, produced by Out of the Blue Enterprises with Angela Santomero (Blue's Clues, Super Why!) serving as Creator and Executive Producer, is a make-along, create-along, interactive art adventure series for preschoolers. Characters Arty and Epiphany travel around the galaxy to solve problems with art, inspiring creative thinking through crafts, music and dance. To give kids and parents the real-life tools they need to re-create Arty's experience, a live-action piece at the end of each animated episode will take viewers through the craft project that Arty showcased in the galaxy.

How do you get your kids to problem solve?
I was selected for this opportunity as a member of Clever Girls and the content and opinions expressed here are all my own.