My kids are obsessed with Trumoo Chocolate milk so it stays on my shopping list pretty much every time.  When we saw the new Limited Edition TruMoo Orange Scream flavor of course we had to bring it home to try it!   It is definitely a seasonal favorite in my house, it reminds you of creamy orange popsicles from your childhood.  The best part about TruMoo is that I feel good about letting my kids have it for a treat since it contains no high fructose corn syrup and no artificial growth hormones.
Since we are big fans of the orange flavor I wanted to try it out in a Halloween recipe- fudge is one of my favorite simple sweets to make. This recipe was fun to put together, easy to make, and  definitely feeds your sweet tooth.  Set out some of this orange creamsicle fudge on a platter  at your Halloween party, or wrap them up individually to pass out to family, friends, neighbors, and don't forget a class treat for school! This is a sponsored post, opinions are my own.
TruMoo Orange Screamsicle Fudge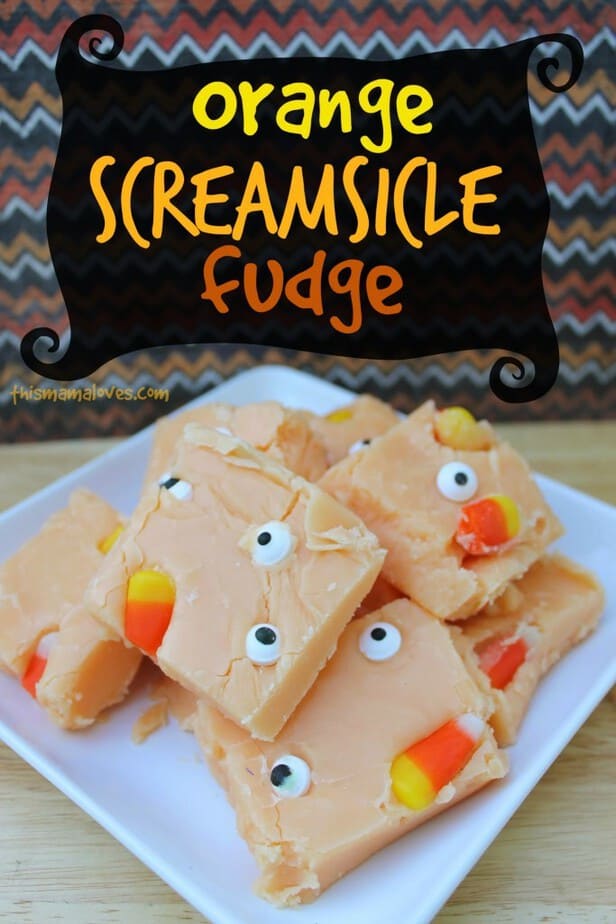 Ingredients:
1/2 cup TruMoo Orange Scream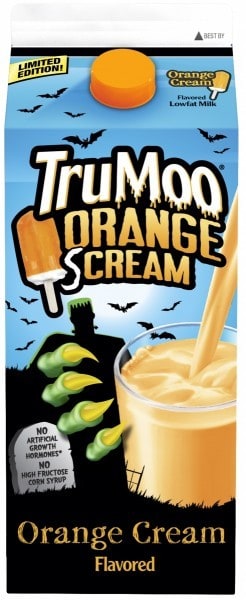 2 cups granulated sugar
1/3 cup sweetened condensed milk
3/4 cup white chocolate chips or bakers chocolate squares
1 stick of butter (1/2 cup)
1/2 tsp. vanilla
Optional:
candy eyes
candy corn
Directions:
Line and 8×8 pan with waxed or parchment paper.
In a large saucepan over medium heat combine sugar, condensed milk, and TruMoo until it boils.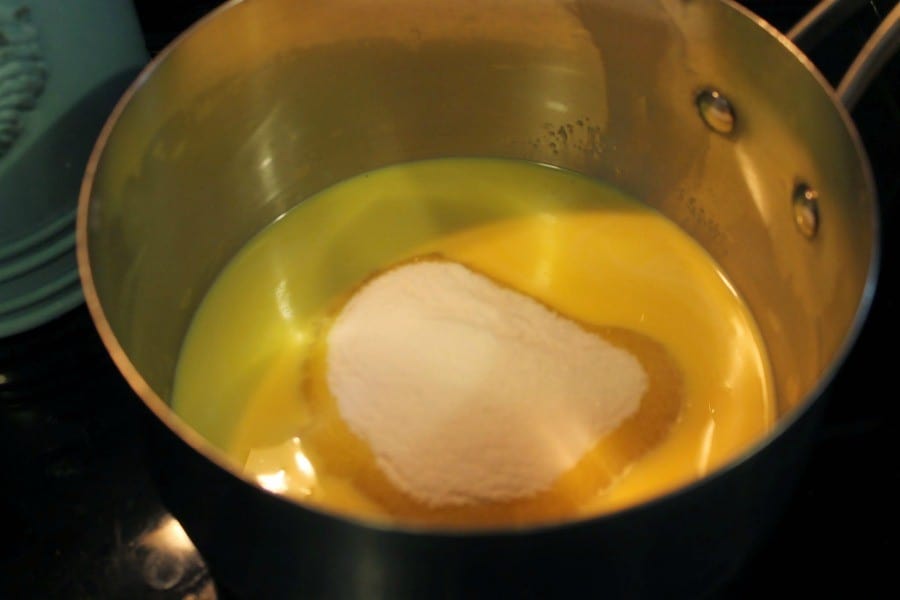 Stir constantly while boiling an additional 5 minutes.
Turn off heat-  stir in butter, chocolate, and vanilla until completely melted.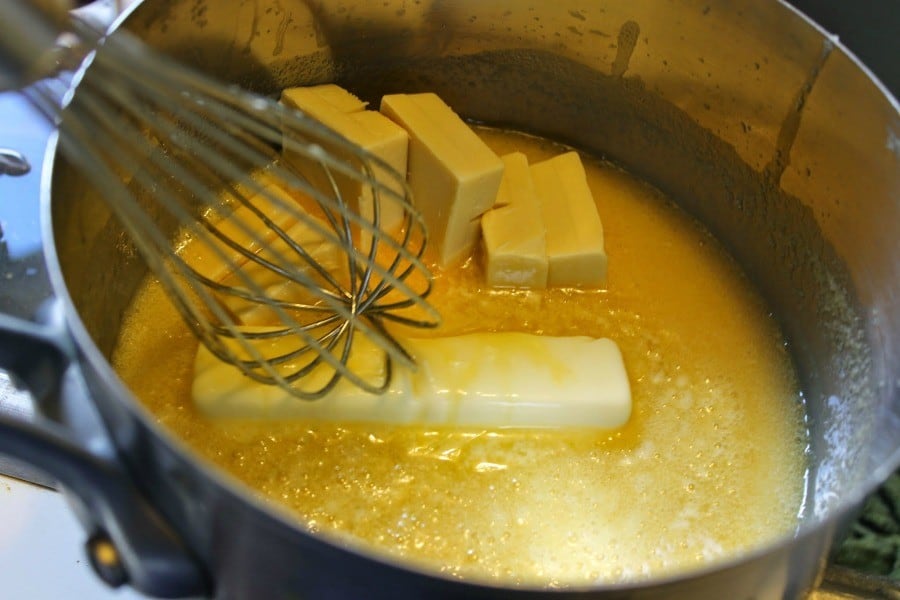 Pour mixture into paper lined pan, top with candy corn and candy eyes immediately.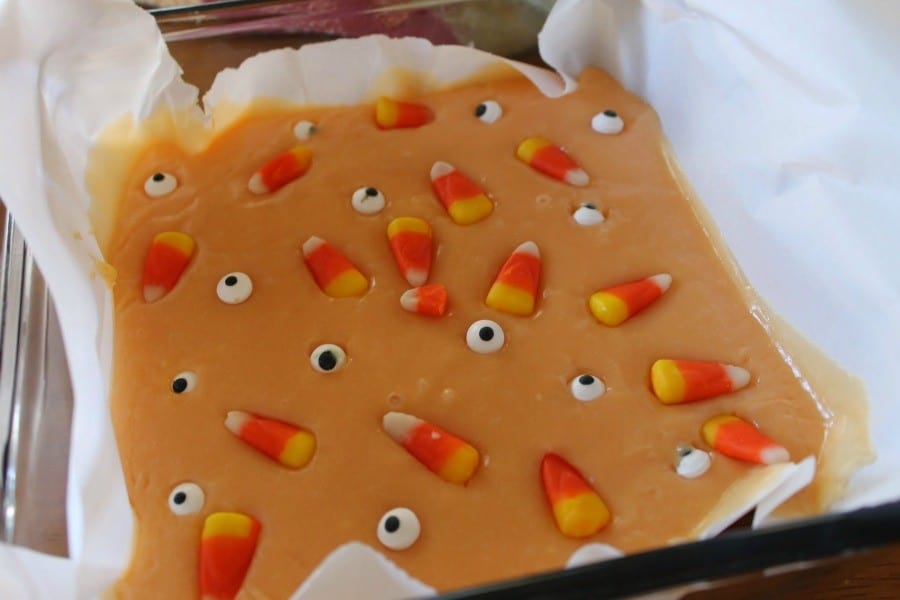 Place in the refrigerator for 2-3 hours to set.
Cut into small pieces-this is some sweet fudge and a little goes a long way.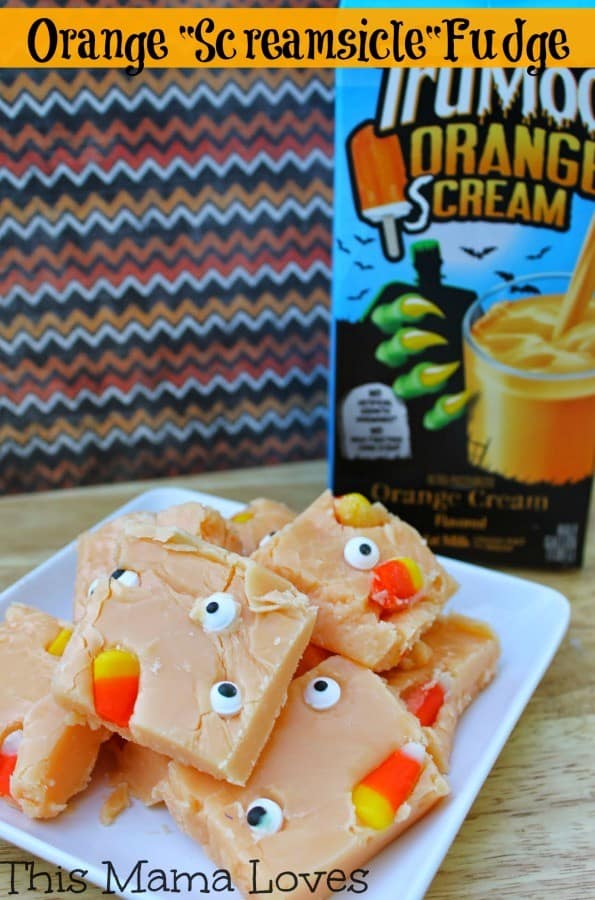 You can find TruMoo Orange Scream at your local Target- the fun carton just adds to the fun of the seasonal flavor, don't you think?  I get so excited for the holiday coming up when I head to Target for something simple like milk and come across all of the fun decorations, costumes, Halloween themed food items and more. From now until October 31, 2014, TruMoo is giving away $250 to one lucky fan that uploads a Halloween-themed photo to the TruMoo Facebook page. From now through November 15, 2014, fans can enter TruMoo's Spectacularly Spooky Vacation Sweepstakes–  simply enter the code on your cap at TruMoo.com for your chance to win that all-expenses-paid trip for a family of four to a surprise Halloween destination.