As much as I love gadgets, one place we don't have many gadgets is in our vehicles.  We have three Toyotas, and they are wonderful cars, we love them dearly, and we drive them into the ground.  That means that our 1997 Camry, our 2001 4Runner and our 2004 Sienna have got nothing in the way of "bells and whistles" although we do have CD players in them…but features like in-car speakerphone are not options for us at this time, at least not ones you have to install.  This is where the fabulous Crystal Supertooth comes in.  A zero installation, super super super simple product that's unbelievably easy to use and set up, and simply clips onto your visor.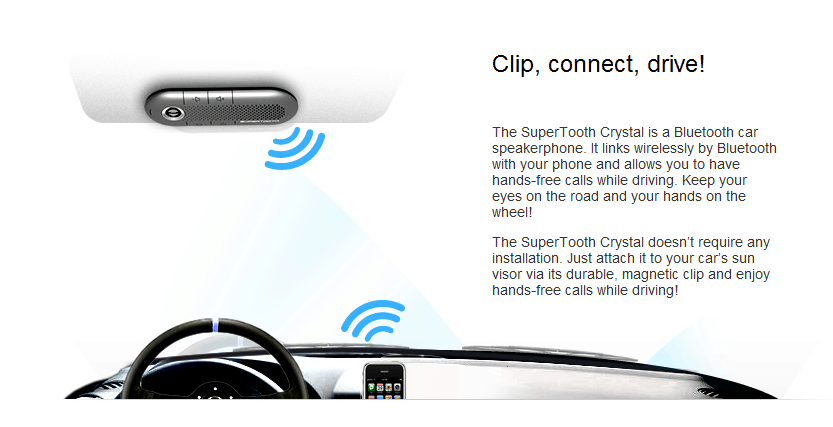 With all of the distractions available to make our roads less safe, I'm always glad to find things that help to keep us SAFER.  I'm not one to text or do emails, play games, etc. but I have used my bluetooth to answer calls when driving.  The Crystal just lets me push one button and voila.  I'm done.  It's a small, sleek device that takes up almost no room at all.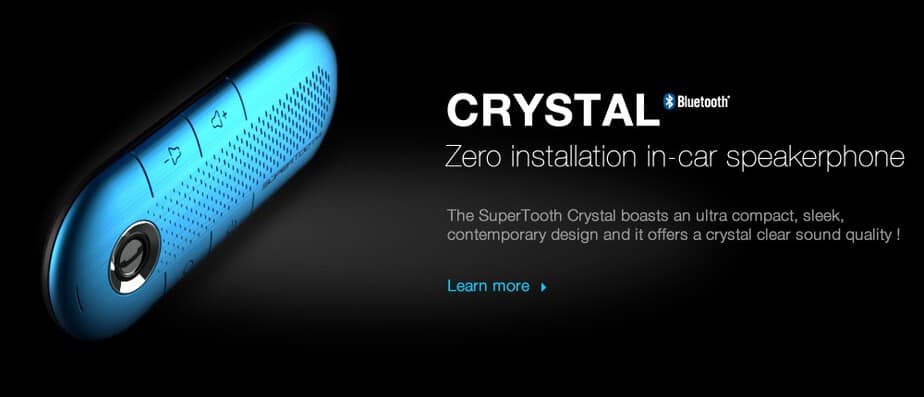 You can connect up to two devices to your Supertooth Crystal- which means I can have both my phone and my husband's connected to this device at the same time, and either of us can use it when we are in the van.  It even comes in cute colors, although we have it in black. You can listen to your phone's GPS directions through it, or your music that is on your phone (I don't have any, at least not yet, because I haven't quite figured out how to do that?!) and hear it at a far better volume than just from your phone itself.  Being able to hear the GPS just above my head has helped me a few times to hear more clearly, especially with three kids in the car chattering away, and I find I can hear it more clearly than when it's on speaker and tucked into the cupholders.  This keeps all of us safer for many reasons!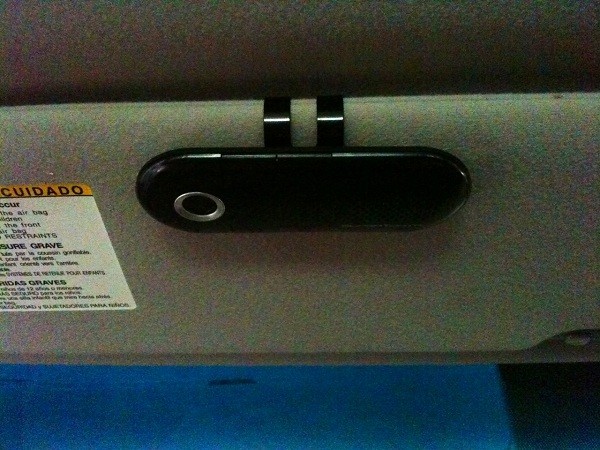 You can also text, post Facebook status updates and even Tweet from your Supertooth!
Charging this device takes about three, hours, and will last you through 20 hours of talk time or about 2000 hours of standby talk time.  The device comes with a USB port that plugs into the cigarette lighters (or what used to be known as a cigarette lighter).  Pairing it with your phone takes just a few seconds, and you are set to go.  In my house, we call this a "Brett-friendly" device, because I'd have to work hard to mess it up.
The Supertooth Crystal is going to make a GREAT gift for the holidays.  It's a really cool device that works well and takes up almost no space.With the long battery time, you'll rarely need to charge it up! It may not be the highest quality sound system around for music, but it's a great little device and for those of us who aren't able to afford to upgrade our vehicles for bluetooth, a great option.
Clip, connect, drive!
The SuperTooth Crystal is a Bluetooth car speakerphone. It links wirelessly by Bluetooth with your phone and allows you to have hands-free calls while driving. Keep your eyes on the road and your hands on the wheel!The SuperTooth Crystal doesn't require any installation. Just attach it to your car's sun visor via its durable, magnetic clip and enjoy hands-free calls while driving!
You can purchase the Supertooth Crystal online for about $69.00 US.
 I received a sample of this product to facilitate my review.  Opinions are my own.
0