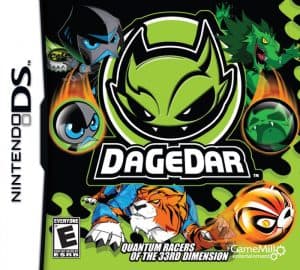 DaGeDar for Nintendo DS
This game is based on the wildly popular DaGeDar collectable ball bearing toys.  And the final review from my 7 year old on this game is "AWESOME."  The game arrived and he still had 2 pages of homework to do so I told him I had a surprise when the homework was done.  The homework got done in record time and his jaw dropped when he saw it was DaGeDar for his DS.  This game has been in his DS for days and it is the only one he is playing right now.
About the Game
Battle it out with your friends or race evil spirits alone; DaGeDar's virtual raceway will keep you playing for hours. With more than 30 fast and furious raceways, you'll be looping, dropping, climbing, and banking your way to the end with fury, but watch out for the blocks and gaps in the raceway! Featuring 100 collectable balls and special, limited edition characters, you'll have a blast collecting and trading your favorite DaGeDar items. Whether playing alone or sharing with a friend using the game's single card download option, the action-packed world of DaGeDar will keep you hungry for more racing, collecting and conquering of evil spirits in a unique 33rd dimension world.
Features
•Collectables: Unlock and collect up to 100 DaGeDar racing balls, for collectable and trading fun! Special limited edition, cool characters available too! •Unique Race Abilities: Each ball carries abilities of Acceleration, Top Speed, Defense and Attack modes. •Rewards: Earn DeGaDar points at the end of every race for special rewards and bonuses!
DaGeDar for the DS can be purchased at major retailers for a suggested retail price of $19.99.

A copy of this game was provided to facilitate the review.  Opinions are my own.
0