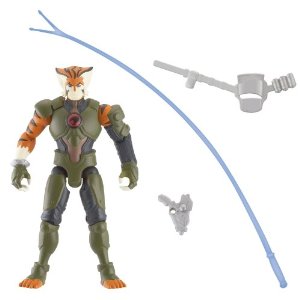 ThunderCats Tygra 4″ Action Figure
My son watches ThunderCats on the Cartoon Network so getting Tygra was really fun for him.  Action figures let kids travel off into a fantasy world and really enjoy themselves.
OVERVIEW
"ThunderCats" fuses sci-fi and sorcery to reignite the thrill of the 1980s hit television series with all the favorite characters exploring an expanded universe. It's sure to have kids everywhere once again shouting, "ThunderCats, Ho!" Lion-O wasn't ready to be king and he definitely wasn't ready to be the only cat standing between immortal evil and the total destruction of his world, but fate left him little choice. Only he could lead this quest.
Tygra is a perfectionist and expert marksman who is able to make himself invisible with the help of his whip.
Tygra's figure has up to 14 points of articulation
He also comes with his own bolo whip and gun weapons
Tygra's figure includes an embedded magnet, called ThunderLynx
The ThunderLynx system activates unique features in other products such as – THUNDERACERS, Lizard Cannon, ThunderTank and Tower of Omens play set
The embedded magnet allows Tygra to interact with other action Figures in the Bandai line of ThunderCats toys.  Or you can find silly places to stick Tygra to like, the refridgerator.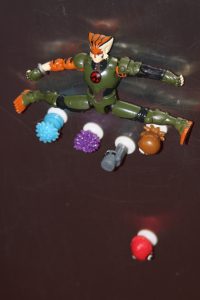 Suggested retail price is $7.99 and can be found at major retailers and online.
This product was provided to facilitate my review.  All opinions are my own.
0