I've got Xbox on the brain of late (gee, I wonder why?!) but I keep seeing this game and I think it looks like so.much.fun.
Does anyone have it?  I know this is a great deal on it, but I also want to know how it IS to actually play!
Dance Central (This comes with 240 Microsoft points plus free shipping)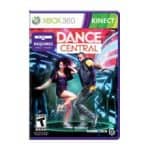 I think I realized I simply hate traditional exercise.  I'll do it if I have to, but if I can dance the pounds away, I'd much prefer to do that, you know?  Since this is a Kinect game, I won't have to hold anything, and the kids can dance along with me.  Thoughts?
0