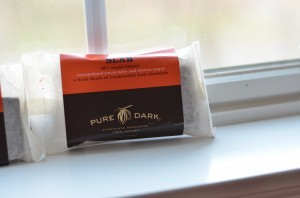 I truly am a baker at heart.  If only my waistline (and children), would allow me to bake more often!!  When I had the opportunity to review Pure Dark artisanal chocolate, I had the perfect opportunity to slip on that apron and get baking for the Easter holiday!  I tried out 2 different slabs of baking chocolate:  The dark chocolate slab and the caramelized cacao nibs and course sugar,  both make with 70% cocoa content.  I love baking with a high quality chocolate.  It really makes a difference in the intense flavor of the finished product, as well as the texture.
"Pure Dark® is like no other chocolate: the recipe features a proprietary blend of premium beans carefully chosen for their unique and intense flavor profile. All Pure Dark® chocolate is handcrafted in small batches to ensure every bite is just as delicious as the next."
Pure Dark® offers Handcrafted SLABS, nearly an inch thick; BARKS studded with plump, dried fruits and crunchy nuts; ROUNDS dusted with exotic spices and fruit flavors; lightly roasted cocoa bean NIBS, and chocolate dipped FRUITS and NUTS, all deliver the ultimate authentic, earthy chocolate experience.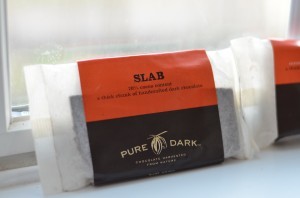 Pure Dark has a fabulous website with tons of ideas and delicious recipes.  I love that their recipe selections include sweet items (like the delicious looking Dark Chocolate Parfait with Cocoa Nib Crunch and Summer Berries), but also some savory dishes (such as the Crostini With Goat Cheese and Spicy Rhubarb-Shallot Relish).  These recipes sound just perfect for that spring/summer menu.  I think it would be fun to have a small dinner party and incorporate chocolate into every course.  Who wouldn't love that!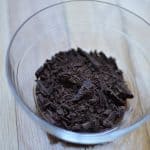 I tried out the Hot Chocolate recipe on the website.  It called for only 2 ingredients, milk and shaved chocolate.  I found the chocolate extremely easy to shave with a kitchen knife.  The recipe itself was simple.  Heat milk on stove, add chocolate shavings.  However, I found that with the addition of a little vanilla extract, 2 T sugar and a pinch of salt the taste was drastically improved.  The end product was rich and creamy.  Delicious!
Now you have to admit that your mouth is watering, and you are feeling like baking up something chocolatey!  Pure Dark chocolate is available at Pure Dark and at the The Food Emporium and The Fresh Market stores.
I received a sample of this product to facilitate my review. All opinions expressed are my own.