This post brought to you by Breyers Gelato Indulgences. All opinions are 100% mine.
We had the best- and worst- date night at home EVER this weekend.
I mean, it started out great. We had a nice dinner with the kiddos, got them in bed kind of early because they were exhausted…and decided we'd watch a movie and indulge in an adult treat. I wasn't in the mood for sci-fi or action which is what hubby usually picks and yet somehow I left him in control of the remote….
So before I knew it, we were watching the movie "Bad Teacher" which has a whole lot of awesome actors but was just a painful movie to sit through. (Apologies to the stars of it, it was really just not great!!). Thankfully, that was the ONLY bad part of the date night. Yet somehow, neither of us turned it off or looked for another movie. We had to see what happened. Like the people who have to look at a train wreck, only it was a bad movie. Sigh.
About half an hour into this movie, ,we decided the kids were "asleep enough" to get out some yummies that we were saving for US, not to share with the kids. Judge if you want, but we think it's ok to have some stuff that's not shared with the kids. They get EVERYTHING else in our lives, so we're ok with not sharing a tub or four of frozen goodness. In our defense, Breyers' Gelato Indulgences are indeed indulgences and have more adult flavor pairings. These are a more sophisticated frozen treat, as implied by the name and packaging, and aren't really geared towards the kiddos.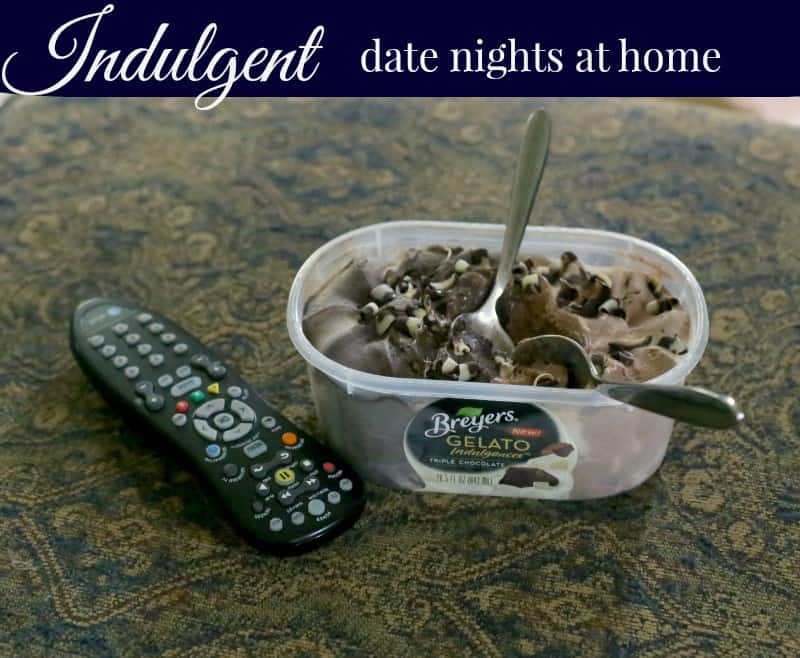 Our treat? The new Breyers Gelato Indulgences. I'm in love. I mean, I was already in love with my husband, and I've honestly never been head over heels with gelato before but holy WOW you guys.

There are four kinds of Gelato Indulgences. Four. So there's kind of one for any flavor you may have a hunkering for. Feeling fruity? Check out the Raspberry Cheesecake. The Tiramisu was an instant hit with my husband, although I was instantly smitten with Triple Chocolate (I can't help it, I'm a chocolate girl). There's also Vanilla Caramel but I haven't found it (yet) to sample… so we're just going to have to do another date night at home.
LOOK at the frozen romance. Dark chocolate gelato, milk chocolate gelato, white chocolate sauce throughout, and pretty chocolate ribbons on top. Or there were. We might have devoured those instantly.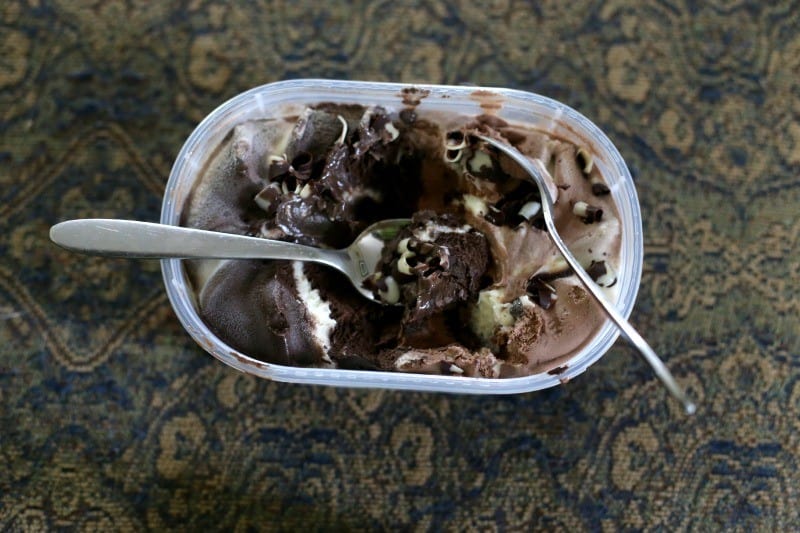 Whatever you decide to do for date night at home, I have to suggest that you try some of these new gelato flavors. They are out of this world good. I think you'll end up like me and be unsure just which ones you want to have with your date and have a sampling of them at once!
I think we may stick with card games on our next date night at home. With gelato of course!