My husband is the hardest person on my list to shop for.  He doesn't like a lot of 'stuff' and we don't like to buy gifts just to buy gifts. BUT, he's also my husband and I love him and want to do something for him for holidays. Thanks to a little inspiration from the folks at BiC, from their BiC's Month of Merry Marking, I have a whole date night planned out that I'll surprise him with Christmas morning.
DIY Gift Idea: Date Night Invite
First, I made some movie tickets. I'll let him choose the movie we see, since it is his gift. This was my inspiration, you can get the booklet of merry marking and a coupon to start marking on your own!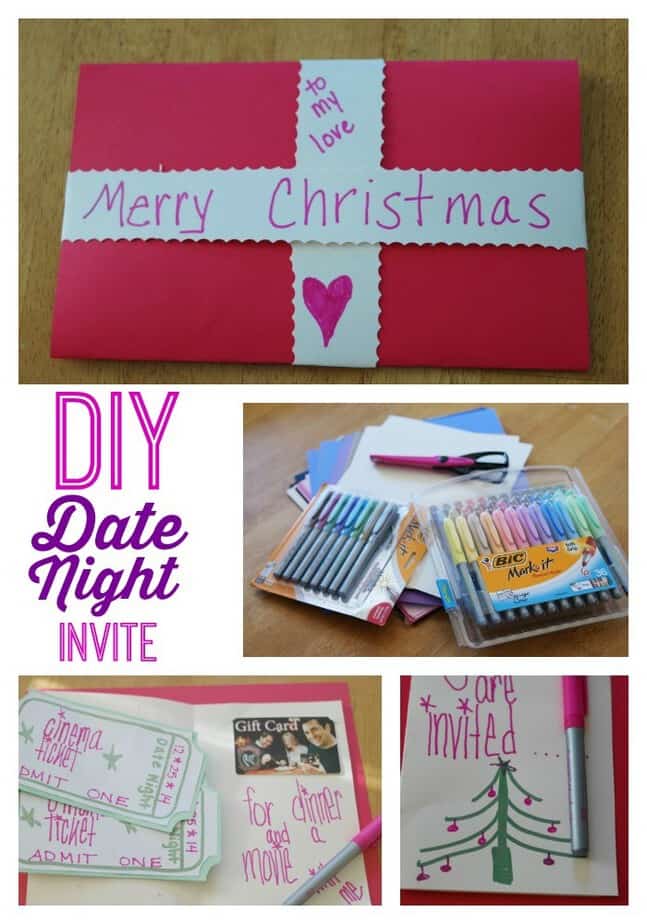 Which I took a few liberties with, but it was inspiration and I decided since we are trying to have less "things" in the house, that buying new cardstock just to match a color was maybe not something I needed to do.  I actually love the Fandango Pink on the green paper, it's fun and festive!
DIY Date Night Invite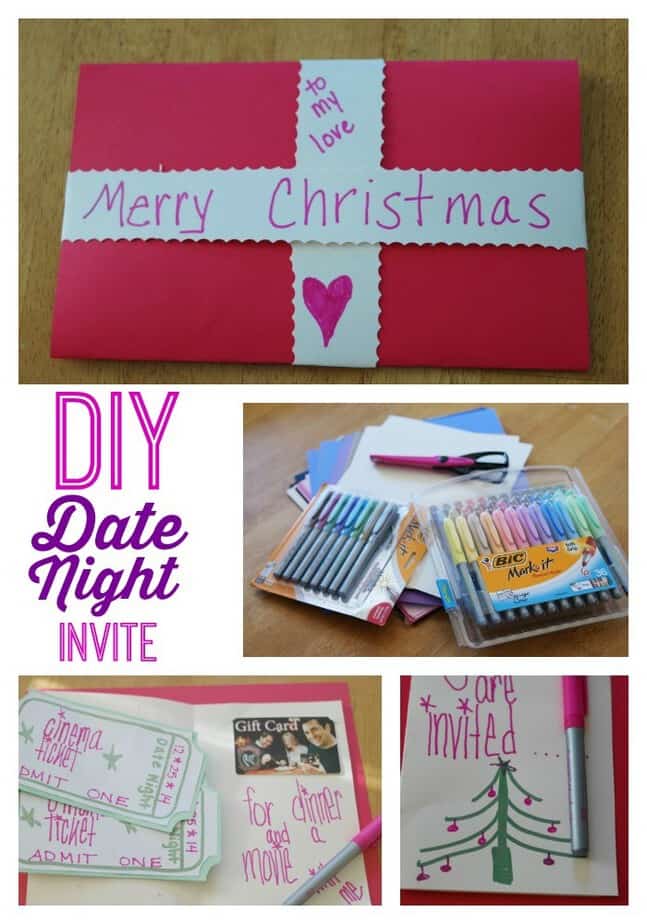 What you need:
Cardstock (color of choice, although I'm pretty sure the pink won't show on a black paper very well) Free Movie TicketTemplates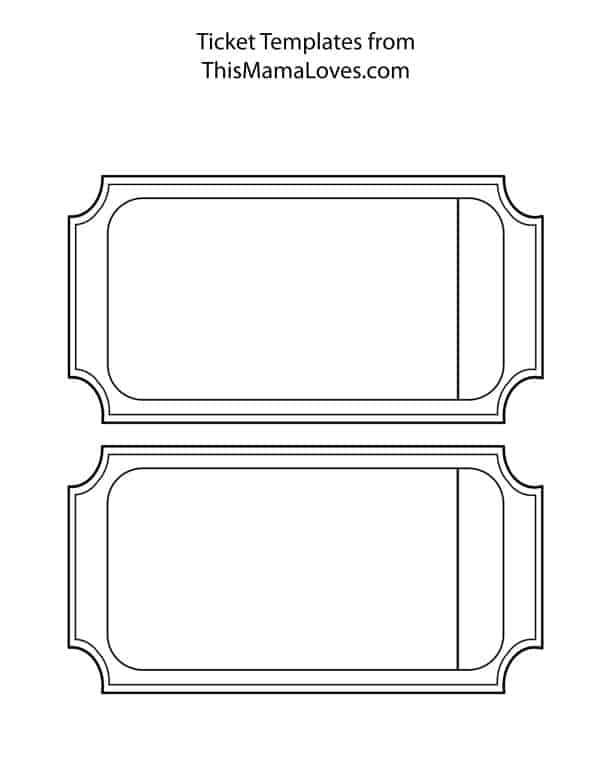 BIC Mark-It™ permanent markers ( get the booklet of merry marking and a coupon to start marking at home!) Scissors (I had a pair of scrapbooking scissors with a fun edge plus regular scissors) Adhesive (I used a roll of double sided adhesive so the edges don't curl up) Your creativity
Directions:
Cut your cardstock into 2 same sized movie tickets. Use our free printable template to make life easier (I tried for an hour to freehand.  Fail!!) I am in love with these markers. BiC's array of vibrant, low odor and acid free (no added acid, no measurable pH) BIC Mark-It™ permanent markers are so much fun to play with.  SO many colors, a nice fine tip so you can use them on any sized surface… and fun options like the metallics to add a little pizazz to your projects.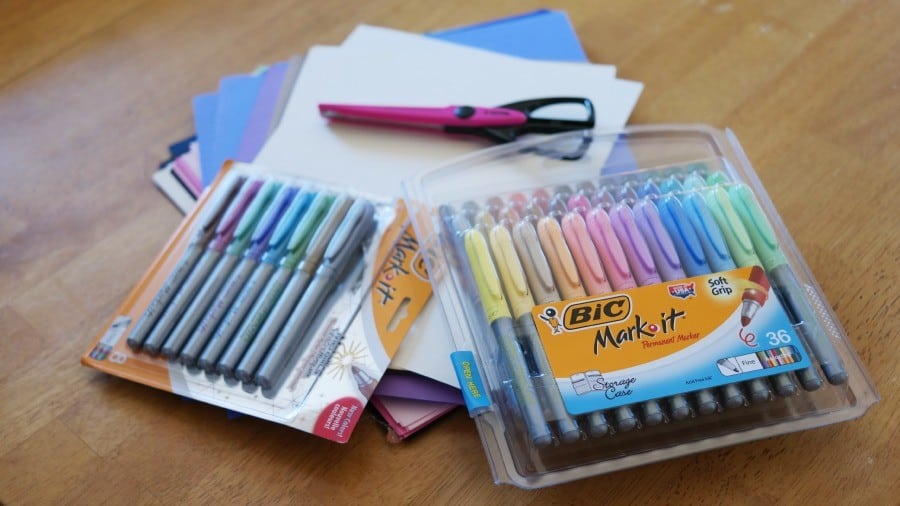 Once you have your supplies set, it's time to relax and get your craft on. I didn't want to go out and buy new cardstock because I have a good amount- not the perfect colors, but this was not a spend money gift idea.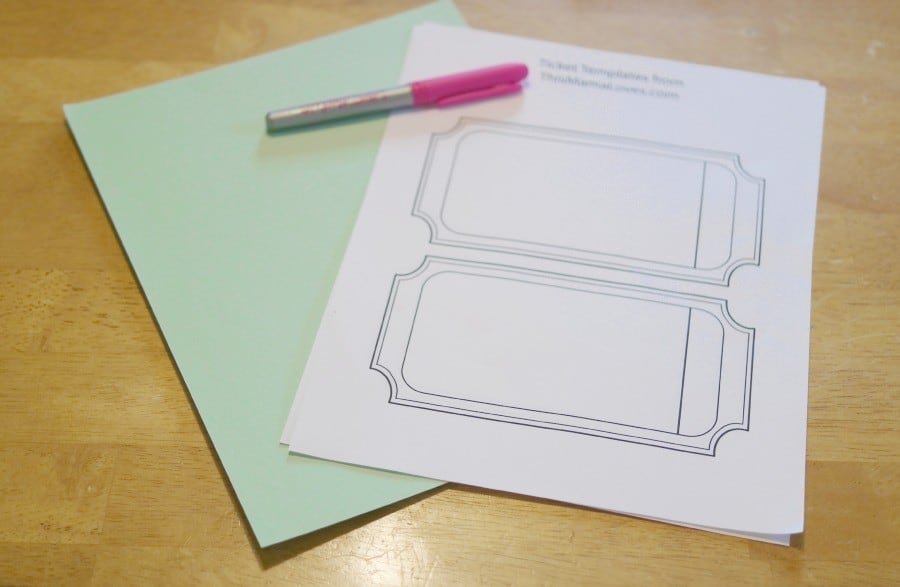 You CAN also print the template with cardstock and skip this whole thing, but I decided not to. Either decorate the tickets as cardstock or on printer paper and then cut them out.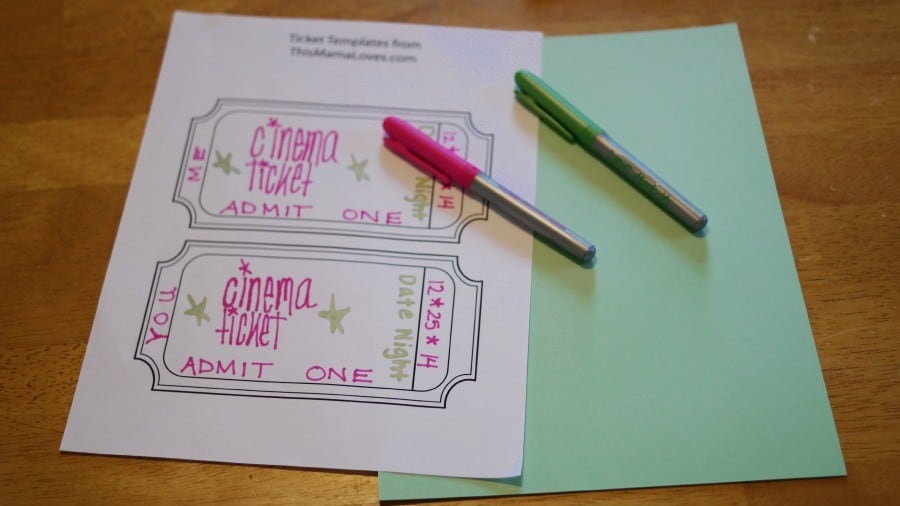 I stayed with the #FandangoPink suggested by BiC in the Merry Marking booklet because I LOVE pink and it's the best color ever, so why stray? The ultra fine tip meant I didn't have bleeding into other letters or anything. Once my tickets were designed and cut out, I used a strip adhesive that's double sided to adhere them to the cardstock.  Then I cut using the outlines. After they were all cut and affixed, I traced the outlines with one of the Metallic BiC markers and you can't even tell there was black under. Now, the tickets were done, but I felt like they were lacking in presentation. I gave my husband a gift card to a semi-local restaurant we love for Christmas 2 years ago.  We haven't made the time to use it. So I decided… since I was making this and not wanting to spend a lot… I'd be a little sneaky and include that dinner gift card with our movie date tickets.  Still needed something for him to open to see it all together… and decided I'd just have a little fun, nothing fancy.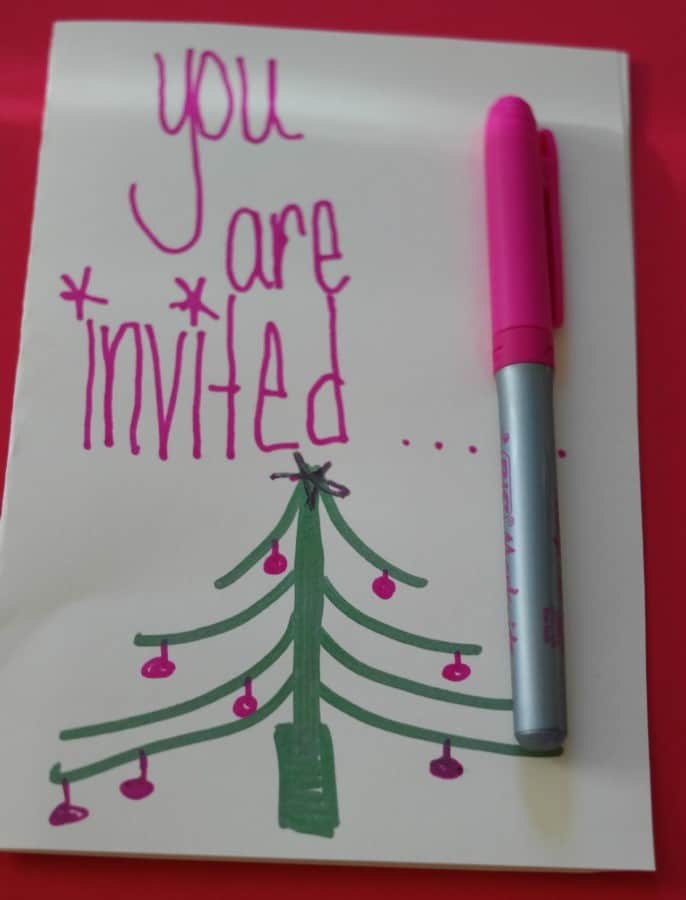 Here's the inside: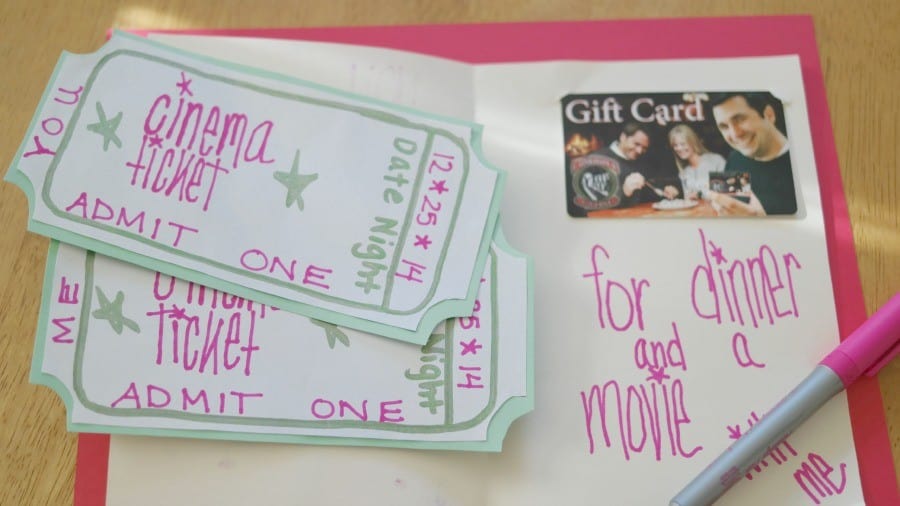 Much better than an envelope with tickets, don't you think? Now that I made a card, I didn't have any envelopes to put it in, so I decided I could make something that I can stick on the tree for Christmas. I folded it over the card, wrapped bands of cream cardstock around (cut with scrapbooking scissors) and used my adhesive again to affix it.  Looks a lot like a fun surprise to me!
I challenge Jody, Racquel and Laura to join me in the #BICMerryMarking crafting!! What will you make?