I've never really had strong feelings about beef before, particularly steak.  I just was kind of blase about it.  That all changed when I had lunch at David Burke Prime at Foxwoods after enjoying some spa time at Norwich Spa at Foxwoods.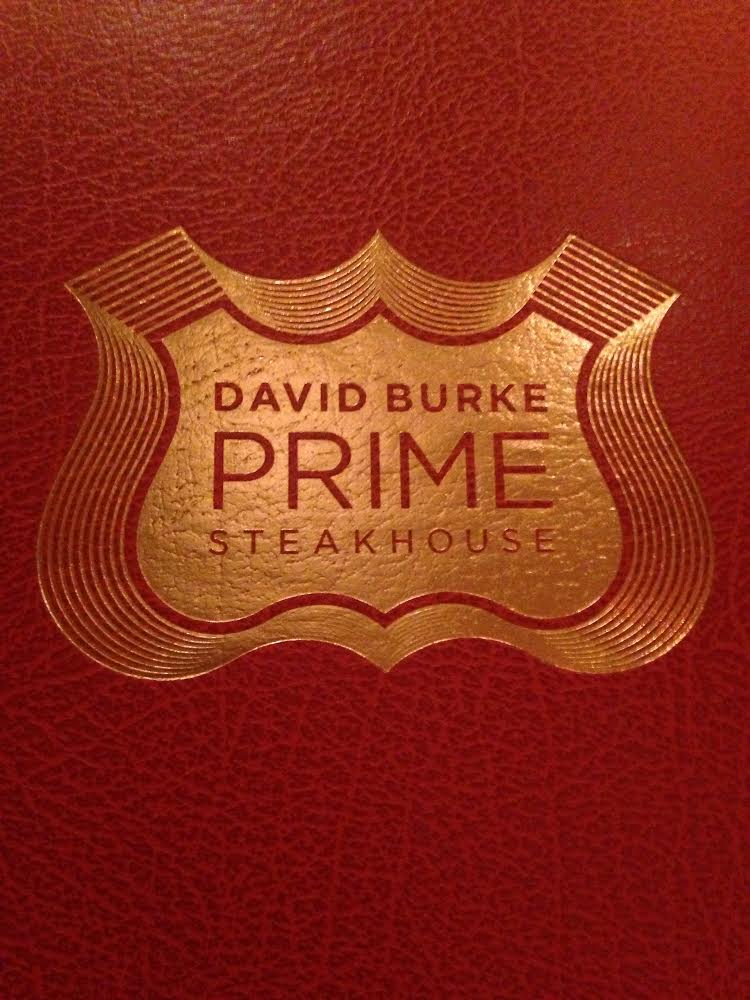 Renowned Chef David Burke brings his creative, whimsical style to Foxwoods Resort Casino with David Burke Prime. Always the culinary showman, Burke's inventive reinterpretations of American classics are showcased in this classic American steakhouse.
Apologies now for the photo quality- I only had my phone and while the lighting is perfect for a nice dining ambience, it's not so great for mobile photography.  Just skip the pics when you go and enjoy the food, and the company.
Lobster Bisque:
crispy lobster roll / apple essence
This is what Lisa enjoyed for an appetizer.  I'm not a lobster person, but she is.  She was one happy lady- she said the bisque was a perfect texture, very creamy and totally indulgent. Just how you want your bisque to be.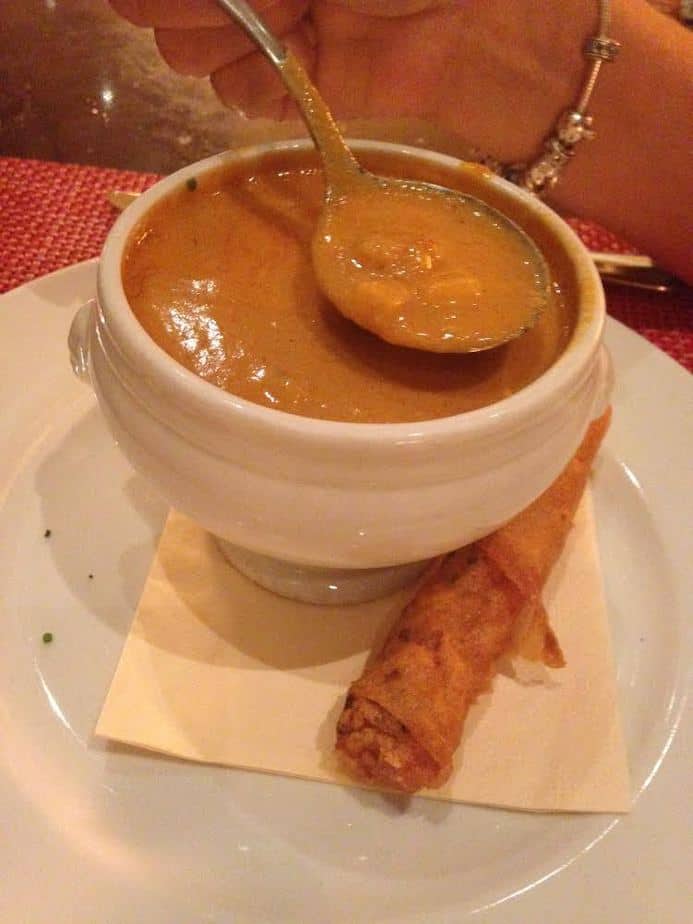 Mixed Greens Salad:  
dried cranberries / diced cucumbers / tomatoes / shaved fennel / balsamic vinaigrette
I love salads. Especially ones that I don't prepare. This was no exception.  Fruits in my salad, in the form of cranberries, pears and apples?  I get really happy. Add cheese and I'm giddy.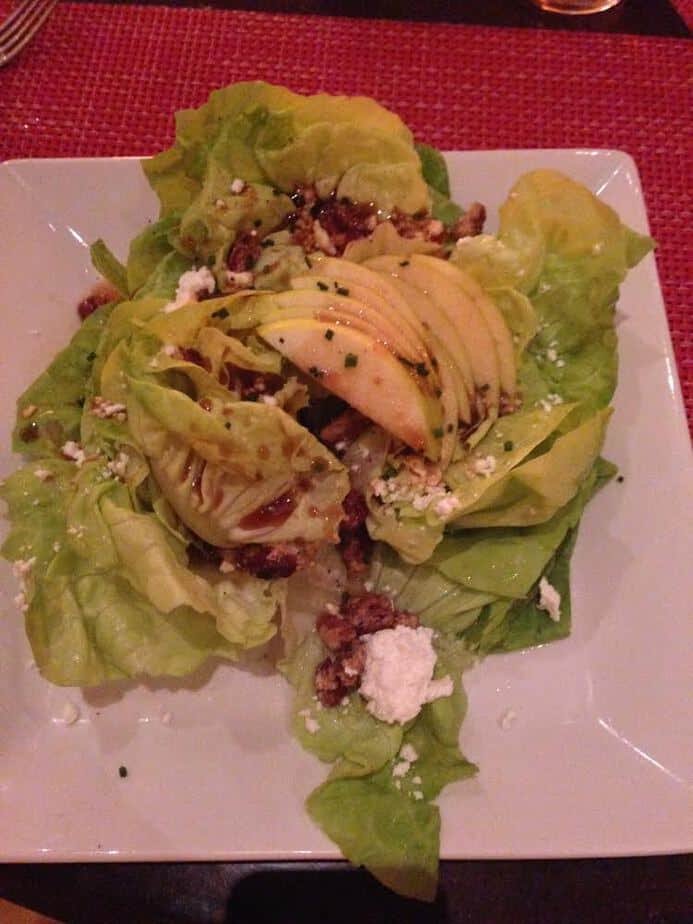 There's also a Maple Glazed Double Cut Pepper Bacon appetizer that someone ordered near us- the aromas from it were amazing. We just were too full to add anything else to our plates!
For our lunch entrees we enjoyed
Filet Mignon Steak Sandwich
caramelized onion / mushroom / swiss cheese / bacon aioli
This was amazing. The cheese and the onion paired with David Burke's aged filet were just wonderful. The bacon put it over the top.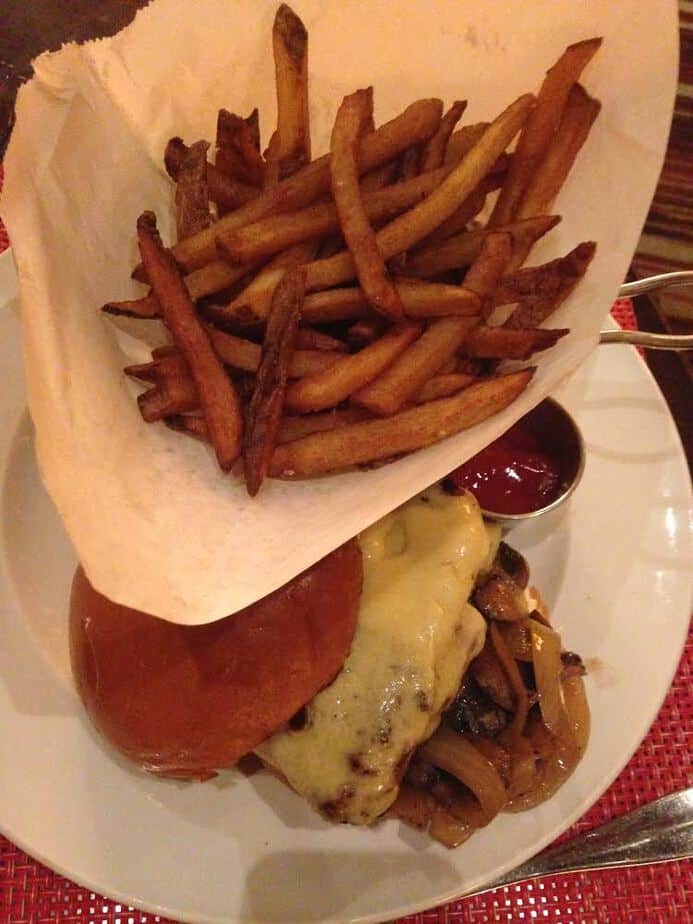 I had the "Steak Frites"
petite n.y. strip / fries
And oh my goodness. It was hard to stop eating. Really. So good. Aged to perfection and cooked just to my liking. I really could have licked my plate.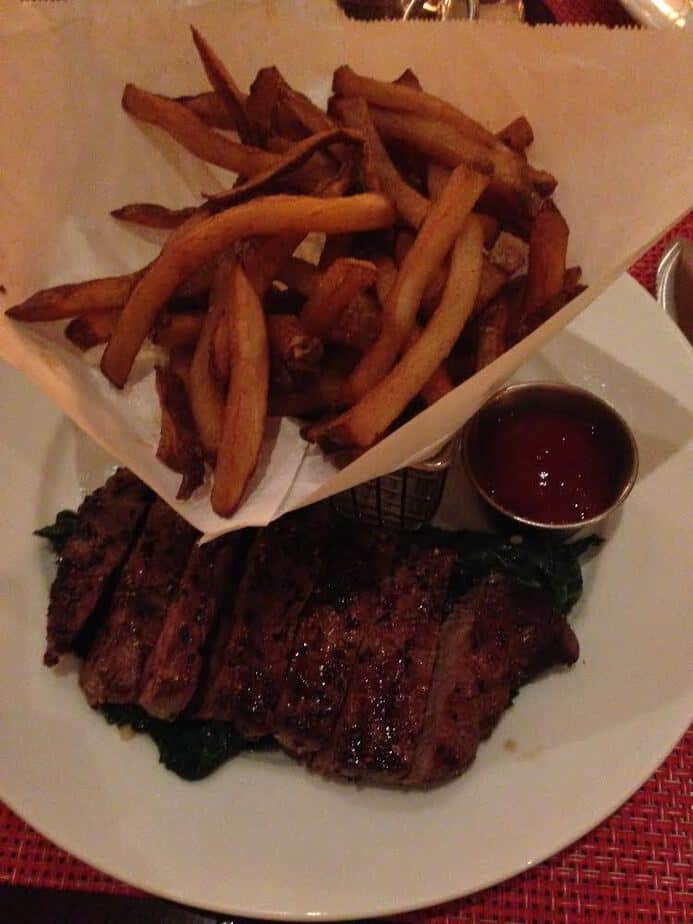 Now, I was driving home, so I behaved and had ice water and a Shirley Temple.  Yes, I'm 40 and I have been known to order them on occasion still!
Lisa had a Sangria because she was NOT driving.
Lisa was very lucky. I will be enjoying a Sangria on my next trip to David Burke Prime. Mark my words.
I did get to enjoy one thing for an indulgence. For birthdays at lunch, David Burke sends out Cotton Candy to celebrate.  When I asked about this, they said that all tables get Cotton Candy with dinner, and did I want to try some?
Yes, yes I did.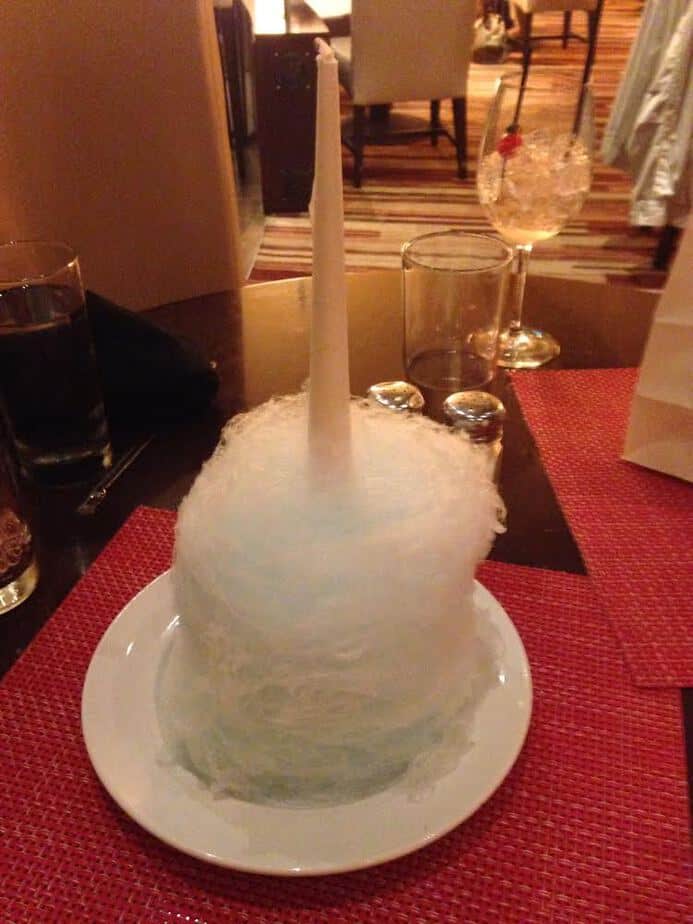 It was awesome.  What a FUN ending to a fabulous meal!
I loved the ambience at David Burke.  Very elegant and sophisticated, but with lots of fun- several of the booths are upholstered in real cow hide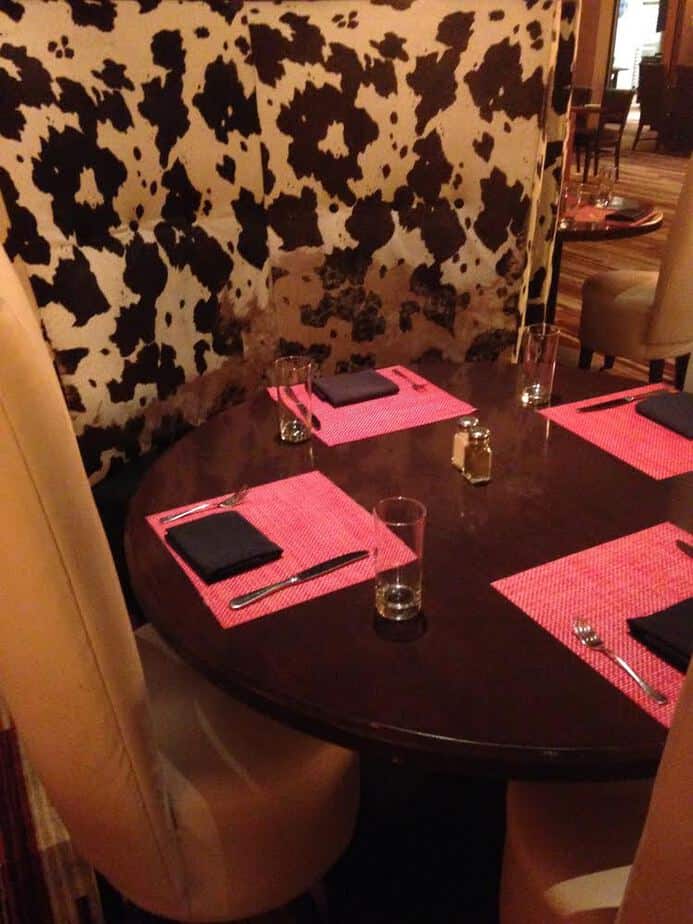 The walls are tiled with pink Himalayan rock salt – the same salt that lines the dry aging room, adding a warm glow to the restaurant. Beautiful wood with clean lines is everywhere in the tables, chairs and bar.
There's also a 35-foot tall wine tower that rises up three stories in the restaurant. It's beautiful. We got a sneak peek inside. Tons of wine in all sizes, shapes, flavors, colors. But also? It's just really a cool thing to see.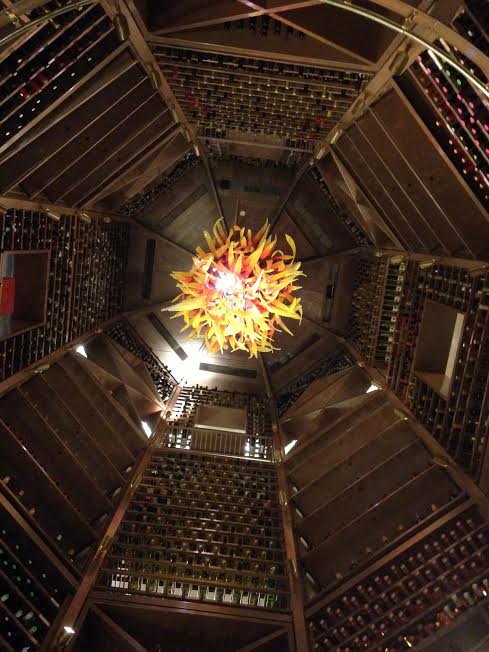 Fun fact: the highest tiers don't have wine in the bottles. I asked. I was wondering who had the high stress job of climbing that high to reach such valuable bottles of wine! Turns out, no one does.  35 feet is a really long climb with a wine bottle.
Thank you to the fabulous PR team for Foxwoods for inviting us for spa time and lunch. We can't wait to go back for another girls day out!