What's a day like in our home? For our kids? Gee, I never really stopped to think about it, because, aren't "typical days" kinda boring?
That's what I thought before I had the wonderful opportunity to be involved in a video project with Huggies. The camera crew arrived and set up in our house, and the director proceeded to ask me lots of questions to prep me.
I reflected that this would be a good idea for ALL moms to do from year to year. Our children change so much, it's hard to remember what a "typical day" was like two years ago when he was just born. Or, four years ago, when I just had one child. This post is written by my friend Julie from HappyStrongHome.com 🙂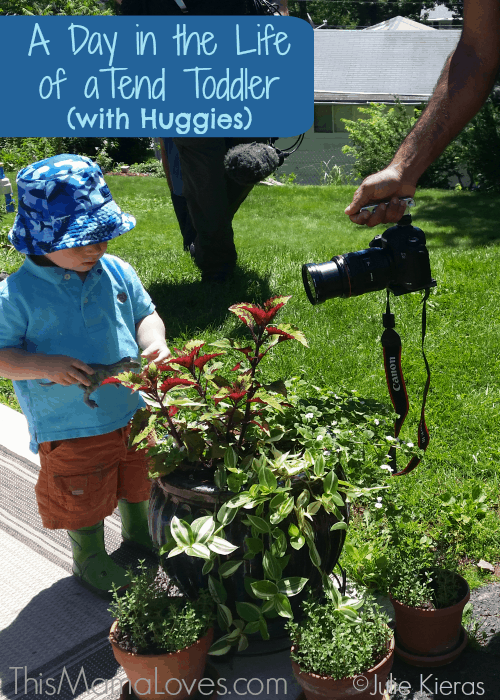 Ask yourself the same questions the director asked me to get a feel for your own "typical day?"
What does he do when he wakes up?
What does he like to eat?
What's your daily routine like?
What toys does he like to play with?
Where do you go?
What about lunch and naptimes?
When does he go to sleep at night?
Or do fill in the blank questions like:
Not a day goes by that he doesn't ______.
Every night when I put him to sleep, I think _____.
While I felt nervous to be on camera getting interviewed, I think it was such a valuable experience for me to sit for a minute and really think about what my child's day is like – for him, and with ME!
Turns out, I'm happy with what I discovered: our son wakes up happy to see us, loves to eat his cereal or eggs, plays trucks and dinosaurs or trains all day, or loves to dig in the dirt. Not a day goes by without him squeezing me tight in a bear hug.
And every night when I put him to sleep, I think what a wonderful addition he's been to our world. I can't imagine a typical day without him at this point!
Turns out – a typical day is actually very very special to me!
Watch this cute video from Tend and Huggies showing "A Day in the Life of a Tend Toddler!" Enjoy it – because I sure did!

This post is in partnership with Tend and Mode Media, and I received compensation for participating in this program. All opinions are my own.