This is a sponsored post written by me on behalf of Clorox for IZEA. All opinions are 100% mine.
My 4 year old is always up for crafts, especially if it involves something messy like paint and glitter.  The messier the better is her motto! I don't mind, I use a couple items to help me combat the aftermath of our fun projects- newspaper underneath and Clorox Disinfecting Wipes with Micro-Scrubbers for those inevitable spills and splats that make it off the paper- the 4 year old is none too neat either. We created a variety of pretty embellished jars that can be used as vases, candy or candle holders. Cute- check, cheap frugal-check,  messy-check, this hits all of our requirements for a craft project so it was a big hit! Want to make a set of these upcycled decorative jars crafts for yourself to welcome spring? Gift to your valentine?  You can use jars of all shapes and sizes, create an entire display for your kitchen table, mantle, or front porch. They are super simple we are going to show you how!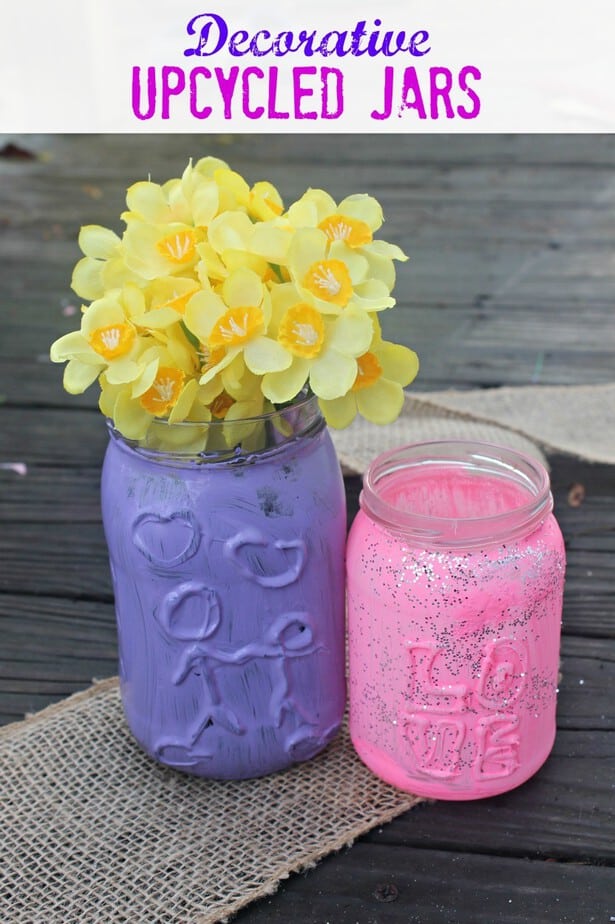 Upcycled Decorative Jars
Supplies Needed:
Upcyced jars- spaghetti, pickle, olive jar, etc..
acrylic craft paint
glitter
dry erase marker
Clorox Disinfecting Wipes  with Micro-Scrubbers available at Target
hot glue gun/sticks
newspaper/mess mat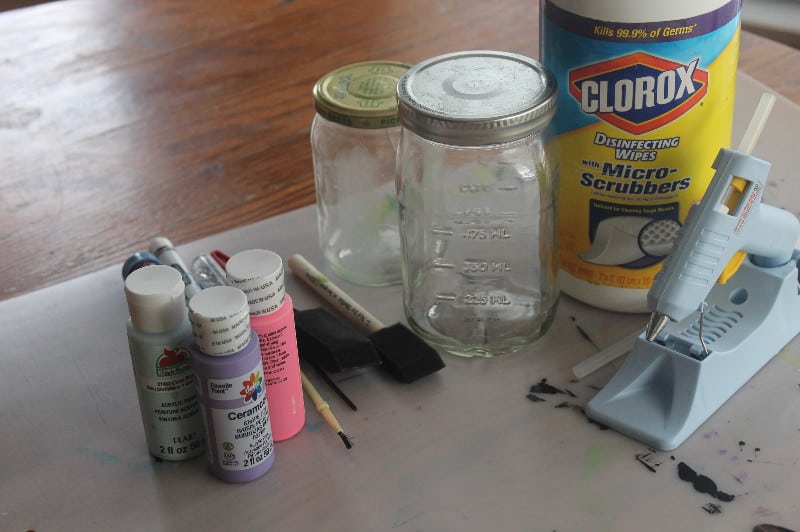 Directions:
Wipe down the outside of your jars with Clorox Disinfecting Wipes with Micro-Scrubbers to remove dirt and oil-this will give your paint a good surface to adhere to.
Decide if you want writing, simple "sketches", or random decoration on your jar, you can let your little one draw them out in dry erase marker if you like.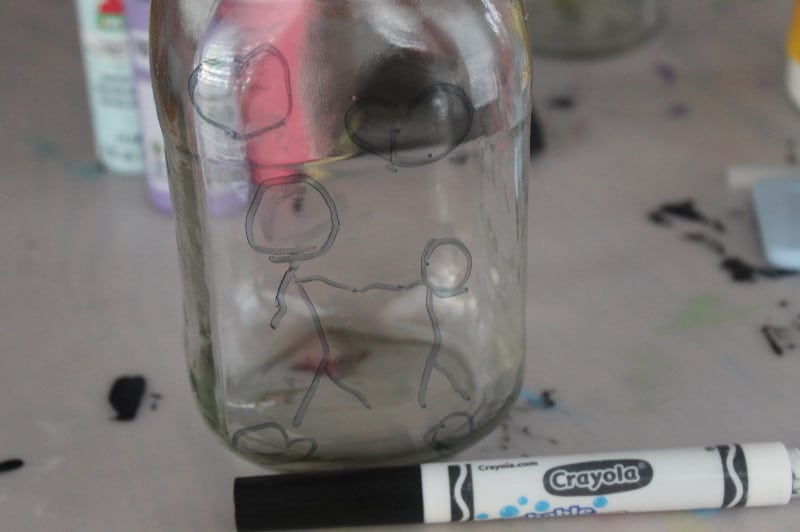 Next, trace over drawings with hot glue, giving it a thick even line. Allow to dry until completely hardened.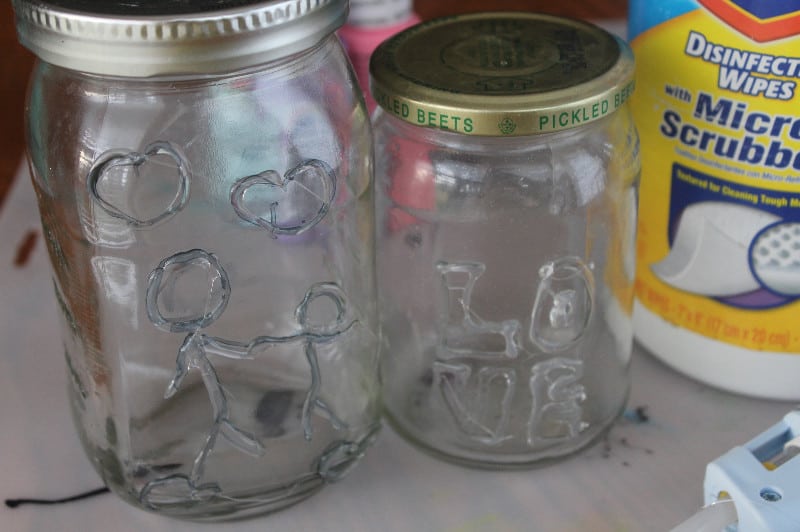 Wipe away any visible dry erase lines.
Paint a good even coat over entire jar, use a small brush to get in the details, dry and add another coat if desired.
Make sure you swipe up those paint blobs on the table and floor right away, Clorox Disinfecting Wipes Micro-Scrubbers make it a cinch to clean, the textured side cleans up a multitude of messes with very little elbow grease!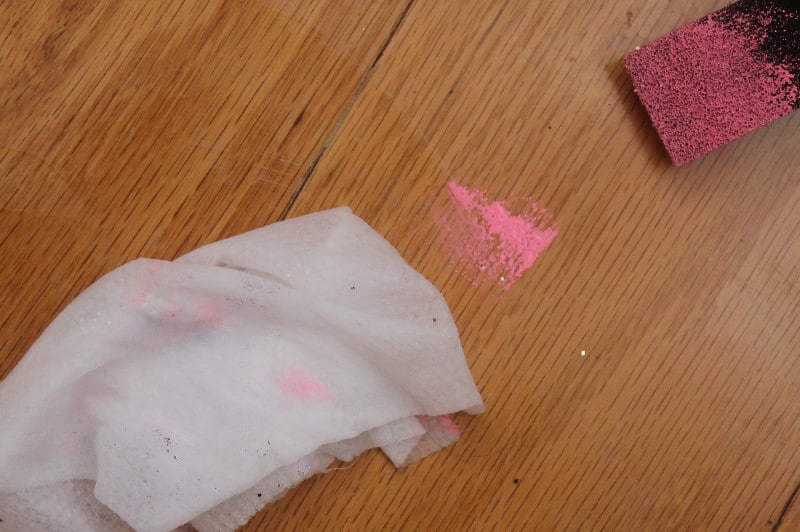 While your jar is still wet you can sprinkle with glitter or leave as it is. Once dried you could also add some interest by sanding off some paint with a small piece of wet sandpaper to give it a rustic look.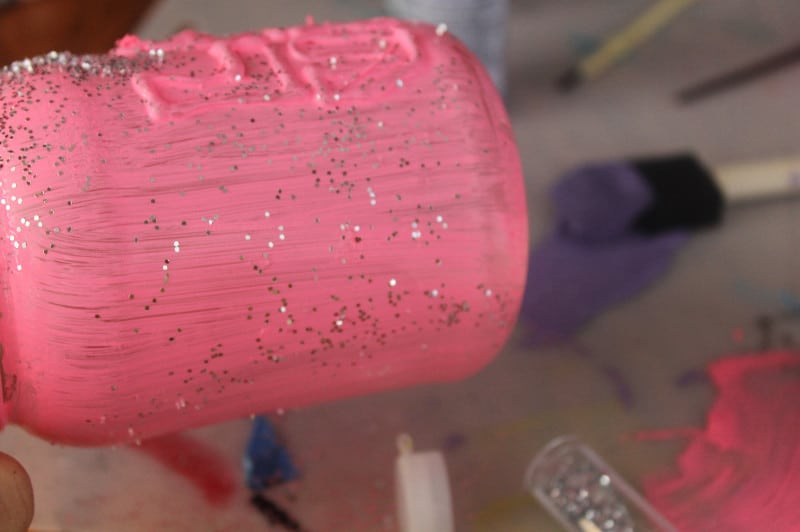 I even used the textured side of my Clorox wipes to make that nightmare of cleaning up glitter a snap!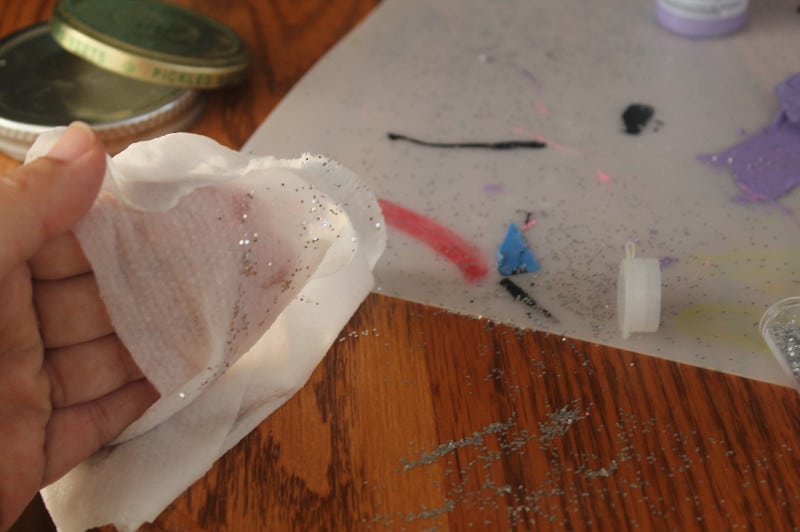 Happy Crafting!