I got to catch a sneak peek at Delivery Man, coming in theaters on November 22.  I can't wait to see it- the more I see of Vince Vaughn, the more I love him, and this movie is promising more of the hilarity and fun that he always comes through with.  This time around he plays an  underachiever looking for his purpose in life, when he finds out he's fathered 533 children through anonymous donations to a fertility clinic 20 years ago. Now he must decide whether or not to come forward when 142 of them want to meet their biological father…and now YOU can see the same sneak peek I did, right here!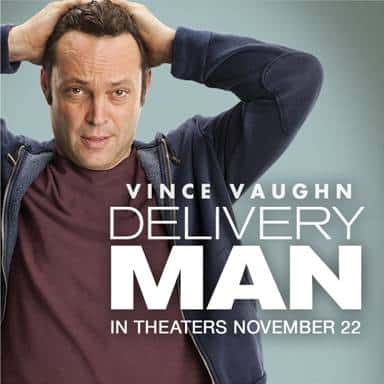 While the concept of the film is amusing, it's also a really heartwarming look at what it means to be a family — no matter how unconventional. The definition of family has evolved and, as seen in the film, can come in all shapes and sizes.
My family comes in all shapes and sizes. I'm the youngest of 8 kids- I have one brother who has the same mother AND father as I do.  I have 2 more brothers with the same father, different mothers, although their mother is quite a lovely woman and I adore her.  I also have a brother and three sisters from my dad, and while their mom was alive, she was very much a part of my family.  It's crazy and weird and I wouldn't have it any other way- it's made me who I am, quirks and all.  I think that's why this film drew me in so much- my own family history is so off that I wanted to know more!
Check out the trailer being released RIGHT NOW and only seen on my site here- oh…well, and 532 other blogs.  Only on ours.  We're like a trailer family, of sorts…sharing this.
0