Today I'm going to share with you OUR version of the ever-popular Minion cupcakes and goodies that have been floating around online since the previews for Despicable Me 2 have started to show. I decided to do them as simple as I could- and with a surprise twist that might surprise you. If you remember, I've been doing a series of dessert avocado recipes as part of my partnership with Avocados from Mexico, and I decided we'd make the cupcakes themselves a little bit more nutritious while keeping them delicious!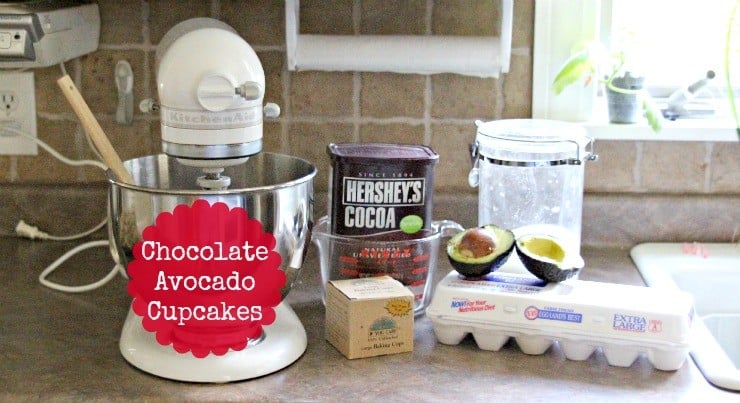 Chocolate Avocado Cupcakes
Author:
Prep time:
Cook time:
Total time:
Chocolate cupcakes with avocado replacing the oil This recipe is modified from[url href="http://www.food.com/recipe/moms-chocolate-cupcakes-105594″ target="_blank"] Mom's Chocolate Cupckaes[/url] on Food.Com
Ingredients
1 1/2 cups flour
1 cup granulated sugar
1 tsp baking soda
1 tsp salt
1/3 cup cocoa powder
1/2 cup mashed avocado (or a little extra!)
1 cup water
1tsp vanilla extract
1 TBSP vinegar
Instructions
Mix ingredients until well blended (by hand or mixer)
I mix on medium speed in mixer for 3 full minutes.
Oven to 350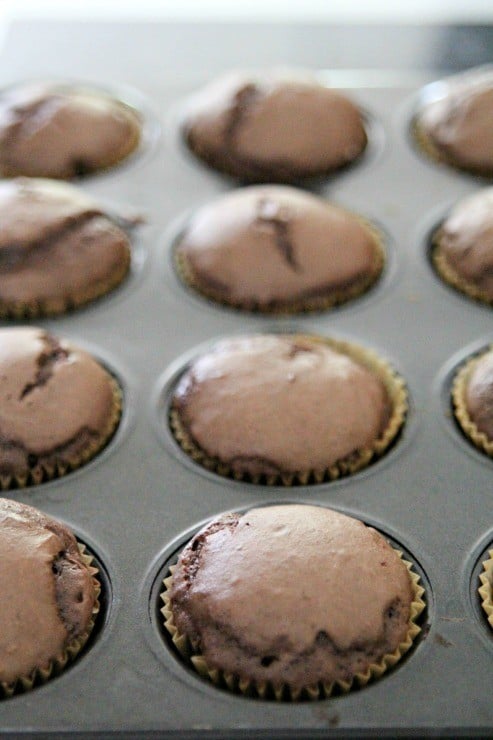 Now, once you have the cupcakes baked and cooled, you can frost them. Of course, you can use whatever frosting you like. I had less than no time so I used the spray-ish kind the kids insisted on buying…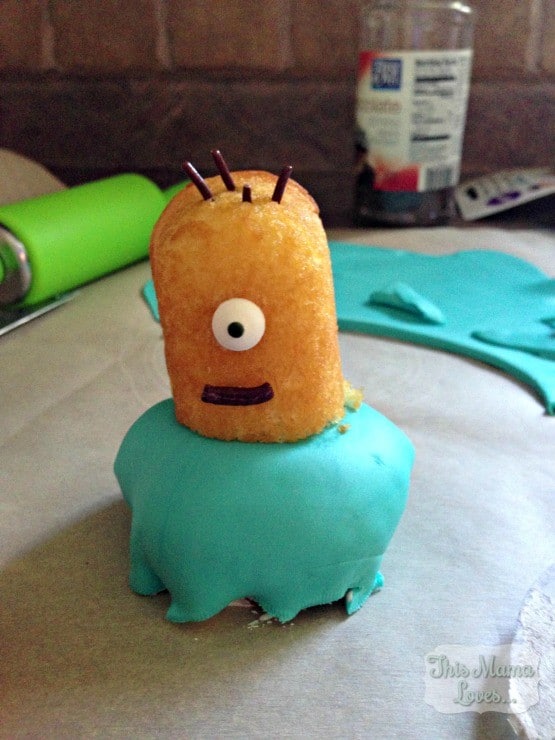 What you need to make the minions:
Some of our cupcakes, I covered with blue fondant from Satin Ice. Others are just frosted.
Grab a box of Twinkies for some Minion fun.
I also bought Wilton candy eyeballs – I've seen cupcakes like this all over the internet but everyone seems to be using Smarties candy and black icing. I made it easy on myself and used the candy eyes.
For the hair and mouth, I used chocolate shots (some of you call them sprinkles, or jimmies. I call them shots).
You can also get some black icing to do the mouth and glasses with. To be really honest- I didn't do it- I didn't have it and I decided that I'd go for "real" and not perfect for this post. The cupcakes are moist, they are delicious, and everyone who's SEEN the cupcakes decorated as Minions has loved them. They are perfect in their imperfection. But really you can just have some fun and play around. Do the glasses…or don't!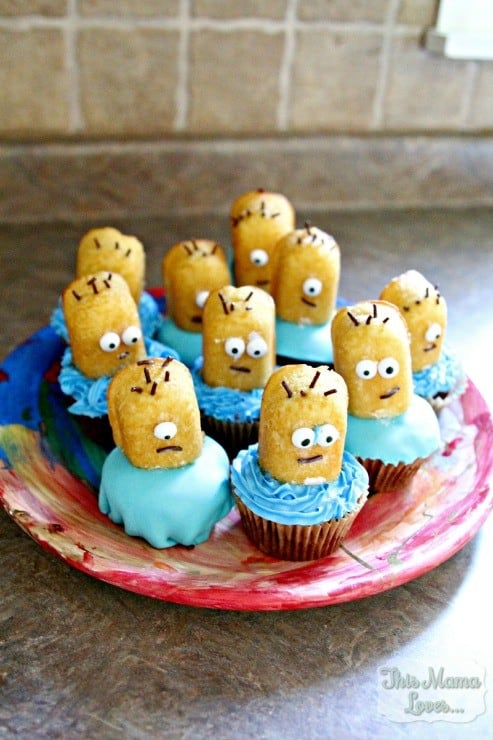 We did, if you notice, also use some full sized Twinkies for Minions. I've seen them around with arms and without- we found them hilarious without the arms and decided to leave them be. I also let the kids help. These are FUN. Healthier because they have avocado in place of oil or butter.
Cupcakes are fun. Minions are funny. Cupcakes that are minions are awesome.