We recently learned about the Disney Imagicademy apps and got to have a fun party to learn all about them and find yet another way to fall in love with all things Disney.  The idea of the Imagicademy is to encourage kids ages 3-8 to learn by creating, doing and making- driven by technology- Mickey's Magical Math World app was the main attraction at our little soiree, which was originally set to be a party at our house but thanks to a snowstorm, kids being sick and another snowstorm, plans changed and we ended up having a whole lot of fun (and learning) in my daughter's Kindergarten classroom.  (Twice, actually, thanks to more weather…)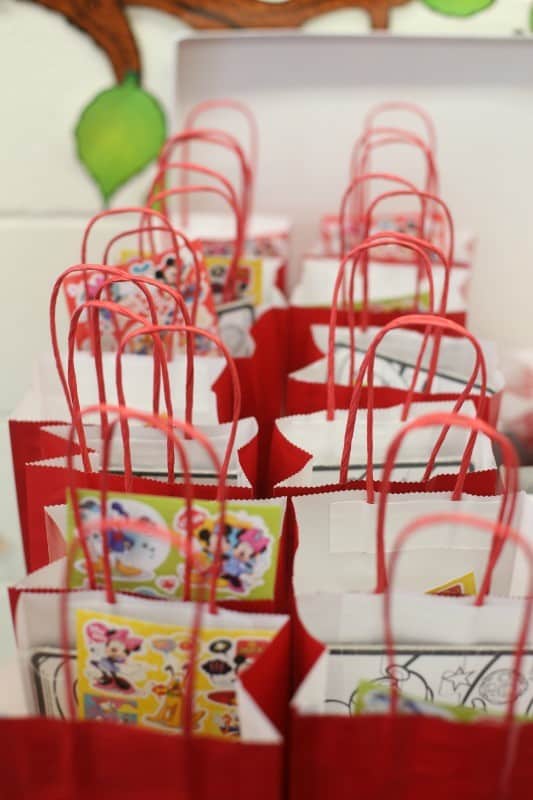 I'd been given some money to use to buy food and drinks for our party but given the no-outside-food rule at our school, I was able to do some fun goodie bags for the kids to bring home. (I did sneak some Disney themed fruit snacks into the bags, but shhhh don't tell anyone…the kids just brought them home).
Mickey's Magical Math World is truly a world of math… but, like the kids kept saying, it's FUN MATH! We shared the video from the app with the kids to get our party started- if only there were photos of me toting our tv from our house through the halls of the school….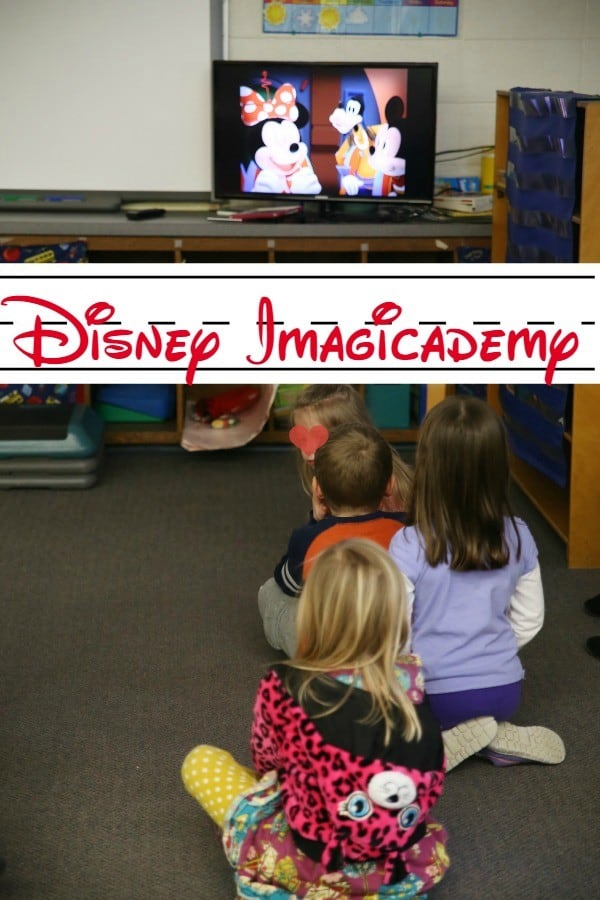 The kids were so excited to watch TV at school, and were very helpful in making sure that we got things working smoothly to have the iPad also working. Once we got past the excitement of having all of these cool things in the classroom, we were able to talk about the app, play with it (we also did let the kids play with it in smaller groups) and then we did some fun activities…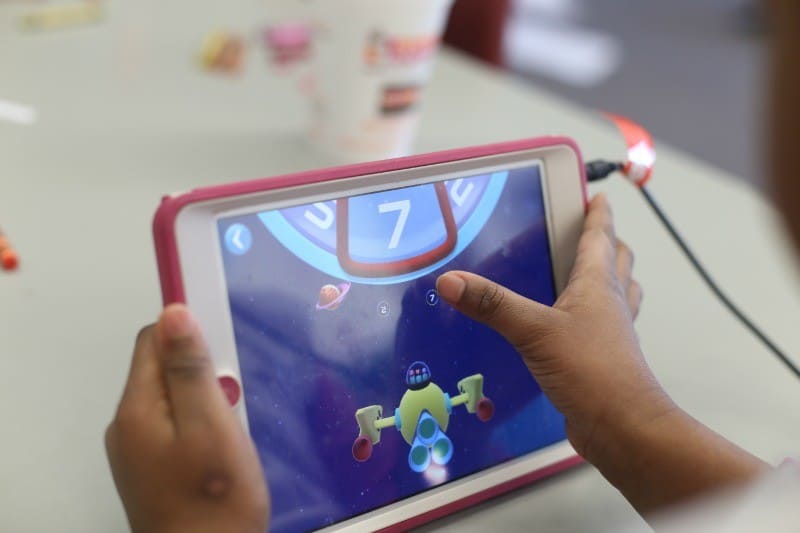 About Mickey's Magical Math World
In Mickey's Magical Math World, children are invited to join Mickey and his pals on a fun-filled Space adventure that explores math concepts within a fully immersive playground of magical experiences.
Kids can explore, recognize and identify shapes with Mickey; Play with numbers and patterns within Minnie's Robot Playground; Ponder early number concepts with Donald; Explore Counting to 10 and early problem solving with Daisy and experiment with shapes, patterns and sorting skills with Goofy.
Numbers, patterns, shapes, skills… all math concepts.  Toss in some favorite Disney pals, and all of the sudden, you have a fun, engaging app that's drawing kids in and making them ask for a learning game! The Imagicademy idea gets kids introduced to and practicing concepts, but also encourages them to use those concepts in other places..and, paired with the Imagicademy Parents app, parents can get ideas and inspiration like I did to help their child's knowledge grow.
Since the kids all knew who Mickey was and knew that he drives a cute buggy car, I'd found these adorable little pull-back racers for the goodie bags that we did a fun activity with.  Mrs. R. had a large number line that she let me use, and we had the kids guessing who's car would go the furthest and how far their own would.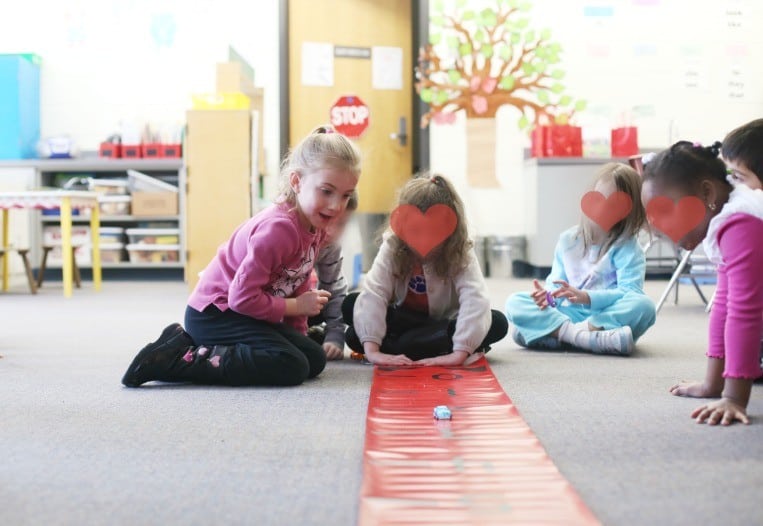 My daughter, of course, had the one rogue car that flipped over.  Still lots of fun.  (The winning car went 9 feet!!)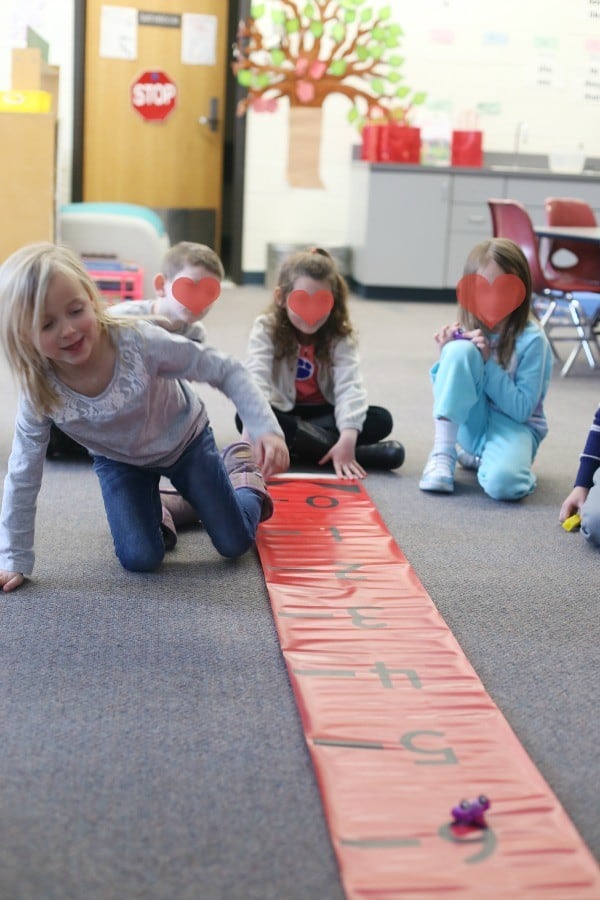 I'm super proud to say that several of the kids went home and informed their parents that they got to do FUN MATH and regular math at school, and that they did FUN math with Mrs. Martin!!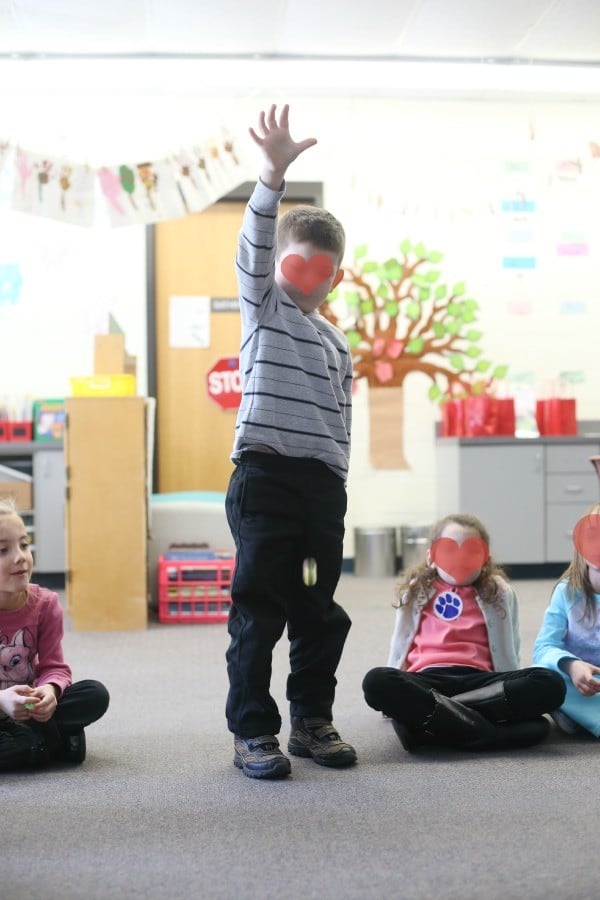 After the cars, we decided to guess how many times the bouncy balls from the goody bags would bounce on the floor.  All but one of the kids thought that the taller someone was, the more bounces they would have.  It was pretty funny to see their teacher stand on a table (she's tall anyway) and have the ball bounce the same number of times as all the kids! We had lots of fun estimating and guessing- and then figuring out that balls will bounce more on a table (harder surface) than the carpet.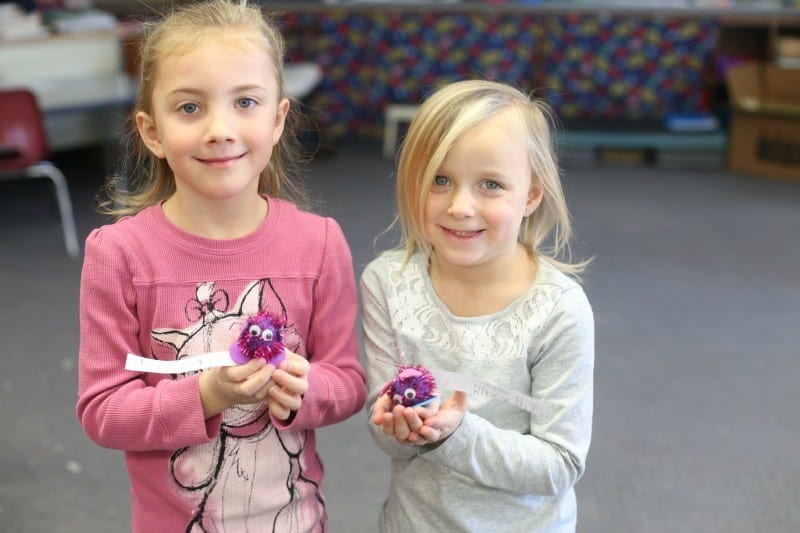 Disney isn't just working to immerse kids in the world of mathematical concepts with the Imagicademy concept- Mickey's Magical Arts World app will be available in the Apple App Store on February 12, 2015.  Magical Arts World is all about the arts! We did talk about this app coming up, and we did a fun multi-medium puppet craft while we talked about arts and being creative.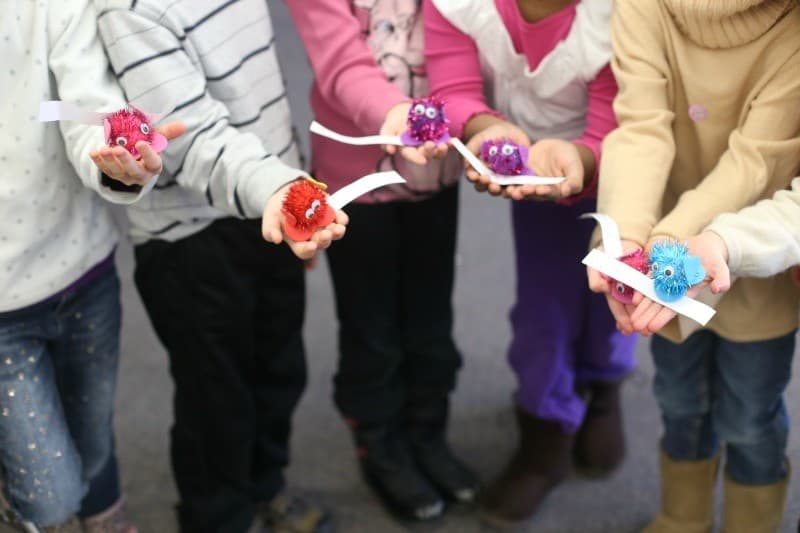 We can't WAIT for this app to come, because we love the arts and exploring with Mickey and pals in a new medium will surely be exciting and engaging. (Maybe digital glitter won't stay in the house for the rest of eternity like regular glitter?)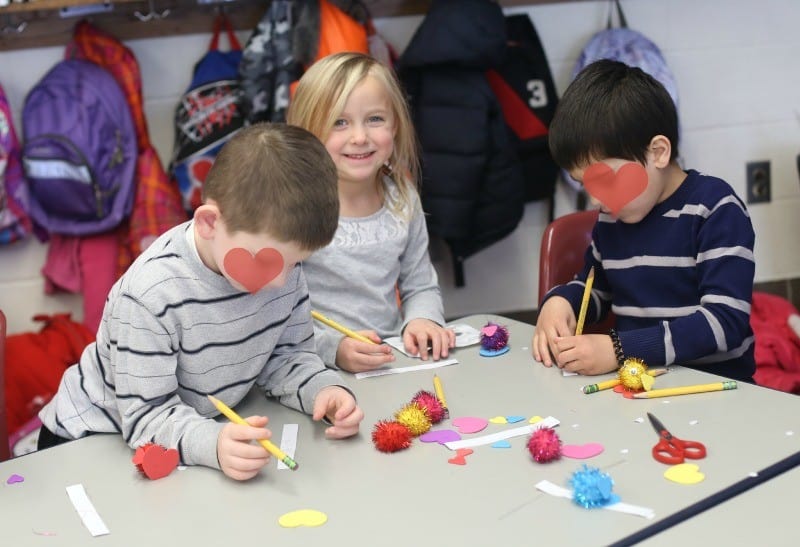 Magical Arts World isn't just about arts and crafts- it's an immersive experience in the arts as a whole.  Your aspiring little filmmaker can create her own animated movies! Compose melodies, design buildings and sets and costumes and more.
About Mickey's Magical Arts World
In Mickey's Magical Arts World, children are invited to join Mickey and his friends in the most imaginative place around, as they explore a fully immersive world of creative arts.
Children can create their own characters that can star in animated movies alongside beloved Disney characters like Mickey and Minnie, while they experiment with line, shapes and texture in Mickey's Drawing Studio; Explore storytelling, improvisation, costume design, character development and role play with Donald; Consider concepts of rhythm, tempo, patterns and melodies with Mickey's Musical Marching Band; Experiment with symmetry, balance and proportion as they design buildings with Minnie; and play with oodles of virtual arts and crafts with Goofy!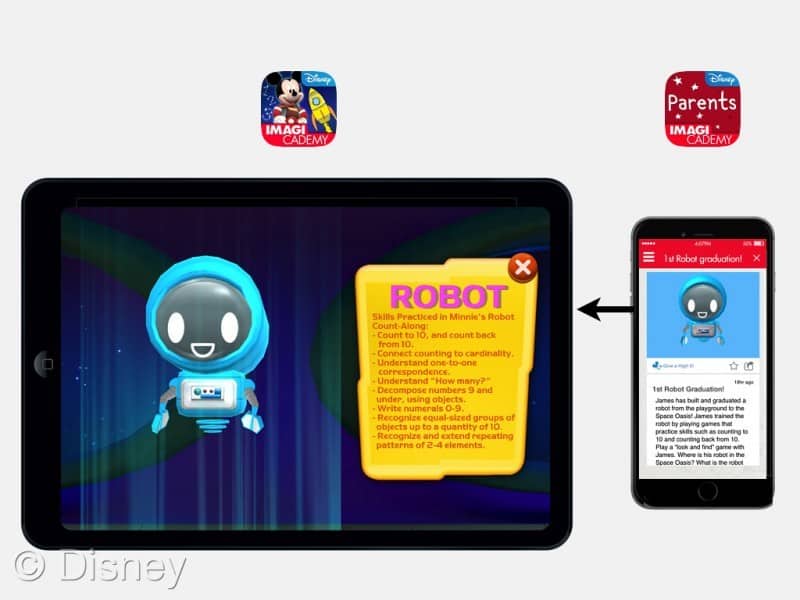 About Disney Imagicademy Parents
Disney Imagicademy Parents is an all-new free app that serves as a parent's 'go-to' resource to connect with the Imagicademy community and gather information that can be used to engage with their child in meaningful ways.
The app will give parents their daily dose of what is possible and answer the question, "What can I do today to help my child grow?'" through daily articles and Imagicademy-inspired activities designed to help spark creativity and encourage imaginative learning. Disney Imagicademy Parents also serves as a portal into children's Mickey's Magical Math World and Mickey's Magical Arts World, where parents can see their child's latest creations, provide encouragement with a virtual "high five" and share their accomplishments with family and friends.
All in all, we had a TON of fun at our multi-day party to explore the world of Imagicademy. We're already planning to download Mickey's Magical Arts World, and have (for the first time ever) made purchases in-app for Mickey's Magical Math World. The kids thought the Math World was a lot of fun, and watching them go from a little tiny iPad Mini screen to a large TV screen with the app playing to pulling those same concepts and ideas into hands-on, non-digital learning fun was just so fun for ME to see. I know that Mrs. R. enjoyed it so much that she's downloaded the Magical Math World onto her personal iPad and has plans to connect it to the smartboard in the class for further exploration with the kids.
We always like Disney games and content.  It's family friendly, kids are immediately drawn to their familiar character friends, and with the whole Imagicademy idea, they will be engaging with technology while learning important skills, which means a more in depth experience for them. Now I just need another iPad because the kids are fighting over mine to see who can play first!
I was selected for this opportunity as a member of Clever Girls Collective and the content and opinions expressed here are all my own.