Need a last minute Valentine Snack?  Check out these cute, FUN made-from-scratch brownie hearts!!  So good, and so festive. You can, of course, use any shape you want for any holiday or theme.  But since it's February, I figured we would stick with Valentine's Day.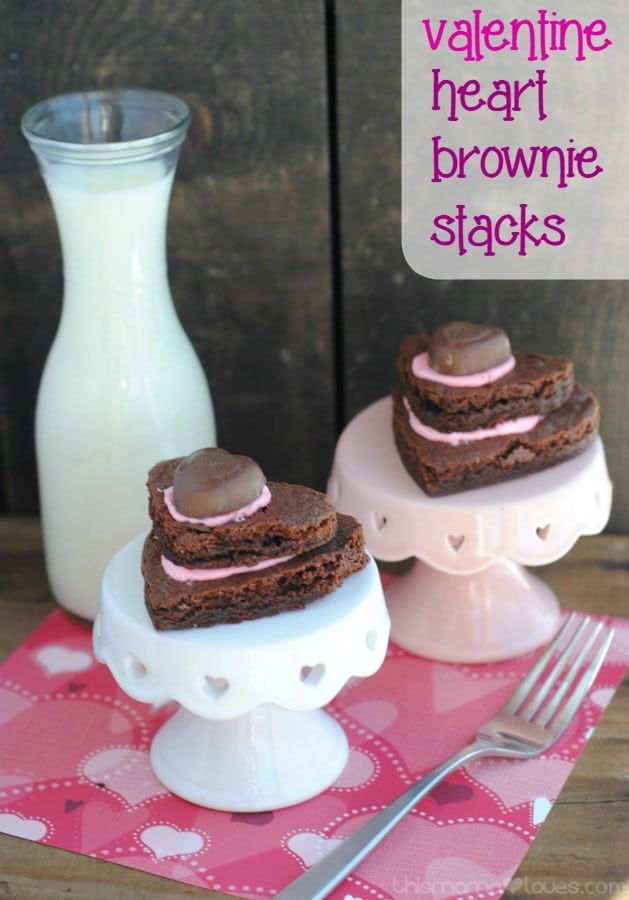 Valentine Brownie Heart Stacks
Ingredients
¾ C. butter
1 ¾ C. sugar
3 eggs
1 tsp. vanilla
¾ C. unsweetened cocoa powder
1 C. flour
Directions –
Preheat the oven to 350 degrees.
#1. Add the butter to a microwave safe dish and heat for about 30-45 seconds. Slowly add in the unsweetened cocoa powder, mixing well.
#2. Next, add in the sugar, eggs and vanilla stirring until creamy.
#3. Slowly fold the flour into the wet mixture.
#4. Spread the brownie batter in a 9×13 greased pan. I like to line mine with foil as it makes for easy clean-up AND easier to get the brownies out neatly.
#5. Bake for 30-35 minutes. Insert a toothpick around 30 minutes and if it comes out 'dry' the brownies are done. These are best not over-baked.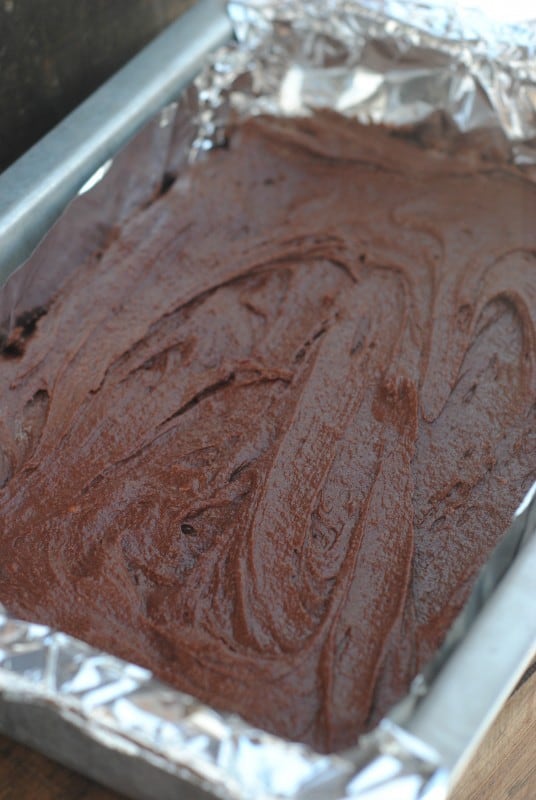 Heart Stack Directions/Materials –
Small and Medium Heart Shaped Cookie Cutter
Pink frosting (I used cherry but you could easily use red food coloring with white frosting)
Dove milk chocolate candy hearts
Small spatula
Directions –
#1. Use the small and medium cookie cutters to cut even amounts of the small and medium size hearts.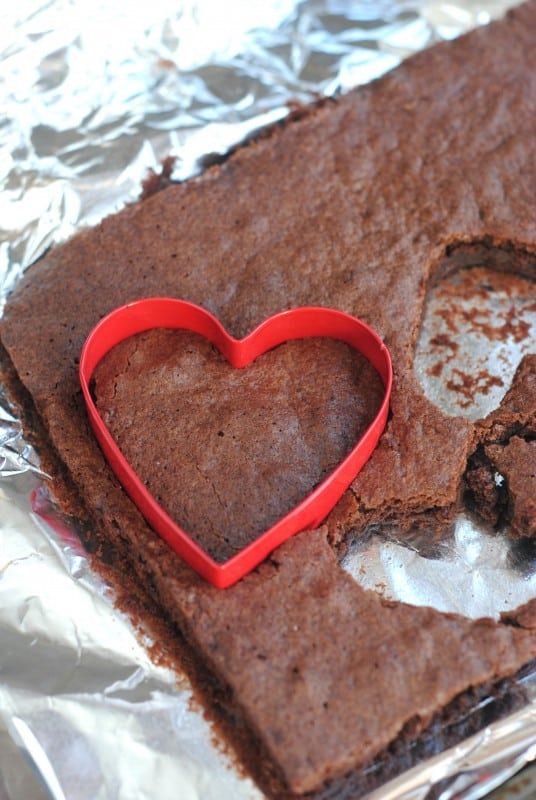 #2. Spread frosting on the top of the medium heart and top with the small brownies heart. Add more frosting on top and then top with the Dove chocolate heart.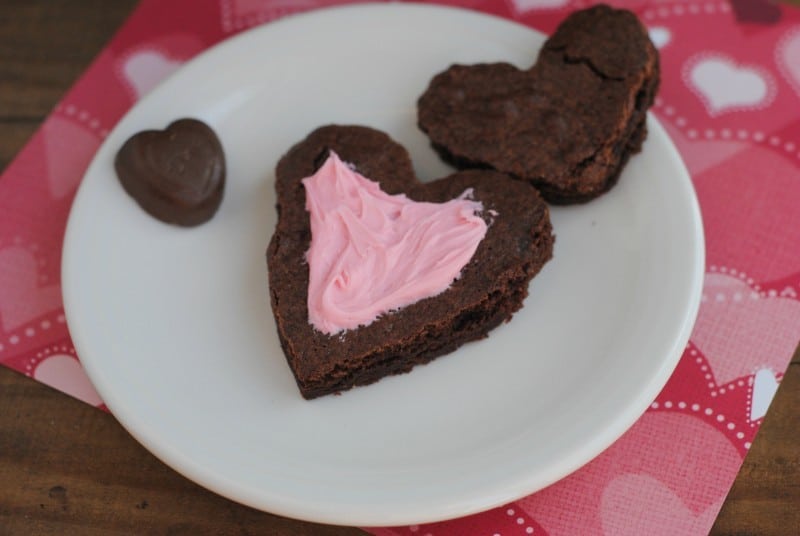 *Makes approximately 6 Heart Stacks per 9×13 pan (this is dependent on the size of your cookie cutters)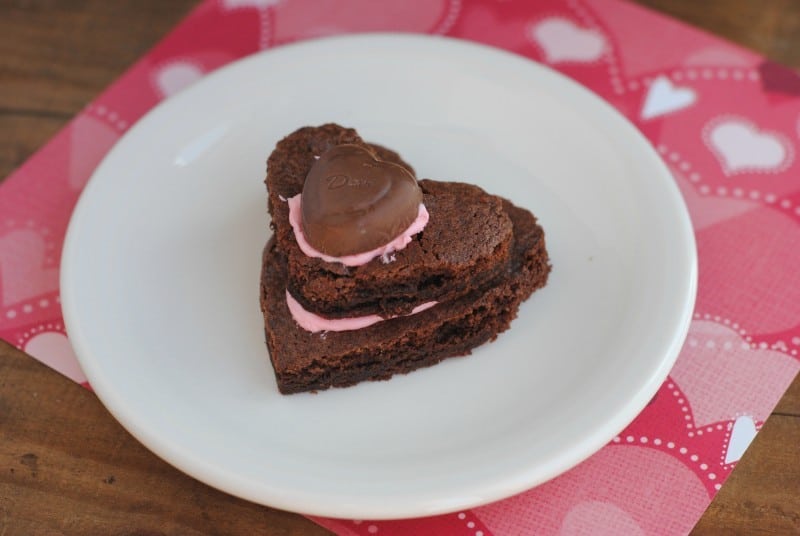 Homemade Brownies Heart Stacks
Author:
Prep time:
Cook time:
Total time:
Ingredients
¾ C. butter
1 ¾ C. sugar
3 eggs
1 tsp. vanilla
¾ C. unsweetened cocoa powder
1 C. flour
Heart Stack Directions/Materials –
Small and Medium Heart Shaped Cookie Cutter
Pink frosting (I used cherry but you could easily use red food coloring with white frosting)
Dove milk chocolate candy hearts
Small spatula
Instructions
Directions –
Preheat the oven to 350 degrees.
#1. Add the butter to a microwave safe dish and heat for about 30-45 seconds. Slowly add in the unsweetened cocoa powder, mixing well.
#2. Next, add in the sugar, eggs and vanilla stirring until creamy.
#3. Slowly fold the flour into the wet mixture.
#4. Spread the brownie batter in a 9×13 greased pan. I like to line mine with foil as it makes for easy clean-up AND easier to get the brownies out neatly.
#5. Bake for 30-35 minutes. Insert a toothpick around 30 minutes and if it comes out 'dry' the brownies are done. These are best not over-baked.
Directions –
#1. Use the small and medium cookie cutters to cut even amounts of the small and medium size hearts.
#2. Spread frosting on the top of the medium heart and top with the small brownies heart. Add more frosting on top and then top with the Dove chocolate heart.
*Makes approximately 6 Heart Stacks per 9×13 pan (this is dependent on the size of your cookie cutters)