Disclosure: This DIY skeleton Halloween shirt post was sponsored by Hub Network through their partnership with Circle of Moms. While I was compensated to write a post about Hub Network's First Annual Halloween Bash Costume Contest, all opinions are my own.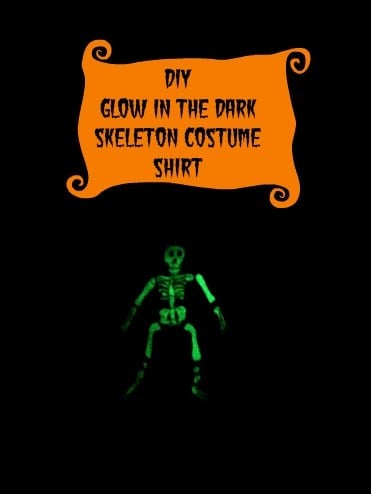 What you need to make the DIY Glow in the Dark Skeleton Halloween Shirt:
Glow in the Dark Duck Tape (sheets or rolls of tape)
Black shirt (Short or long sleeved)
I would gladly have used the sheets of glow in the dark duck tape but wasn't able to find them locally in time to get this done. I like to let the kids wear their Halloween stuff for at least the full month before Halloween-otherwise, they wear it once and that's it!  If you do the sheets, use  utililty or craft knife to cut the bones out. 
I kind of traced the outline of a skeleton I found online and traced it piece by piece onto the glow in the dark duck tape. Made things easier for me since I'm not an artiste, to say the least! I think it would take a lot less time to just freehand.
I got this done while hanging out watching a movie with my husband- one kiddo has a fun new Halloween shirt, and now I can easily make more for the other 2 kids!  I'm thinking we may do some accessorizing like a "tie" for a boy skeleton and a hair bow for a girl skeleton.  We have a lot of duck tape around.
If you want, you can enlarge the bones  and add a pair of black pants or leggings and make a full skeleton costume.  It really wouldn't be much more work!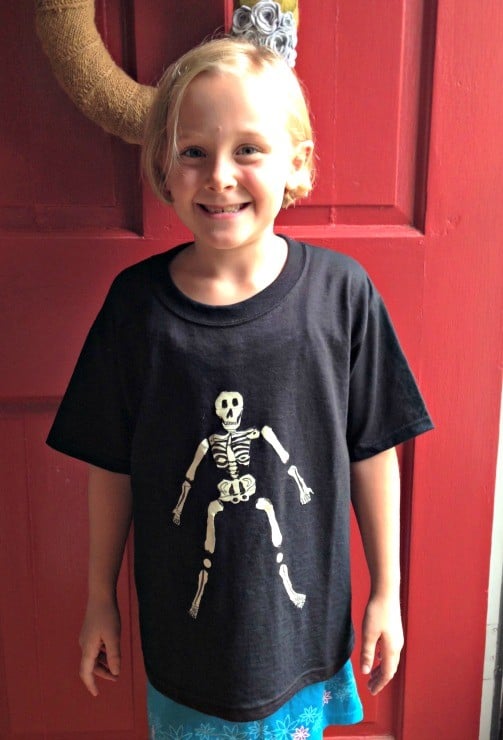 This is an easy costume idea for the kids who don't really like to wear a full costume but want to enjoy the fun and festivities!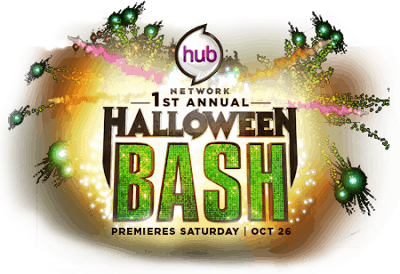 Speaking of Halloween costumes, the Hub Network is having their first annual Halloween Bash Costume Contest and they want YOU to enter!  This is a FUN promotion- I just spent almost an hour looking at the submissions so far- I just love looking at kids in costumes, don't you?  So put your creative caps on and get moving- there's just 19 days left to submit your entry for consideration. Who wouldn't want a chance to win $25,000?
Costumes must be original, one of a kind.  Nothing store bought. The six costume categories:
1. Spook-tacular
2. Howl-arious
3. Blast from the Past
4. Everyday stuff
5. Animal Kingdom
6. Mad Genius
Entering the Hub Network's First Annual Halloween Bash Costume Contest gives you the chance to win a  prize valued at $25,000 !