12 Tremendous Tricks to Trim 20 Minutes off Your Morning 
Um, I need more than 12.
I need like…eleventy billion tricks.
I do.
We got into this nice routine, the kids and I, this summer.  As they woke up, one by one they'd climb into our bed and snuggle up to watch some tv with mommy.  They loved it, I loved it.  Having to get up and be out the door in time for school has kind of put the kabosh on that — or rather, it needs to.  We're still holding on to those minutes of cuddles and end up rush, rush, rushing to get ready for the day.
Instead of, you know, setting my alarm and getting up even earlier, I found a fun infographic from our friends at Suave (via Lunchbox) that gives 12 tricks- not just tricks, TREMENDOUS tricks, to trim 20 minutes off your morning. So I figure, that's 20 minutes I can snuggle my kids, right?
Plus, even if it wasn't the snuggles, I really just love bed. I love it.  The pillows. The blankets.  Sleeping.  I hate getting OUT  of my bed.  I'm loathe to do it anytime.  Now you know.  My kids even draw pictures of me sleeping. Exhibit A: (please note, my bed is only pink in my dream world)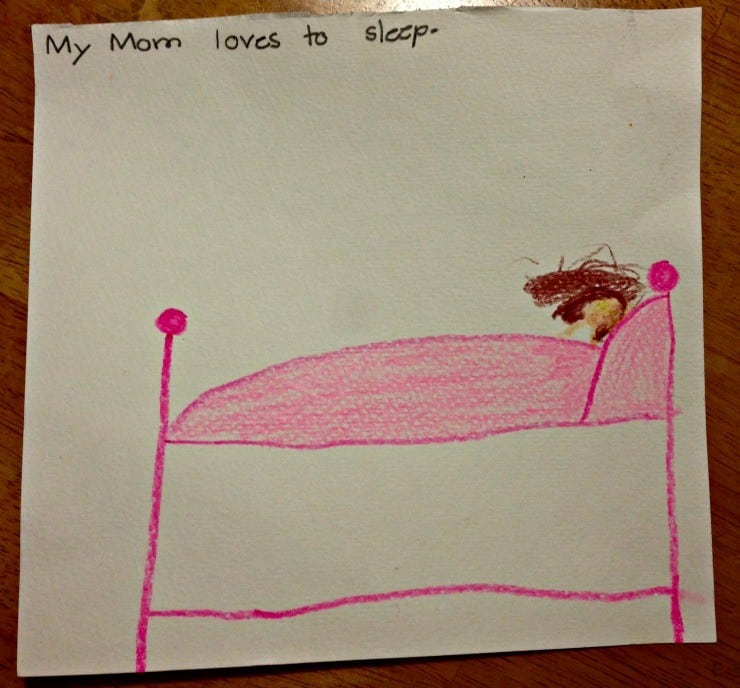 So maybe we ALL need to work on shaving some time off of our slackety slackin' each morning.
It's just hard. It's bed.  Pillows. Blankets.

Now, my kids do love Suave products for their hair- right now, because they have Smurfs on them.  We like to watch old school Smurfs on TV sometimes and they've grown to love the little blue friends as much as their mama and daddy. So I'm all good with the suggestions especially the detangler!! My little one has very little hair and it's stick straight but holy MOLY does she wake up with a rat's nest each day….and lately, wants to brush it herself.  Never mind that she can't see nor reach the back of her head….But she won't resist her beloved Smurfs, especially if big sister is the one to help make her hair pretty.
I like the price of Suave products for my kids- I don't normally get character versions of products because I find it costs more but with Suave, the kids AND mom end up happy. I suppose when we're all happy and not crabby at one another….that probably saves even more time in the morning.
Head in-store or online to shop all Suave® products at the best value!
What are YOUR fun and creative ways to save time in the morning?