Easy DIY Holiday Napkin Rings Craft for Holiday Brunch or breakFEAST
Do you know what is even better than breakfast? A breakFEAST. A breakfast is a quick bowl of cereal or toast, but a breakFEAST is a hot and tasty meal that sticks with you. Hungry Jack wants you to take the time and enjoy a nice and hot breakFEAST, and their new Microwavable Syrup with the easy pour cap allow you to do just that. Gone are the days of room temperature syrup, why not treat yourself to warm and gooey goodness of Hungry Jack Microwavable Syrup instead? This holiday season, when paired with this easy DIY Holiday Napkin Ring Tutorial, you can create a breakFEAST that your family will rave over. Here is how you can create your own breakFEAST, complete with Hungry Jack products and finished off with these DIY decorative holiday napkin rings. Thanks to Hungry Jack for sponsoring our DIY holiday napkin rings and our breakFEAST celebration!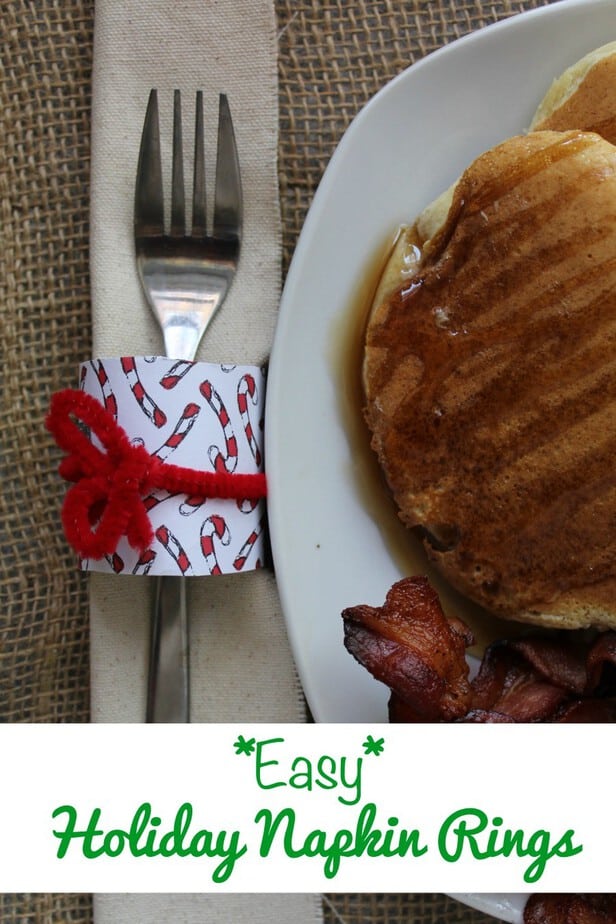 To make your DIY Holiday Napkin Rings you will need:
Materials
– cardboard tube (a paper towel tube or toilet paper tube works best)
– craft scissors
– glue (hot glue or craft glue works fine, your choice)
– holiday scrapbook paper of your choice, we used candy cane print
– pipe cleaner in complimenting color of your choice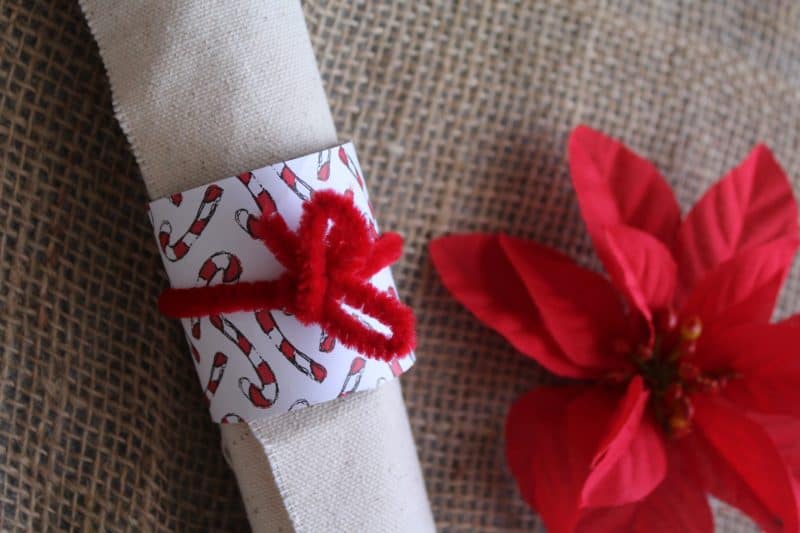 Directions:
1. Begin by cutting the cardboard tube into a 1.5 inch segment.
2. Cut the holiday scrapbook paper to fit the segment. Add glue and press the paper into place. Use your scissors to trim off any of the extra paper on the sides. You want nice and clean edges.
3. Take a piece of complimenting pipe cleaner and tie it around the ring. You can form into a bow like we did.
4. Now just roll up your napkin and place it inside of the ring. Gorgeous, right? Now all you need is a feast to use it at. Enter Hungry Jack…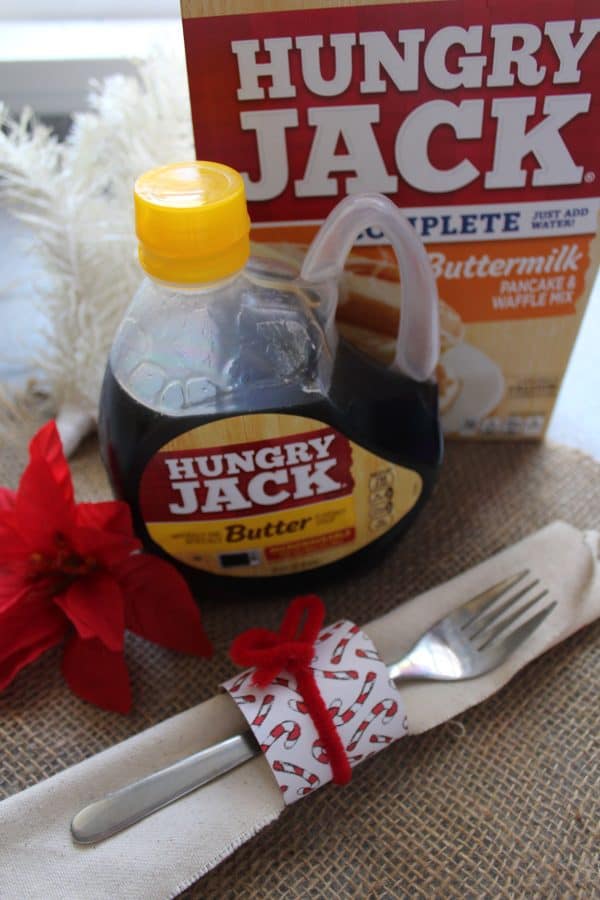 So the amazing thing about the new Hungry Jack Microwavable Syrup is you can place the bottle directly in your micro. Just remove label under the lid, replace the cap, leave the cap OPEN (you want to see the little face looking at you) and place in the microwave for the amount of time specified. The easy pour cap and easy to grip handle makes pouring so easy even the kiddos can manage. Your syrup will be warm and tasty, turning your breakfast into a breakFEAST fast. Choose from original or butter flavored, both perfect for bringing out the very best in your pancakes. Pair your pancakes with some bacon and oranges for the perfect feast.
For light and fluffy pancakes, pair your Hungry Jack pancake mixes with Oster Pancake Griddles. Their smooth surface heats up nice and even so you can count on perfect pancakes every time. Better than an ordinary frying pan, Oster has created the Oster Pancake Griddle specifically for pancakes. It also cleans like a dream, which makes a difference in this house- we make pancakes a LOT!
Are you tired of ordinary breakfasts? Treat yourself to a breakFEAST. All you need is the help of Hungry Jack and a few basic crafting supplies and you can create a spread that will look like you've been working in the kitchen all day.