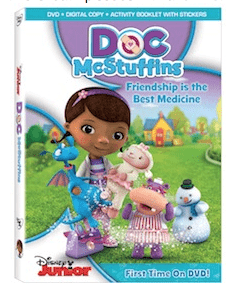 "I feel better, so much better, thank you Doc for takin' all the ouchies away………"
This is my 3 year old's favorite song.  She sings it 100 times a day, usually with a stethoscope and doctor kit in hand.  Why?  She's playing Doc McStuffins of course, Disney's adorable new kid-doctor who helps her toy friends get their ouchies away.  It's cute, it's fun, and what the kids don't realize is that Doc's helping her toy friends with problems that may just happen to kids in real life, and helps them realize that hey! it's ok to need help, to ask for it, and how rewarding it is to help our friends.
Doc McStuffins is a six-year-old girl who plays with her stuffed animals and toys.  Each episode deals with a common ailment that a child could see a doctor.  Doc's friends include Stuffy, an overly proud dragon; Lambie, her  cuddly best friend; Hallie, a jolly and caring  hippo nurse; Squeakers, an alarmist squeaky toy fish; and Chilly, a snowman who spends a lot of time getting check-ups at the clinic.  Ailments from low batteries to loose stitching are easy for Doc to repair.  Although she does ask her mom (a real doctor) for help in several episodes, showing that asking for help is a great idea.   Children learn lessons including imagination, teamwork, taking care of yourself and others, responsibility, and friendship from Doc McStuffins.   Each episode features two 11-minute stories and an original song and showcases the hallmarks of great Disney storytelling – fantasy and wish fulfillment.
What surprised ME most about this show is how much my 7 year old enjoys it.  I'd assumed this would be appealing to the younger crowd, but I'm very happy to report she loves it.  7 has proven to be a really tough TV age in my family- and while we don't watch a ton with the kids, she seems to be in limbo between little kids shows (too babyish, mom!) and big kid shows (NOT appropriate in our eyes).  Doc McStuffins has offered a great transition-to-tween program option that is fun and appropriate without being babyish.  For that reason alone I love it.  I have had discussions with many of my daughter's friends' parents and they have said the same thing- finding shows that are age appropriate for a 6-8 year old can be really tough.
We were able to invite a few of the kids' friends over to have a little viewing party to watch this DVD. The kids loved it. They all wanted clipboards of their own, of course, and doctor coats. I'm guessing that we'll be seeing a few little Doc McStuffins characters come Halloween! Thankfully at least one of the other kids has a soft spot for Chilly the snowman and agrees with me that there should be more shows centered around the adorable snowman. It must be the hypochondriac in me…
The kids all seem to love this show because the characters are so relatable. Anything that promotes kindness, helping others and friendship without seeming preachy goes over well in my book.
Doc McStuffins: Friendship is the Best Medicine is available most anywhere DVDs are sold.
I received some promotional items and the DVD to facilitate my review. Opinions are my own.
0